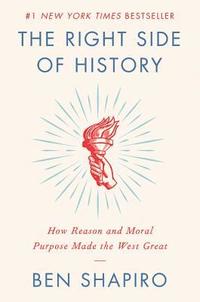 Fler böcker inom
Format

Inbunden (Hardback)

Språk

Engelska

Antal sidor

288

Utgivningsdatum

2019-04-24

Förlag

Dimensioner

234 x 158 x 25 mm

Vikt

435 g

ISBN

9780062857903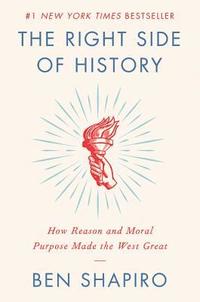 The Right Side of History
How Reason and Moral Purpose Made the West Great
Skickas inom 2-5 vardagar.
Fri frakt inom Sverige för privatpersoner.
Now a #1 New York Times Bestseller. Human beings have never had it better than we have it now in the West. So why are we on the verge of throwing it all away? In 2016, New York Times bestselling author Ben Shapiro spoke at the University of California-Berkeley. Hundreds of police officers were required to protect his speech. What was so frightening about Shapiro? He came to argue that Western civilization is in the midst of a crisis of purpose and ideas; that we have let grievances replace our sense of community and political expediency limit our individual rights; that we are teaching our kids that their emotions matter more than rational debate; and that the only meaning in life is arbitrary and subjective. As a society, we are forgetting that almost everything great that has ever happened in history happened because of people who believed in both Judeo-Christian values and in the Greek-born power of reason. In The Right Side of History, Shapiro sprints through more than 3,500 years, dozens of philosophers, and the thicket of modern politics to show how our freedoms are built upon the twin notions that every human being is made in God's image and that human beings were created with reason capable of exploring God's world. We can thank these values for the birth of science, the dream of progress, human rights, prosperity, peace, and artistic beauty. Jerusalem and Athens built America, ended slavery, defeated the Nazis and the Communists, lifted billions from poverty, and gave billions more spiritual purpose. Jerusalem and Athens built America, ended slavery, defeated the Nazis and the Communists, lifted billions from poverty, and gave billions more spiritual purpose. Yet we are in the process of abandoning Judeo-Christian values and Greek natural law, watching our civilization collapse into age-old tribalism, individualistic hedonism, and moral subjectivism. We believe we can satisfy ourselves with intersectionality, scientific materialism, progressive politics, authoritarian governance, or nationalistic solidarity. We can't. The West is special, and in The Right Side of History, Ben Shapiro bravely explains how we have lost sight of the moral purpose that drives each of us to be better, the sacred duty to work together for the greater good,.
Passar bra ihop
+
Recensioner i media
"It is easy to lose heart when we see tribalism and moral relativism washing across America. Ben Shapiro's The Right Side of History is a ray of hope, showing a new generation of leaders how to defend the values that have made our country free and prosperous, and to do so with confidence and generosity." -- <strong>Arthur C. Brooks, author of <em>The Conservative Heart</em> and <em>Love Your Enemies</em></strong> "This is a book for people dying to grow up - a book for a culture that risks devouring itself if the people who comprise it refuse to grow up. It's a book most suitable for our immature, confused, complex but exceptionally promising time. I hope the wisdom it contains aids many a troubled soul in finding and treading the straight and narrow path forward and uphill. Everything we have built - everything we currently have in our great good furtune - depends more than we can possibly imagine on each of us managing to do precisely that." -- <strong>Jordan B. Peterson, author of <em>12 Rules for Life</em></strong> "Ben Shapiro is blessed with the gift of taking complicated ideas and making them catchy. Here he applies that gift to the story of Judeo-Christian civilization, from Moses and Solon to its culmination in the modern American republic. It's a beautiful song, and Shapiro sings it beautifully. But this is no lamentation, no threnody. It is a hymn of hope, and when you get to its end, I promise you will feel better." -- <strong>Daniel Hannan, author of <em>Inventing Freedom</em></strong> "As an ideological refresher on what the West got right, Shapiro's book gets the job done." -- <em><strong>The Washington Post</strong></em> Shapiro cavorts through 3,000 years of intellectual history in the span of about 250 pages, offering a perspicuous, "user-friendly" dive into some of our civilization's biggest ideas. -- <em><strong>The Washington Examiner</strong></em> "Ben Shapiro knows the power of his voice. He stands up and fights for what he believes with time-tested ideas. The Right Side of History is thoughtful and well-reasoned - exactly what Shapiro's critics don't want you to hear." -- <strong>Nikki Haley, former premanent representative of the U.S. Mission of the United Nations</strong>
Bloggat om The Right Side of History
Övrig information
Ben Shapiro is editor-in-chief of The Daily Wire and host of "The Ben Shapiro Show," the top conservative podcast in the nation. A New York Times bestselling author, Shapiro is a graduate of Harvard Law School, and an Orthodox Jew, his work has been profiled in nearly every major American publication, and he has appeared on hundreds of radio and television shows. He has appeared as the featured speaker at many conservative events on campuses nationwide, several of those appearances targeted by progressive and "Antifa" activists.