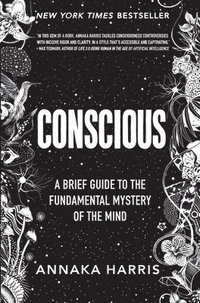 Fler böcker inom
Format

Inbunden (Hardback)

Språk

Engelska

Antal sidor

144

Utgivningsdatum

2020-02-24

Förlag

Dimensioner

196 x 133 x 19 mm

Vikt

204 g

Antal komponenter

1

ISBN

9780062906717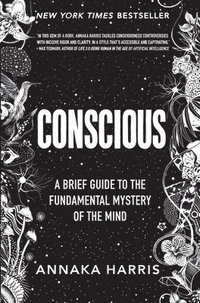 Conscious
A Brief Guide to the Fundamental Mystery of the Mind
Skickas inom 3-6 vardagar.
Fri frakt inom Sverige för privatpersoner.
NEW YORK TIMES BESTSELLER "If you've ever wondered how you have the capacity to wonder, some fascinating insights await you in these pages." --Adam Grant, New York Times bestselling author of Originals As concise and enlightening as Seven Brief Lessons on Physics and Astrophysics for People in a Hurry, this mind-expanding dive into the mystery of consciousness is an illuminating meditation on the self, free will, and felt experience. What is consciousness? How does it arise? And why does it exist? We take our experience of being in the world for granted. But the very existence of consciousness raises profound questions: Why would any collection of matter in the universe be conscious? How are we able to think about this? And why should we? In this wonderfully accessible book, Annaka Harris guides us through the evolving definitions, philosophies, and scientific findings that probe our limited understanding of consciousness. Where does it reside, and what gives rise to it? Could it be an illusion, or a universal property of all matter? As we try to understand consciousness, we must grapple with how to define it and, in the age of artificial intelligence, who or what might possess it. Conscious offers lively and challenging arguments that alter our ideas about consciousness-allowing us to think freely about it for ourselves, if indeed we can.
Passar bra ihop
+
Fler böcker av Annaka Harris
I Wonder

Annaka Harris

"I Wonder offers crucial lessons in emotional intelligence, starting with being secure in the face of uncertainty. Annaka Harris has woven a beautiful tapestry of art, storytelling, and profound wisdom. Any young child -- and parent -- will b...

Lying

Sam Harris, Annaka Harris

As it was in Anna Karenina, Madame Bovary, and Othello, so it is in life. Most forms of private vice and public evil are kindled and sustained by lies. Acts of adultery and other personal betrayals, financial fraud, government corruption--even mur...
Recensioner i media
"Conscious offers the clearest, most compelling explanation that I've seen of consciousness. If you've ever wondered how you have the capacity to wonder, some fascinating insights await you in these pages." -- Adam Grant, <em>New York Times</em> bestselling author of <em>Originals, Give and Take</em>, and<em> Option B</em> "Wild ideas are on the table--you'll come away with an appreciation of the major conflicts and the high stakes that come with any attempt to understand how consciousness really works." -- Sean Carroll, theoretical physicist and author of <em>The Big Picture</em> "A fascinating book that literally illuminates the enduring mystery of consciousness. Harris makes the journey direct, clear, entertaining, and above all accessible--even to someone like me, who'd never before gotten my head around this complex topic." -- Gavin de Becker, author of <em>The Gift of Fear</em> "Harris holds a mirror up to ourselves and the reflection she casts is wondrously unfamiliar. In salient prose that intertwines science and philosophy, Harris turns her joyful curiosity on the nature of awareness. Every sentence of this book works upon the next, delving the reader deeper into an exploration of consciousness. While most books that contemplate the mysteries of the universe make one feel small in comparison, Conscious gives the reader an undeniable sense of presence." -- Nathalia Holt, author of <em>New York Times</em> bestseller <em>Rise of the Rocket Girls</em> "A user's guide to the scientific thinking on consciousness-delivering an assumption-shattering take on how we think about our mind, our self, and this very moment." -- Daniel Goleman, author of <em>NYT</em> bestseller <em>Emotional Intelligence</em> "The AI quest for artificial minds has transformed the mystery of consciousness into philosophy with a deadline. In this gem of a book, Annaka Harris tackles consciousness controversies with incisive rigor and clarity, in a style that's accessible and captivating, yet never dumbed down." -- Prof. Max Tegmark, MIT, author of <em>Life 3.0: Being Human in the age of AI</em> "A remarkably focused, concise and provocative overview of the `problem of Mind.' Written with great clarity, she gives readers unfamiliar with the debate a chance to see the fault lines defining modern discussions about the nature of consciousness." -- Adam Frank, astrophysicist and author of <em>About Time</em> and <em>Light of the Stars</em> "I have read many, many great books on consciousness in my life as a neuroscientist. Conscious tops them all, hands down. It deals with unsolved questions and dizzying concepts with a graciousness and clarity that leaves the reader deeply satisfied." -- Marco Iacoboni, neuroscientist and author of <em>Mirroring People</em> "A delectable introduction to a fundamental mystery that science has been struggling with since antiquity." -- Christof Koch, neuroscientist and author of <em>The Quest for Consciousness</em> "One of those books that fundamentally shifts the way you think about reality. Consciousness is among the hardest concepts for humans to wrap their heads around, but Annaka Harris is a masterful explainer-she started by breaking my existing beliefs about the nature of consciousness and then she rebuilt them into a more nuanced, more complete, and more mind-bending understanding of what's really going on behind my eyes." -- Tim Urban, author of the blog Wait But Why "Annaka Harris has a rare gift to breathe wonder into the familiar. In Conscious, her target is our very selves. She offers each reader the bracing pleasure of becoming an enigma, lucidly explains the experiments that underwrite her offer, and persuasively argues that one of the greates
Övrig information
Annaka Harris is the author of CONSCIOUS: A Brief Guide to the Fundamental Mystery of the Mind. She is an editor and consultant for science writers, specializing in neuroscience and physics, whose work has appeared in the New York Times. Annaka is the author of the children's book I Wonder, a collaborator on the Mindful Games Activity Cards by Susan Kaiser Greenland, and a volunteer mindfulness teacher for the Inner Kids organization. She lives with her husband, the neuroscientist, author, and podcaster Sam Harris, and their two children. annakaharris.com