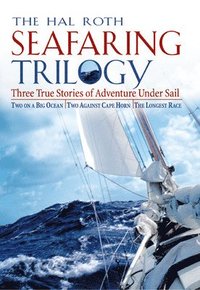 Fler böcker inom
Format

Inbunden (Hardback)

Språk

Engelska

Antal sidor

864

Upplaga

illustrated ed

Förlag

Illustrationer

illustrations

Dimensioner

235 x 160 x 40 mm

Vikt

1240 g

Antal komponenter

1

ISBN

9780071461337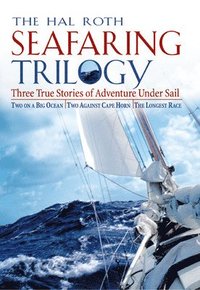 Hal Roth Seafaring Trilogy (EBOOK)
Three True Stories of Adventure Under Sail: Two on a Big Ocean, Two Against Cape Horn, And the Longest Race
Tillfälligt slut – klicka "Bevaka" för att få ett mejl så fort boken går att köpa igen.
Big adventures on the high seasfrom one of the greatest seafaring writers of our age hal roths vivid, authentic tales of the sea have riveted readers around the world for forty years. here, in one volume, are three of his classic sea stories, each one a white-knuckled, rail-down voyage into the unknown. A hard-working San Francisco husband and wife abandon their jobs, their security, and, some would say, their sanity to sail their 35-foot sloop to Japan and backthe long way! Over the next nineteen months, they discover exotic islands, fascinating people, and a whole new way of life. a few years later these intrepid voyagers decide to try their luck against cape horn, but they will need a lot more than luck to survive the vicious storms, violent seas, and perilous shores of the worlds most dangerous stretch of water. Then nine courageous sailors accept a challenge to do what has never been done before: to race alone, in a small sailboat, around the worldnonstop. Only one will complete the race; seven will be forced to withdraw, and one will simply disappear. roth writes with grace, humor, and poetic insight about the vastness and beauty of the ocean.Library Journal by all means read all of hal roth you can find.Practical Sailor roths books about his life at sea, including Two on a Big Ocean and two against cape horn, are universally listed among the most influential sailing books ever published.spinsheet roth can charm you out of your armchair.Kirkus
Bloggat om Hal Roth Seafaring Trilogy (EBOOK)
Övrig information
Hal Roth left his career as a journalist and editor more than thirty-five years ago and, with his wife, Margaret, went sailing. Since then, they have crossed all the oceans of the world and sailed to a thousand foreign ports and anchorages. Hal also raced twice around the world singlehanded, in the BOC Challenges of 1986-87 and 1990-91. He has accumulated 200,000 voyaging miles and has sailed to the Aleutian Islands, Japan, the North American West Coast, throughout the South Pacific, around South America, the Caribbean, the U.S. East Coast, Newfoundland, Labrador, and the Indian Ocean, Red Sea, and Mediterranean. He has crossed the Pacific five times and the Atlantic eleven times and has rounded Cape Horn three times. A graceful writer and accomplished photographer, Hal has written eight books about his adventures and one how-to book, After 50,000 Miles, which has sold more than 60,000 copies in its various editions. Two Against Cape Horn, Two on a Big Ocean, and Always a Distant Anchorage rank among the true classics of voyaging literature. He is one of the worlds half dozen most accomplished sailing writers. HOMETOWN: St. Michaels, MD
Innehållsförteckning
Two on a Big Ocean
1. An Idea
2. The Long Crossing
3. So Lofty and Green
4. The People of the Sea
5. Everybody's Paradise
6. Where Are the Cooks?
7. The Smallest Island
8. The Heart of Polynesia
9. Twice Adopted
10. The Back Door to Yesterday
11. Close to Shipwreck
12. The Porpoise Is Dead, the Whale Is Sunk
13. A Large Outrigger Has Been Sighted
14. Where Are You, Magellan?
15. A Sail in Japan
16. Are the Aleutians Cold?
17. Gales, Totems, and Eagles
Appendix: A Few Notes on whisper
Notes
Two Against Cape Horn
Maps
1. Where Do Ideas Come From?
2. A Change of Wind
3. A Rustle of Fabric
4. The Fjord in the Mountains
5. Black Hulls and Shellfish
6. Who Was Anna Pink?
7. Condors and Shipwrecks
8. Strong Winds
9. Shipwreck
10. Salvage
11. A Giant Repair
12. South Again
14. Final Triumph
Notes
The Longest Race
Illustrations
The Nine Contestants
Beaufort Wind Scale
1. Without Stopping
2. The Early Starters
3. Sharks and Giant Yachts
4. The Middle Starters
5. Different Captains
6. The Late Starters
7. What Do They Do All Day?
8. Capsize
9. Oysters and Pheasant
10. Collision at Cape Agulhas
11. A View of Death
12. The Impractical Sailor
13. "Come On God"
14. South from Trindade
15. Across the Indian Ocean
16. The Documented Liar
17. A Hell of a Prospect
18. "Nasty Hissing Seas"
19. A Slice of His Soul
20. On to Cape Horn
21. The Gentle Philosopher
22. The Battered Trimaran
23. Back to the South Atlantic
24. Homeward Bound
25. A Separate Peace
26. Meeting with Himself
27. Valiant to the End
28. The Winner
29. The Loser
30. The Last Word
Bibliography