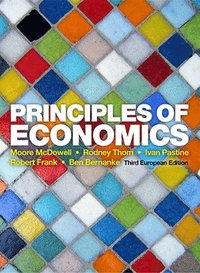 Fler böcker inom
Format

Häftad (Paperback)

Språk

Engelska

Antal sidor

864

Upplaga

3

Förlag

Medarbetare

Thom, Rodney / Pastine, Ivan / Frank, Robert / Bernanke, Ben

Dimensioner

259 x 190 x 30 mm

Vikt

1470 g

Antal komponenter

1

ISBN

9780077132736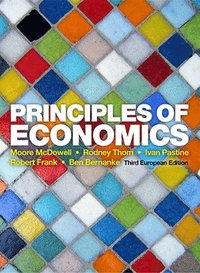 Principles of Economics
Skickas inom 5-8 vardagar.
Fri frakt inom Sverige för privatpersoner.
With an accessible approach, the third European edition of principles of economics provides students with the tools to analyze current economic issues. The book is underpinned by a focus on seven Core Principles, which help students to make the link between economic theory and practice. The 'economic naturalist' approach, supported by exercises, problems and examples, encourages students to employ economics principles to understand and explain the world around them. Developed from the well-regarded US textbook by Frank and Bernanke, it presents an intuitive approach to economics and is suitable for all students taking a Principles of Economics course.
Passar bra ihop
+
Bloggat om Principles of Economics
Övrig information
Moore McDowell teaches at the University College Dublin.



Rodney Thom teaches at the University College Dublin.



Ivan Pastine teaches at the University College Dublin.



Robert H. Frank received his M.A. in statistics from the University of California at Berkeley in 1971, and his Ph.D. in economics in 1972, also from U.C. Berkeley. He is the Goldwin Smith Professor of Economics at Cornell University, where he has taught since 1972 and where he currently holds a joint appointment in the department of economics and the Johnson Graduate School of Management. He has published on a variety of subjects, including price and wage discrimination, public utility pricing, the measurement of unemployment spell lengths, and the distributional consequences of direct foreign investment. For the past several years, his research has focused on rivalry and cooperation in economic and social behaviour.



Professor Bernanke received his B.A. in Economics from Harvard University in 1975 and his Ph.D. in economics from MIT in 1979. He taught at the Stanford Graduate School of Business from 1979 to 1985 and moved to Princeton University in 1985, where he was named the Howard Harrison and Gabrielle Snyder Beck Professor of Economics and Public Affairs, where he served as Chairman of the Economics Department. He is a fellow of the American Academy of Arts and Sciences and the Econometrics Society. He was named a member of the Board of Governors of the Federal Reserve in 2002 and became the chairman of the President's council of Economic Advisers in 2005. In 2006 Ben Bernanke was selected to be the Chairman of the Federal Reserve Board.Professor Bernanke's intermediate textbook, with Andrew Abel, Macroeconomics, Fifth Edition (Addison-Wesley, 2004) is a best seller in its field. He has authored more than 50 scholarly publications in macroeconomics, macroeconomic history, and finance. He has done significant research on the causes of the Great Depression, the role of financial markets and institutions in the business cycle, and measuring the effects of monetary policy on the economy. His two most recent books, both published by Princeton University Press, include Inflation Targeting: Lessons from the International Experience (with coauthors) and Essays on the Great Depression. He has served as editor of the American Economic Review and was the founding editor of the International Journal of Central Banking. Professor Bernanke has taught principles of economics at both Stanford and Princeton.
Innehållsförteckning
part 1: introduction
1. thinking like an economist
2. Markets, Specialisation and Economic Efficiency
3. Markets, Supply, Demand and Elasticity
Part 2: Competition and the 'Invisible Hand'
4. demand: the benefit side of the market
5. Perfectly Competitive Supply: the Cost Side of the Market
6. Efficiency and Exchange
7. Profits, Entry and Exit: The Basis for the 'Invisible Hand'
Part 3: Market Imperfections 1: Market Power
8. imperfect competition and the consequences of market power
9. Thinking Strategically 1: Interdependence, Decision Making and the Theory of Games
10. Thinking Strategically 2: Competition Among the Few
Part 4: Market Imperfections 2: Externalities, Information, Distribution and the Role of the Government in a Market Economy
11. externalities and property rights
12. The Economics of Information
13. Labour Markets, Income Distribution, Wealth and Poverty
14. Government in the Market Economy: Public Sector Production and Regulation
15. The Credit Crunch and the Great Contraction: An Application of Some Micro-economics to Help Explain a Macro-economic Crisis
Part 5: Macroeconomics: Issues and Data
16. macroeconomics: the bird's eye view of the economy
17. Measuring Economic Activity: Gross Domestic Product
18. Measuring the Price Level and Inflation
19. The Labour Market: Wages and Unemployment
Part 6: The Economy in the Long Run
20. economic growth, productivity and living standards
21. Capital Markets: Saving, Investment and Financial Intermediaries
Part 7: The Economy in the Short Run
22. short-term economic fluctuations
23. Money and Interest Rates
24. The IS-LM Model
25. Stabilising the Economy 1: the Role of Fiscal Policy
26. Stabilising the Economy 2: the Role of Monetary Policy
27. Aggregate Demand, Aggregate Supply and Inflation
28. The New Keynesian Phillips Curve: Expectations and Inflation Policy
Part 8: The International Economy
29. exchange rates, capital flows and the balance of payments