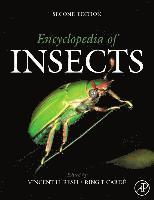 Fler böcker inom
Format

Inbunden (Hardback)

Språk

Engelska

Antal sidor

1168

Utgivningsdatum

2009-07-22

Upplaga

2

Förlag

Medarbetare

H.Resh, Vincent / T.Card, Ring

Illustratör/Fotograf

Illustrationer

Illustrations (some col.), maps

Dimensioner

285 x 228 x 50 mm

Vikt

3379 g

Antal komponenter

1

ISBN

9780123741448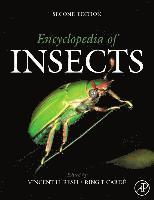 Encyclopedia of Insects
Skickas inom 10-15 vardagar.
Fri frakt inom Sverige för privatpersoner.
Awarded Best Reference by the New York Public Library (2004), Outstanding Academic Title by CHOICE (2003), and AAP/PSP 2003 Best Single Volume Reference/Sciences by Association of American Publishers' Professional Scholarly Publishing Division, the first edition of
Encyclopedia of Insects
was acclaimed as the most comprehensive work devoted to insects. Covering all aspects of insect anatomy, physiology, evolution, behavior, reproduction, ecology, and disease, as well as issues of exploitation, conservation, and management, this book sets the standard in entomology.
The second edition of this reference will continue the tradition by providing the most comprehensive, useful, and up-to-date resource for professionals. Expanded sections in forensic entomology, biotechnology and Drosphila, reflect the full update of over 300 topics. Articles contributed by over 260 high profile and internationally recognized entomologists provide definitive facts regarding all insects from ants, beetles, and butterflies to yellow jackets, zoraptera, and zygentoma.
66% NEW and revised content by over 200 international experts
New chapters on Bedbugs, Ekbom Syndrome, Human History, Genomics, Vinegaroons
Expanded sections on insect-human interactions, genomics, biotechnology, and ecology
Each of the 273 articles updated to reflect the advances which have taken place in entomology research since the previous edition
Features 1,000 full-color photographs, figures and tables
A full glossary, 1,700 cross-references, 3,000 bibliographic entries, and online access save research time
Updated with online access
Passar bra ihop
+
Recensioner i media
2009 CHOICE Outstanding Academic Title
Bloggat om Encyclopedia of Insects
Innehållsförteckning
285 subjects from 265 contributorsAccessory Glands; Aestivation; Agricultural Entomology; Amber; Anatomy: Head, Thorax, Abdomen and Genitalia; Antennae; Ants; Aphids; Apis Species; Aposematic Coloration; Apterygota; Aquatic Habitats; Archaeognatha; Arthropoda and related groups;Auchenorrhyncha; Autohemorrhage; Autonomy; Bedbugs;Beekeeping; Bee Products; Beeswax; Biodiversity; Biogenic Amines; Biogeographical Patterns; Biological Control of Insect Pests; Bioluminescence; Biotechnology and Insects; Blattodea; Blood Sucking; Body Size; Boll Weevil; Bombyx mori; Borers; Brain and Optic Lobes; Bubonic Plague; Caste; Caterpillars; Cat Fleas; Cave Insects; Cell Culture; Chemical Defense; Chemoreception;Chiggers and Other Disease-Causing Mites; Chitin; Chromosomes
Chrysalis; Cicadas; Circadian Rhythms; Circulatory System; Cocoon; Codling Moth;Coevolution; Cold/Heat Protection; Coleoptera; Collection and Preservation; Collembola; Colonies; Colorado Potato Beetle; Coloration; Commercial Products from Insects; Conservation; Crickets; Crypsis; Cultural Entomology; Cuticle; Daddy-Long-Legs; Dance Language; DDT; Defensive Behavior; Delusory Parasitosis; Dengue; Dermaptera; Development, Hormonal Control; Diapause; Digestion; Digestive System; Diplura; Diptera; Division of Labor in Insect Societies; Dog Heartworm; Dormancy; Drosophila melanogaster; Dung Beetles; Ecdysteroids; Eggs; Egg Coverings; Ekbom Syndrome; Embiidina; Embryogenesis; Endangered Insects; Endopterygota; Entomological Societies; Ephemeroptera; Excretion; Exopterygota; Exoskeleton; Extension Entomology; Vail; Eyes and Vision; Fat Body; Feeding Behavior; Fire Ants; Flight; Folk Beliefs and Superstitions; Food, Insects as; Forensic Entomology; Forest Habitats; Fossil Record; Genetically Modified Plants; Genetic Engineering; Genetic Variation;Grassland Habitats; Greenhouse Gases, Global Warming, and Insects; Growth Individual; Grylloblattodea; Gypsy Moth; Hearing; Hemolymph; Hibernation; History of Entomology; Homeostasis Behavioral; Honey; Honeydew; Host Seeking, by Parasitoids; Host Seeking, for Plants; House Fly; Human history, Insects Effect on; Hymenoptera; Hypermetamorphosis; Hyperparasitism; Imaginal Discs; Immunology; Industrial Melanism; Insecta, Overview; Insect Genomics; Insecticide and Acaricide Resistance; Insecticides; Insectivorous Plants; Insectivorous Vertebrates; Insect Zoos; Integrated Pest Management; Integument; Introduced Insects; Island Biogeography and Evolution; Isoptera; Japanese Beetle; June Beetles; Juvenile Hormones; Ladybugs; Larva; Learning; Legs; Lepidoptera; Lice, Human; Locusts;Magnetic Sense; Malaria; Mantodea; Mantophasmatodea; Marine Insects; Mating Behaviors; Mechanoreception; Mecoptera; Medical Entomology; Medicine, Insects in; Megaloptera; Metabolism; Metamorphosis; Migration; Mimicry; Mites; Molting; Monarchs; Mosquitoes; Mouthparts; Movies, Insects in; Muscle System; Museums and Display Collections; Neosomy; Netropical African Bees;Nest Building; Neurope...