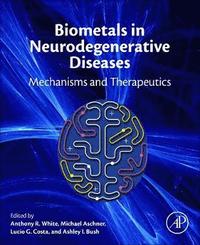 Fler böcker inom
Format

Inbunden (Hardback)

Språk

Engelska

Antal sidor

462

Utgivningsdatum

2017-04-28

Förlag

Medarbetare

R.White, Anthony / Aschner, Michael / G.Costa, Lucio / I.Bush, Ashley

Dimensioner

234 x 190 x 25 mm

Vikt

1260 g

Antal komponenter

1

ISBN

9780128045626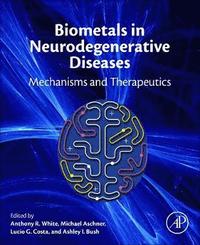 Biometals in Neurodegenerative Diseases
Mechanisms and Therapeutics
Skickas inom 10-15 vardagar.
Fri frakt inom Sverige för privatpersoner.
Biometals in Neurodegenerative Diseases: Mechanisms and Therapeutics
is an authoritative and timely resource bringing together the major findings in the field for ease of access to those working in the field or with an interest in metals and their role in brain function, disease, and as therapeutic targets. Chapters cover metals in Alzheimer's Disease, Parkinson's Disease, Motor Neuron Disease, Autism and lysosomal storage disorders.
This book is written for academic researchers, clinicians and advanced graduate students studying or treating patients in neurodegeneration, neurochemistry, neurology and neurotoxicology. The scientific literature in this field is advancing rapidly, with approximately 300 publications per year adding to our knowledge of how biometals contribute to neurodegenerative diseases.
Despite this rapid increase in our understanding of biometals in brain disease, the fields of biomedicine and neuroscience have often overlooked this information. The need to bring the research on biometals in neurodegeneration to the forefront of biomedical research is essential in order to understand neurodegenerative disease processes and develop effective therapeutics.
Authoritative and timely resource bringing together the major findings in the field for those with an interest in metals and their role in the brain function, disease, and as therapeutic targets
Written for academic researchers, clinicians, and advanced graduate students studying, or treating, patients in neurodegeneration, neurochemistry, neurology and neurotoxicology
Edited by international leaders in the field who have contributed greatly to the study of metals in neurodegenerative diseases
Passar bra ihop
+
Fler böcker av Anthony R White
Metals in the Brain

Anthony R White

This volume explores methods used to examine metal levels and distribution in brain tissue or brain-derived cells. The chapters in this book discuss the use of fluorescent metal probes, synchrotron-based X-ray microscopy, ICP-MS, laser ablation-IC...
Bloggat om Biometals in Neurodegenerative Diseases
Övrig information
Associate Professor Anthony White is a Group Leader at the QIMR Berghofer Medical Research Institute in Queensland, Australia. He is also an Honorary Principal Research Fellow at The University of Melbourne, and an Adjunct Professor in Translational Neuroscience at A.I. Virtanen Institute, University of Eastern Finland. He investigates the cellular pathology of neurodegenerative diseases, and has a strong focus on the role of biometals in neurodegenerative processes, and as novel targets for neurotherapeutics. His research has led to the development of first-in-class metal-drugs as a potential new therapeutic approach to treat motor neuron, Parkinson's and Alzheimer's diseases through the targeting of complementary biometal pathways in these disorders. He has published over 120 original research papers, reviews and book chapters, is Associate Editor for Neurochemistry International and co-founded a start-up biotech company (Procypra Therapeutics) that has delivered a novel copper-based metal-drug to clinical trials for motor neuron disease. He has been awarded prestigious research fellowships including National Health and Medical Research Council (NHMRC) R.D Wright Fellowship, and Senior Research Fellowship, and Australian Research Council (ARC) Future Fellowship. His research has contributed to the understanding of copper interactions with the amyloid precursor protein (APP) and amyloid beta peptide in Alzheimer's disease, and more recently, the key role of copper in cell signaling and neuroinflammatory processes. Dr. Aschner serves as the Harold and Muriel Block Chair in Molecular Pharmacology at Albert Einstein College of Medicine. He served on numerous toxicology panels (Institute of Medicine, US Environmental Protection Agency, Center for Disease Control), and is a member of the Neurotoxicology and Alcohol study section (NIH). Research in our lab focuses on the following topics: (1) Modulation of C. elegans genes (aat, skn-1, daf-16) that are homologous to mammalian regulators of MeHg uptake and cellular resistance will modify dopaminergic neurodegeneration in response to MeHg exposure. (2) Under conditions of MeHg-induced oxidative stress, Nrf2 (a master regulator of antioxidant responses) coordinates the upregulation of cytoprotective genes that combat MeHg-induced oxidative injury, and that genetic and biochemical changes that negatively impact upon Nrf2 function increase MeHg's neurotoxicity. (3) PARK2, a strong PD genetic risk factor, alters neuronal vulnerability to modifiers of cellular Mn status, particularly at the level of mitochondrial dysfunction and oxidative stress. Our studies are designed to (1) shed novel mechanistic insight into metal-induced neurodegeneration; (2) identify targets for genetic or pharmacologic modulation of neurodegenerative disorders; (3) increase knowledge of the pathway involved in oxidative stress; (4) develop improved research models for human disease using knowledge of environmental sciences. Dr. Luc...
Innehållsförteckning
1. Biometals and Alzheimer's Disease 2. Copper in Alzheimer's Disease 3. The Role of Selenium in Neurodegenerative Diseases 4. Does HFE Genotype Impact Macrophage Phenotype in Disease Process and Therapeutic Response? 5. Chemical Elements and Oxidative Status in Neuroinflammation 6. Metals and Neuroinflammation 7. Metals and Prions: Twenty Years of Mining the Awe 8. Manganese and Neurodegeneration 9. Zinc in Autism 10. Metals and Motor Neuron Disease 11. Metals and Lysosomal Storage Disorders 12. Developmental Exposure to Metals and its Contribution to Age-Related Neurodegeneration 13. Metal Biology Associated with Huntington's Disease 14. Metal-Binding to Amyloid- Peptide: Coordination, Aggregation, and Reactive Oxygen Species Production 15. Metals and Mitochondria in Neurodegeneration 16. Metal Transporters inNeurodegeneration 17. Metal Imaging in the Brain 18. Metalloregulation of Protein Clearance: New Therapeutic Avenues for Neurodegenerative Diseases 19. Metals and Autophagy inNeurotoxicity 20. An Overview of Multifunctional Metal Chelators as Potential Treatments for Neurodegenerative Diseases 21. Abnormal Function of Metalloproteins Underlies Most Neurodegenerative Diseases