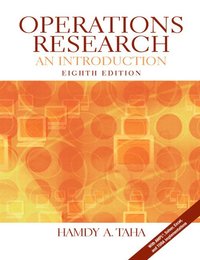 Fler böcker inom
Format

Mixed media product

Språk

Engelska

Antal sidor

840

Utgivningsdatum

2006-04-01

Upplaga

8

Förlag

Illustrationer

illustrations

Dimensioner

185 x 245 x 40 mm

Vikt

1200 g

Antal komponenter

2

Komponenter

Hardback (1), CD-ROM (1)

ISBN

9780131889231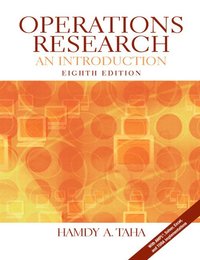 Operations Research
An Introduction
Slutsåld
Operations Research: An Introduction

 

Eighth Edition

 

Hamdy A. Taha

 

This eighth edition streamlines the presentation of text material, providing a balanced coverage of the theory, applications, and computations of operations research. Complex mathematical concepts are explained by means of carefully designed examples. Practical applications are presented using multitudes of examples, targeted problems, fully developed case analyses, and case studies, all borrowed from situations published in the literature. Computations are supported throughout the text both at the commercial level (using AMPL, Solver, and Excel) and at the tutorial level (using the popular and user-friendly TORA).

 

New Text Material:

 

        Chapter 2 is dedicated entirely to formulating linear programming models, with new applications in urban renewal, currency arbitrage, investments, production planning, and blending.  New end-of-section problems deal with topics ranging from water quality management and traffic control to warfare.

        Chapter 3 presents the general LP sensitivity analysis, including dual prices and reduced costs, as a direct extension of the simplex tableau computations.

        Chapter 4 is now dedicated to LP post-optimal analysis based on duality.

        A combined nearest neighbor-reversal heuristic (with generic Excel implementation) is presented for the traveling salesperson problem in Chapter 9.

        Markov chains treatment has been expanded into a new Chapter 17.

        The totally new Chapter 24 on the CD presents 15 fully developed real-life applications with summaries given in pertinent chapters.  The analysis, which often cuts across more than one OR technique (e.g., heuristics and LP, or ILP and queuing), deals with the modeling, data collection, and computational aspects of solving the problem (CD-ROM only). 

        The new Appendix E on the CD includes approximately 50 mini cases of real-life situations. 

        More than 1000 end-of-section problem are included in the book.

        Each chapter starts with a guide that facilitates the understanding of the material and the effective use of the accompanying software.

        All computer-related material has been deliberately compartmentalized in subsections to minimize disruptions in the main presentation of the book.

 

New Software Implementations:...
Fler böcker av Hamdy A Taha
Integer Programming

Hamdy A Taha, J William Schmidt

Integer Programming: Theory, Applications, and Computations provides information pertinent to the theory, applications, and computations of integer programming. This book presents the computational advantages of the various techniques of integer p...
Bloggat om Operations Research
Innehållsförteckning
Chapter 1: What is Operations Research?
1.1 Operations Research Models
1.2 Solving the OR Model
1.3 Queueing and Simulation Models
1.4 Art of Modeling
1.5 More than Just Mathematics
1.6 Phases of an OR Study
1.7 About this Book
Problems
References
Chapter 2: Modeling with Linear Programming
2.1 Two-Variable LP Model
2.2 Graphical LP Solution
2.3 Selected LP Applications
2.4 Computer Solution with Solver and AMPL
Problems
References
Chapter 3: The Simplex Method and Sensitivity Analysis
3.1 LP Model in Equation Form
3.2 Transition from Graphical to Algebraic Solution
3.3 The Simplex Method
3.4 Artificial Starting Solution
3.5 Special Cases in the Simplex Method
3.6 Sensitivity Analysis
Problems
References
Chapter 4: Duality and Post-Optimal Analysis
4.1 Definition of the Dual Problem
4.2 Primal-Dual Relationships
4.3 Economic Interpretation of Duality
4.4 Additional Simplex Algorithms
4.5 Post-Optimal Analysis
Problems
References
Chapter 5: Transportation Model and its Variants
5.1 Definition of the Transportation Model
5.2 Nontraditional Transportation Models
5.3 The Transportation Algorithm
5.4 The Assignment Model
5.5 The Transshipment Model
Problems
References
Chapter 6: Network Models
6.1 Scope and Definition of Network Models
6.2 Minimal Spanning Tree Algorithm
6.3 Shortest-Route Problem
6.4 Maximal Flow Model
6.5 CPM and PERT
Problems
References
Chapter 7: Advanced Linear Programming
7.1 Simplex Method Fundamentals
7.2 Revised Simplex Method
7.3 Bounded Variables Algorithm
7.4 Duality
7.5 Parametric Linear Programming
Problems
References
Chapter 8: Goal Programming
8.1 A Goal Programming Formulation
8.2 Goal Programming Algorithms
Problems
References
...