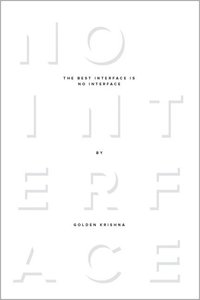 Fler böcker inom
Format

Häftad (Paperback)

Språk

Engelska

Antal sidor

256

Utgivningsdatum

2015-02-10

Upplaga

1

Förlag

Dimensioner

221 x 160 x 13 mm

Vikt

318 g

Antal komponenter

1

ISBN

9780133890334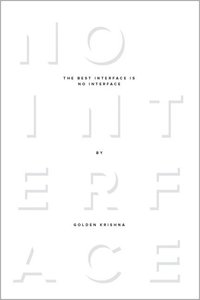 The Best Interface Is No Interface
The simple path to brilliant technology
Slutsåld

Our love affair with the digital interface is out of control. Weve embraced it in the boardroom, the bedroom, and the bathroom.

Screens have taken over our lives. Most people spend over eight hours a day staring at a screen, and some technological innovators are hoping to grab even more of your eyeball time. You have screens in your pocket, in your car, on your appliances, and maybe even on your face. Average smartphone users check their phones 150 times a day, responding to the addictive buzz of Facebook or emails or Twitter.

Are you sick? Theres an app for that! Need to pray? Theres an app for that! Dead? Well, theres an app for that, too! And most apps are intentionally addictive distractions that end up taking our attention away from things like family, friends, sleep, and oncoming traffic.

Theres a better way.
  
 In this book, innovator Golden Krishna challenges our world of nagging, screen-based bondage, and shows how we can build a technologically advanced world without digital interfaces.

In his insightful, raw, and often hilarious criticism, Golden reveals fascinating ways to think beyond screens using three principles that lead to more meaningful innovation. Whether youre working in technology, or just wary of a gadget-filled future, youll be enlighted and entertained while discovering that the best interface is no interface.


Kundrecensioner
Det finns 1 recension av The Best Interface Is No Interface. Har du också läst boken? Om du har köpt den på Bokus.com vill vi gärna höra vad du tyckte om den!
Sätt ditt betyg »
Ger en nyanserad syn på användarupplevelse

Boken är lättsam att läsa med lagom mängd komik.
Krishna ger sin syn på hur vi borde försöka minska antalet gånger vi är beroende av att plocka fram mobilen och vara beroende av skärmar för att genomföra enkla uppgifter.
Fler böcker av Golden Krishna
Recensioner i media

"If Silicon Valley doesn't read this book, we're all ****ed."
- Doug LeMoine, Managing Director, Cooper

An irreverent, crazy tirade. So why should you read this book? Because irreverence is precisely what is needed today to get us out of the rut of bad, unintelligible, frustrating design. Because the book is funny, caustic, and insightful. So next time you are feeling low, just open the book to some random page and read for a few minutes. You will start smiling, laughing, and learning. A great cure for all that ails you. Why read this book? Well, because I told you to.
-Don Norman, Design Lab, University of California, San Diego
Author of The Design of Everyday Things, Revised and Expanded


In this amusing, smart, and brave case against our screen-based world, Golden Krishna reinforces his position as one of the worlds foremost thinkers of user experience design.
- Martin Thrnkvist, Conference Director, The Conference by Media Evolution

This essential book will hopefully mark the moment in history when we say ENOUGH! to screen saturation and usher in a more meaningful co-habitation with technology.
- Kevin Farnham, Founder of Method and Co-Author of Experience Design: A Framework for Integrating Brand, Experience, and Value

"A mind-bending, thoughtful, life-affirming and sure-to-be-controversial manifesto about how we might significantly change our relationship to the technology that surrounds us."
- Dave Gray, Author of The Connected Company and Gamestorming: A Playbook for Innovators, Rulebreakers, and Changemakers

"Krishna's book is written in a very colloquial and accessible style; at times it reads more like a great argument in a Silicon Valley coffee shop, long after closing time, at a table covered in diagrams scribbled on paper napkins. But that's exactly what makes it worth reading. It's not bland theory, but a lively tale well told by someone with deep experience in the field of user experience design."
- PC Magazine


Övrig information
For years, designer Golden Krishna has been behind the scenes, solving technology problems for companies from startups to Fortune 50. He's currently a Senior UX Designer at Zappos Labs, where he works in a small group dedicated to creating new, delightful experiences for Zappos. Previously, he worked at a Samsung innovation lab, designing and building the near future of consumer electronics. He began his career working at the world-renowned design consultancy Cooper in San Francisco.
Innehållsförteckning
FOREWORD
Why do phones ring?
WELCOME
01. Introduction - Why did you buy this book?
02. Screen-based thinking - Lets make an app!
THE PROBLEM
03. Slap an interface on it! - Slimmer TVs! Faster computers! And an overlooked epidemic of awful.
04. UX UI - I make interfaces because that's my job, bro
05. Addiction UX - Click here to cut down your belly fat by using this one weird tip
06. Distraction - Will you marry me? Sorry, I was sending Alice a text, what'd you say?
07. Screen Insomnia - I love staring into a light bulb! Me too!
08. The Screenless Office - The best interface is no interface
PRINCIPLE 1: EMBRACE TYPICAL PROCESSES INSTEAD OF SCREENS
09. Backpocket apps - This app goes perfectly with my skinny jeans
10. Lazy rectangles - Thats a great wireframe. We nailed it. Were going to make a billion dollars.
PRINCIPLE 2: LEVERAGE COMPUTERS INSTEAD OF SERVING THEM
11. The World's First 3D Chapter - Your password must be at least 18,770 characters and cannot repeat any of your previous 30,689 passwords
12. Machine Input - I saved your life, and I didn't even need a password
13. Analog and Digital Chores - I know, I suck at life.
PRINCIPLE 3: ADAPT TO INDIVIDUALS
14. Computing for One - Youre spcial
15. Proactive Computing - From "Hello, Robot" to "Thank you, Robot"
THE CHALLENGES
16. Change - You hate this book? Thank you.
17. Privacy - The machine will learn about me? No thanks.
18. Automatic - Automatic solutions are terrible. Look at Clippy!
19. Failure - What happens when it all falls apart?
20. Exceptions - Less is sometimes more
CONCLUSION
21. The Future - Wow, this is boring