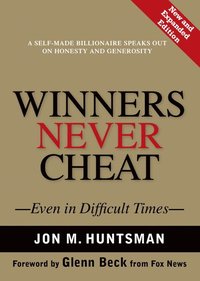 Fler böcker inom
Format

Inbunden (Hardback)

Språk

Engelska

Antal sidor

256

Utgivningsdatum

2008-10-29

Upplaga

1

Förlag

Medarbetare

Beck, Glenn

Dimensioner

187 x 135 x 23 mm

Vikt

300 g

Antal komponenter

1

ISBN

9780137009039
Winners Never Cheat
Even in Difficult Times, New and Expanded Edition
Skickas inom 2-5 vardagar.
Fri frakt inom Sverige för privatpersoner.
Author royalties from this book go to the Huntsman Cancer Foundation

 

The way Jon conducts his business and lives his life will not only inspire you to be a better person, citizen, and entrepreneur, it also will give you hope that the good guys don't finish last.

Glenn Beck

 

"Jon Huntsman is a different breed. He believes business is a creative endeavor, similar to a theater production, wherein integrity must be the central character."

Larry King, CNN

 

"Jon Huntsman's own life and personal values lend credence to his words. He walks his ethical talk."

Neil Cavuto, Fox News

 

"This book could put me out of business. Nobody would be happier about it than me."

Wayne Reaud, Trial Attorney.

 

The nationwide bestseller--fully updated for todays tough times and worldwide financial crises

 

Everyone does it. Everyone cheats. Cuts corners. Tells lies. Maybe it was different once. Not today. If you want to succeed in thiseconomic climate, you simply have to make compromises. Right?

 

Wrong. You can succeed at the highest levels, without sacrificing the principles that make life worth living. The proof? Youre holding it.

 

Jon M. Huntsman built a $12 billion company from scratch, the old-fashioned way: with integrity. There were short-term costs and difficult decisions. There were tough times. Times just like today. But ultimately, leading with integrity wasnt just personally right for Huntsman, it also proved to be the best business strategy.

 

In Winners Never Cheat, Huntsman tells you how he did it, and how you can, too. This book is about remembering why you work, and why you were chosen to lead. Its about finding the bravery to act on what you know is right, no matter what youre up against.

 

Its about winning. The right way.

 

Think about the kind of person you want to do business with. Then, be that person--and use this book to get you there.

 

 
Passar bra ihop
+
Recensioner i media
"How timely! How needed it is for one of the finest human beings, industrial leaders and philanthropists on the planet to compellingly drill down on 10 timeless, universal values for business and life. This book edifies, inspires and motivates all of us to model these commonsensical lessons for our organizations, all our relationships and especially our posterity-for what is common sense is obviously not common practice. <p>Primary greatness is character and contribution. Secondary greatness is how most people define success-wealth, fame, position, etc. Few have both. Jon's one of them." <p>- Dr. Stephen R. Covey, author," The 7 Habits of Highly Effective People "and" The 8th Habit: From Effectiveness to Greatness" <p>"This is easily the most courageous and personal business book since Bill George's "Authentic Leadership," If anyone has doubts about how one person can make a substantive difference in the world, this beautifully written book should dispell them immediately. I hope it's message is embraced worldwide." <p> -- Charles Decker, author, Lessons from the Hive: The Buzz for Surviving and Thriving in an Ever-Changing Workplace <p>"Jon Huntsman's new book ought to be mandatory reading for leaders--and those who aspire to be leaders--in every field. His secrets for success are no secrets at all, but invaluable lessons that he has reminded us, with his life and now with his words, are the pillars upon which we can build our lives, too." <p>--Senator Tom Daschle <p> "Jon Huntsman has taken us back to the basics---the basic values that transcend all professions and cultures. He has provided real life examples that are inspiring and show that 'good guys'; really canfinish first. And he shows us how you can learn from mistakes. It is a "must read" for both young men and women just stepping onto the golden escalator to success and anyone seeking reassurance that how one lives every day really does matter." -- Marsha J. Evans, President and CEO American Red Cross "As I read Jon's book, I thought my father had returned to tell me that you are either honest or you are dishonest, that there is nothing in between. 2 + 2 = 4, never 3.999 or 4.001. Also, if you always say what you believe, you don't need to have a good memory. If we could only live the principles Jon has followed, what a different world it would be--both in our business and personal relationships." <p>--Senator Jake Garn <p>"Jon's outlook on moral and ethical behavior in business should be inspirational to all who read this book. The lessons of fair play and holding true to personal moral values and ethics are time honored principals which are all too often overlooked in today's world. While this book is geared to those in business, I see it as worthwhile reading to anyone." <p>-- Rick Majerus, ESPN Basketball Analyst and legendary former basketball coach, The University of Utah <p>"A refreshing and candid discussion on basic values that can guide you from the sandbox to the board room --- told by a straight shooter." <p>-- Charles Prince, CEO Citigroup <p> "I can't put down the book after reading the first page. These are values universally cherished, whether in the United States, in China or elsewhere. A great and loving man emerges from the pages so vivid that he seems to talk to you face to face, like a family member. My life is richer and mind is broader after reading the book. Iam very proud of my friendship with Jon Huntsman." -- Yafei He, Director General Ministry of Foreign Affairs - China (Dept. of North American and Oceanic Affairs) <p>"Nothing could be more timely than this provocative book from one of America's foremost business and civic leaders about the urgent need for greater ethics in our public and private lives. With wit and clarity, Jon Hunts
Bloggat om Winners Never Cheat
Övrig information
Jon M. Huntsman is founder and Chairman of Huntsman Corporation, a global manufacturer and marketer of differentiated and commodity chemicals that now has 14,000 employees, and annual revenues exceeding $13 billion. Widely recognized as one of America's foremost concerned citizens and philanthropists, Mr. Huntsman, with his wife, Karen, founded the Huntsman Cancer Institute in 1995 to accelerate the work of curing cancer through human genetics. The Institute is now one of America's major cancer research centers dedicated to finding a cure for cancer, as well as a state of the art clinic and treatment center for cancer patients.
Innehållsförteckning
Foreword by Glenn Beck xvii
Introduction Good Times, Bad Times 1
Circumstances may change but your values shouldn't.
Chapter One Lessons from the Sandbox 11
Everything we need for today's marketplace we learned as kids.
Chapter Two Check Your Moral Compass 25
We know darn well what is right and wrong.
Chapter Three Play by the Rules 39
Compete fiercely and fairly--but no cutting in line.
Chapter Four Setting the Example 53
Risk, responsibility, reliability--the three Rs of leadership.
Chapter Five Keep Your Word 77
It's high time to corral the corporate lawyers.
Chapter Six Why We Cross the Line 95
There are many temptations, but reminders help.
Chapter Seven Pick Advisors Wisely 107
Surround yourself with associates who have the courage to say no.
Chapter Eight Get Mad, Not Even 125
Revenge is unhealthy and unproductive. Learn to move on.<...