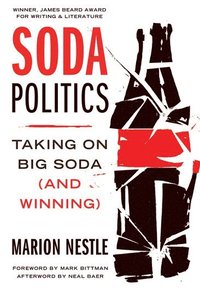 Fler böcker inom
Format

Häftad (Paperback)

Språk

Engelska

Antal sidor

512

Utgivningsdatum

2017-10-26

Förlag

Illustrationer

130 illustrations

Dimensioner

222 x 139 x 31 mm

Vikt

703 g

Antal komponenter

1

ISBN

9780190693145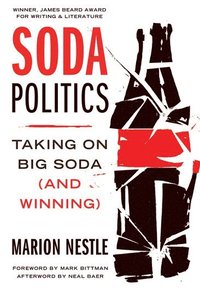 Soda Politics
Taking on Big Soda (And Winning)
Skickas inom 5-8 vardagar.
Fri frakt inom Sverige för privatpersoner.
Boken kan tyvärr inte levereras innan julafton.
How did products containing absurdly inexpensive ingredients become multibillion dollar industries and international brand icons, while also having a devastating impact on public health? In Soda Politics, Dr. Marion Nestle, a renowned food and nutrition policy expert and public health advocate, answers this question by detailing all of the ways that the soft drink industry works overtime to make drinking soda as common and accepted as drinking water, for
adults and children.
Passar bra ihop
+
Recensioner i media
2016 James Beard Award for Writing & Literature Winner


Dr. Margaret Chan, Director-General, World Health Organization The soda industry is a powerful economic operator. Economic power readily translates into political power. Soda Politics is exactly the kind of carefully-researched investigative reporting needed to open the eyes of the public and parliamentarians to the health hazards of what is, as the author rightly notes, essentially liquid candy in a bottle.


Margaret Hamburg, M.D., Former Commissioner of the U.S. Food and Drug Administration Long recognized as an important and informed voice in our national and international discussions on nutrition and health, Marion Nestle has written another book that will keep us talking. With an impressive combination of scholarship and advocacy, Dr. Nestle takes an unflinching look at the soda industry, its products and the impact on health. Soda Politics deserves the attention of the public and policy makers, and should make us all think more carefully about
choices we can make to improve health and well-being.


Alice Waters, Founder and Proprietor of Chez Panisse Marion Nestle is one of the greatest muckrakers of our time, and what she does is vitally important-for our health, our environment, and for future generations. Here, she wages war against the soda titans with such piercing clarity and so many irrefutable truths that all other arguments crumble.


Ann M. Veneman, Former US Secretary of Agriculture and Former Executive Director of UNICEF Comprehensive and well-written, this book will help frame a thoughtful public policy debate about nutrition and the societal impacts and costs of obesity.


Michael Moss, Author of Salt Sugar Fat: How the Food Giants Hooked Us
What happens when the food industry's most insightful critic turns her sights on soda? This razor-sharp, fun to read, plan-of-battle for one of the greatest public health fights of our time. Big soda may have all the money, but those who would enter this fray, as we all should, now have their champion.


Robert Kenner, Director/Producer, Food Inc. and Merchants of Doubt For decades, soda companies have amassed fortunes off drinks that are making us sick. It took someone like Marion Nestle to cut through the spin and uncover the high cost of cheap sodas.


Dr. Kelly Brownell, Dean, Sanford School of Public Policy, Duke University No book in history has so completely laid bare the soda scourge that touches every corner of the world. Marion Nestle shows how this happened, its impact on human health and well-being, who the players are, and, most importantly, what might be done. This is the right book at the right time.


An outstanding manual for health educators, activists, and anyone seeking information about the soda industry and its impact on health." - Library Journal


If you have been exhausted by the flip-flop of Brexit politics in recent weeks, Soda Politics offers a refr...
Övrig information
Dr. Marion Nestle is Paulette Goddard Professor in the Department of Nutrition, Food Studies, and Public Health and Professor of Sociology at New York University. Her degrees include a Ph.D. in molecular biology and an M.P.H. in public health nutrition, both from the University of California, Berkeley. From 1986-88, she was senior nutrition policy advisor in the Department of Health and Human Services and managing editor of the 1988 Surgeon General's Report on Nutrition and Health. She has been a member of the FDA Food Advisory Committee and Science Board, the USDA/DHHS Dietary Guidelines Advisory Committee, and American Cancer Society committees that issue dietary guidelines for cancer prevention. She is also the author of Eat Drink Vote: An Illustrated Guide to Food Politics (Rodale, 2013), Why Calories Count: From Science to Politics (Berkeley, 2012), Safe Food: The Politics of Food Safety (Berkeley, 2010), Food Politics: How the Food Industry Influences Nutrition and Health (
Innehållsförteckning
Foreword, by Mark Bittman Introduction What is soda and why should anyone care? 1) Sodas: the inside story 2) Soda drinkers: facts and figures 3) The sugar(s) problem Sodas and health 4) Dietary advice: sugars and sugary drinks 5) The health issues: obesity, diabetes, and more 6) Advocating health: soda-free teeth The soda industry and how it works 7) Meet Big Soda: an overview 8) Obesity: Big Soda's response 9) Marketing sugary drinks: four basic principles Targeting children 10) Starting early: Marketing to infants, children, and teens 11) Advocating health: Ending soda marketing to kids 12) Advocating health: Getting sodas out of schools 13) Advocating health: Getting kids involved Targeting minorities and the poor 14) Marketing to African- and Hispanic-Americans: a complicated story 15) Selling to the developing world 16) Advocating health: excluding sodas from SNAP Playing softball: Recruiting allies, coopting critics 17) "Softball" marketing strategies: Corporate Social Responsibility 18) Investing in communities 19) Supporting worthy causes: health professionals and research 20) Recruiting public health leaders Playing softball: Mitigating soda-induced environmental damage 21) Advocating sustainability: defending the environment 22) Advocating sustainability: protecting public water resources Playing hardball: defending turf, attacking critics 23) Lobbying, campaign contributions, and the revolving door 24) Using public relations and front groups Taking action: soda caps and taxes 25) Advocating health: capping soda portion sizes 26) Advocating health: taxing sugary drinks 27) Advocating for health and the environment: take action Afterword, by Neal Baer Appendix I: The principal US groups advocating for healthier beverage choices Appendix II: National, state, and local campaigns to reduce soda consumption: selected examples Selected bibliography List of tables and figures Reference notes Acknowledgments Index