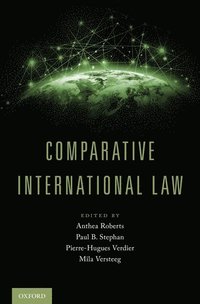 Fler böcker inom
Format

Inbunden (Hardback)

Språk

Engelska

Antal sidor

640

Utgivningsdatum

2018-02-22

Förlag

Medarbetare

Stephan, Paul B. / Verdier, Pierre-Hugues / Versteeg, Mila

Dimensioner

254 x 165 x 38 mm

Vikt

1016 g

Antal komponenter

1

ISBN

9780190697570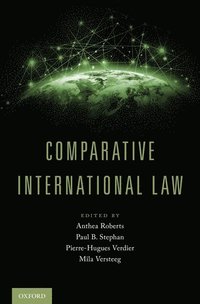 Comparative International Law
Skickas inom 5-8 vardagar.
Fri frakt inom Sverige för privatpersoner.
By definition, international law, once agreed upon and consented to, applies to all parties equally. This book explains that states at times adhere to similar, and at other times, adopt different interpretations of the same international norms and standards. This book achieves three objectives. The first is to show that international law is not a monolith. The second is to map the cross-country similarities and differences in international legal norms in different
fields of international law, as well as their application and interpretation with regards to geographic differences. The third is to make a first and preliminary attempt to explain these differences. It is organized into three broad thematic sections, exploring: conceptual matters, domestic
institutions and comparative international law, and comparing approaches across issue-areas. The chapters are authored by contributors who include leading international law and comparative law scholars with diverse backgrounds, experience, and perspectives.
Passar bra ihop
+
Fler böcker av Anthea Roberts
Is International Law International?

Anthea Roberts

This book challenges the idea that international law looks the same from anywhere in the world. Instead, how international lawyers understand and approach their field is often deeply influenced by the national contexts in which they lived, studied...
Recensioner i media
Judge Joan Donoghue, International Court of Justice This well-structured volume assembles an impressive roster of contributions to the intriguing new field of comparative international law.


Gillian Triggs, Emeritus Professor, Sydney Law School, and former President, Australian Human Rights Commission To meet the challenge of a universally recognized rule of law, one needs to understand how and why nations and regions approach international law in different ways. This refreshing collection of essays on comparative international law examines what is vaguely perceived to be true but not acknowledged: that there are major variations in state practice when giving effect to international obligations.


Lord Lloyd Jones, Supreme Court of the United Kingdom This publication is an important step in the development of comparative international law and it is likely to be highly influential in both the study and the practice of the law.


Curtis A. Bradley, William Van Alstyne Professor, Duke Law School This volume is indispensable to anyone interested in studying why approaches to international law often vary around the world.


Eyal Benvenisti, Whewell Professor of International Law, University of Cambridge This wide-ranging volume firmly establishes comparative international law as a rich field of study... A refreshing and sophisticated response to theories that advocate hierachy in the name of an international rule of law.


William E. Butler, Journal of Comparative Law The book ... is produced to the excellent and attractive standard of OUP at, these days, a favorable price.



Bloggat om Comparative International Law
Övrig information
Anthea Roberts is Associate Professor at the RegNet School of Regulation and Global Governance, Australian National University, College of Asia and the Pacific. She won ASIL's Frances Deak Prize in 2002 and 2011, and currently serves as a Reporter for the American Law Institute's-Restatement (Fourth) of the Foreign Relations Law of the United States (for jurisdiction). She authored Is International Law International? (Oxford 2017). Paul B. Stephan is John C. Jeffries, Jr., Distinguished Professor of Law, and John V. Ray Research Professor at the University of Virginia School of Law. He specializes in international business, international dispute resolution, and comparative law, with special focus on Soviet and post-Soviet legal systems. He is presently a coordinating reporter for the American Law Institute's-Restatement (Fourth) of the Foreign Relations Law of the United States. Pierre-Hugues Verdier is Professor of Law at the University of Virginia School of Law. He specializes in the areas of public international law, banking and financial regulation, and international economic relations. He is currently working on a book-length project focusing on U.S. and foreign prosecutions targeting global banks. Mila Versteeg is Professor of Law, and Director of the Human Rights Program at the University of Virginia School of Law. She specializes in comparative constitutional law, public international law, and empirical legal studies. She also focuses on the origins, evolution, and effectiveness of provisions in the world's constitutions. Her writings have been published in the California Law Review, the New York University Law Review, the University of Chicago Law Review, the American Political Science Review, the American Journal of Political Science, the Journal of Legal Studies, the American Journal of International Law, and the Journal of Law, Economics and Organizations.
Innehållsförteckning
Contributors Introduction 1. Conceptualizing Comparative International Law Anthea Roberts, Paul Stephan, Pierre-Hugues Verdier & Mila Versteeg Part 1: Comparative International Law and Related Fields: Comparative Politics, Foreign Relations Law, and International Relations 2. Methodological Guidance: How to Select and Develop Comparative International Law Case Studies Katerina Linos 3. Comparative International Law, Foreign Relations Law and Fragmentation: Can the Center Hold? Paul B. Stephan 4. Why Comparative International Law Needs International Relations Theory Daniel Abebe Part 2: International Lawyers, the Academy, and Competing Conceptions of International Law 5. The Many Fields of (German) International Law Nico Krisch 6. Crimea and the South China Sea: Connections and Disconnects Among Chinese, Russian, and Western International Lawyers Anthea Roberts 7. "Shioki (Control)" "Fuyo (Dependency)," and Sovereignty: The Status of the Ryukyu Kingdom in Early-Modern and Modern Times Masaharu Yanagihara Part 3: Comparative International Law and International Institutions 8. Comparative International Law Within, Not Against, International Law: Lessons from the International Law Commission Mathias Forteau 9. The Continuing Impact of French Legal Culture on the International Court of Justice Mathilde Cohen Part 4: Comparative International Law and Domestic Institutions: Legislatures and Executives 10. International Law in National Legal Systems: An Empirical Investigation Pierre-Hugues Verdier & Mila Versteeg 11. Objections to Treaty Reservations: A Comparative Approach to Decentralized Interpretation Tom Ginsburg 12. Intelligence Communities and International Law: A Comparative Approach Ashley S. Deeks 13. National Legislatures: The Foundations of Comparative International Law Kevin L. Cope & Hooman Movassagh Part 5: Comparative International Law and Domestic Institutions: National Courts 14. International Law in Chinese Courts During the Rise of China Congyan Cai 15. The Democratizing Force of International Law: Human Rights Adjudication by the Indian Supreme Court Neha Jain 16. Case Law in Russian Approaches to International Law: Sovereign Cautiousness of a Semi-Peripheral Great Power Lauri Malksoo 17. Doing Away with Capital Punishment in Russia: International Law and the Pursuit of Domestic Constitutional Goals Bakhtiyar Tuzmukhamedov Part 6: Comparative International Law and Human Rights 18. Comparative Views on the Right to Vote in International Law: the Case of Prisoners' Disenfranchisement Shai Dothan 19. When Law Migrates: Refugees in Comparative International Law Jill I. Goldenziel 20. An Asymmetric Comparative International Law Approach to Treaty Interpretation: The CEDAW Committee's Tolerance of the Scandinavian States' Progressive Deviation Alec Knight 21. Comparative International Law and Human Rights: A Value-Added Approach Christopher McCrudden 22. CEDAW in National Courts: A Case Study in Operationalizing Comparative International Law Analysis in a Human Rights Context Christopher McCrudden 23. The Great Promise of Comparative Public Law for Latin America: Towards ius commune americanum? Alejandro Rodiles Part 7: Comparative International Law, Investment, and Law of the Sea 24. Who Cares about Regulatory Space in BITs? A Comparative International Approach Tomer Broude, Yoram Z. Haftel & Alexander Thompson 25. Africa and the Rethinking of International Investment Law: About the Elaboration of the Pan-African Investment Code Makane Moise Mbengue & Stefanie Schacherer 26. Not So Treacherous Waters of International Maritime Law: Islamic Law States and the UN Convention on the Law of the Sea Emilia Justyna Powell Index