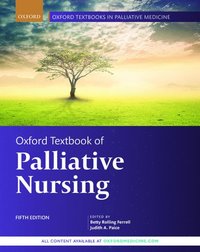 Fler böcker inom
Format

Inbunden (Hardback)

Språk

Engelska

Antal sidor

1000

Utgivningsdatum

2019-04-04

Upplaga

5

Förlag

Medarbetare

Paice, Judith A.

Dimensioner

285 x 222 x 38 mm

Vikt

2109 g

Antal komponenter

1

ISBN

9780190862374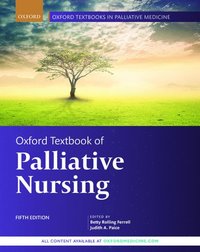 Oxford Textbook of Palliative Nursing
Skickas inom 5-8 vardagar.
Fri frakt inom Sverige för privatpersoner.
The Oxford Textbook of Palliative Nursing remains the most comprehensive treatise on the art and science of palliative care nursing available. Dr. Betty Rolling Ferrell and Dr. Judith A. Paice have invited 162 nursing experts to contribute 76 chapters addressing the physical, psychological, social, and spiritual needs pertinent to the successful palliative care team. This fifth edition features several new chapters, including chapters on advance care
planning, organ donation, self-care, global palliative care, and the ethos of palliative nursing.
Passar bra ihop
+
Recensioner i media
Roger Woodruff, IAHPC Newsletter If you work in palliative nursing, this has to be the recommended reference. The information is comprehensive and well set out. There is adequate use of lists and tables, as well as a clear system of headings, which make the information more available. Each chapter opens with a list of key points and it all seems well-referenced.


Jeanna Ann Ford, Doodys This book continues to be the essential reference for palliative nurses. There are a variety of nursing books available to address palliative care, but none are as comprehensive as this one. This is the most comprehensive evidence-based reference in this field.


Lisa C. Lindley, PhD, RN, FPCN, Associate Professor, College of Nursing, University of Tennessee, Knoxville, TN This is the ultimate go-to book for nurses caring for patients at end of life and a must for all libraries. The textbook is fresh, current, and clinician friendly. For nurses caring for children and their families, three new chapters in this edition offer critical new information on caring for adolescents, using social media to communicate, and accessing pediatric care. Congratulations to the editors for producing such a comprehensive resource for all nurses,
including pediatric nurses.


Rose Virani, RNC, MHA, OCN, FPCN, Senior Research Specialist and ELNEC Project Director, Division of Nursing Research and Education, City of Hope, Duarte, CA What I immediately liked about this new edition of the Oxford Textbook of Palliative Nursing are the chapters from new authors that both encompass a multidisciplinary approach and address todays healthcare, including such topics as value-based care, advance care planning, and organ donation. The last chapter in particular, "The Ethos of Palliative Nursing", summarizes the essence of palliative care to guide nurses on focusing on the quality of life and
support of patients and their family members.


Sally Norton, PhD, RN, FNAP, FPCN, FAAN, Associate Professor and Independence Foundation Chair in Nursing and Palliative Care, University of Rochester School of Nursing, Rochester, NY Since its inception, the Oxford Textbook of Palliative Nursing has been the go to resource for nurses and nurse practitioners caring for seriously ill patients and their families. The new Fifth Edition continues in that venerable tradition as an excellent resource for nurses at the bedside, in the classroom, and conducting research in the field of palliative care. This edition reflects the growth of the field of palliative care nursing, both in breadth as
palliative care expands to new settings and populations as well as depth as the evidence base for palliative care continues to mature. Congratulations to the editors and authors for producing such an outstanding textbook.


Sally Welsh, MSN, RN, NEA-BC, Chief Executive Officer, Hospice and Palliative Nurses Association, Hospice and Palliative Credentialing Center, Hospice and Palliative Nurses Foun...
Bloggat om Oxford Textbook of Palliative Nursing
Övrig information
Betty Ferrell, RN, PhD, MA, FAAN, FPCN, CHPN is the Director and Professor of Nursing Research at City of Hope Comprehensive Cancer Center in Duarte, California. Judith A. Paice, PhD, RN, FAAN is the Director of the Cancer Pain Program in the Division of Hematology/Oncology at Northwestern University's Feinberg School of Medicine in Chicago, Illinois.
Innehållsförteckning
SECTION I General Principles 1. Introduction to Palliative Nursing Betty Rolling Ferrell 2. National Consensus Project for Quality Palliative Care: Assuring Quality Palliative Care through Clinical Practice Guidelines Constance M. Dahlin 3. Hospital-Based Palliative Care Patricia Maani-Fogelman 4. Principles of Patient and Family Assessment John D. Chovan 5. Communication in Palliative Care: An Essential Competency for Nurses Constance M. Dahlin and Elaine Wittenberg 6. Advance Care Planning Shigeko Izumi SECTION II Symptom Assessment and Management 7. Interdisciplinary Palliative Care Teams: Specialists in Delivering Palliative Care Polly Mazanec, Rebekah Reimer, Jessica Bullington, Patrick J. Coyne, Herman Harris, II, Mary Catherine Dubois, Catherine Rogers, and Jennifer Aron 8. Pain Assessment Regina M. Fink, Rose A. Gates, and Kate D. Jeffers 9. Pain Management Judith A. Paice 10. Fatigue Edith O'Neil-Page, Grace E. Dean, and Paula R. Anderson 11. Anorexia and Cachexia Elizabeth E. Schack and Dorothy Wholihan 12. Nausea and Vomiting David Collett and Kimberly Chow 13. Dysphagia, Hiccups, and Other Oral Symptoms Rachel Klinedinst, Audrey Kurash Cohen, and Constance M. Dahlin 14. Bowel Management: Constipation, Obstruction, Diarrhea, and Ascites Stefanie N. Mooney, Purvi Patel, and Sorin Buga 15. Artificial Nutrition and Hydration Katy M. Lanz, Michelle S. Gabriel, and Jennifer A. Tschanz 16. Dyspnea, Cough, and Terminal Secretions DorAnne Donesky 17. Bladder Management in Palliative Care Naomi Farrington and Catherine Murphy 18. Lymphedema Management Mei R. Fu, Bonnie B. Lasinski, Janet H. Van Cleave, and Charles P. Tilley 19. Palliative Wound, Ostomy, and Continence Care Charles P. Tilley, Mei R. Fu, and Jana M. Lipson 20. Pruritus, Fever, and Sweats Angel Smothers 21. Neurological Disorders Margaret A. Schwartz 22. Anxiety and Depression Jaroslava Salman, Emma Wolfe, and Sunita K. Patel 23. Delirium, Confusion, and Agitation Wendy Goldberg, Greg Mahr, Amy M. Williams, and Michael Ryan 24. Insomnia Karla Schroeder 25. Sexuality and Intimacy in Serious Illness and at the End of Life Heather Shaw and Joshua Fronk 26. Urgent Syndromes at the End of Life Quinten Robertson and Kelli Gershon 27. Sedation for Refractory Symptoms Bonnie Freeman and Chandana Banerjee 28. Complementary and Integrative Therapies in Palliative Care Mary-Anne Meyer and Melinda Ring 29. Withdrawal of Invasive Mechanical Ventilation Margaret K. Campbell SECTION III Psychosocial and Spiritual Support 30. The Meaning of Hope in the Dying Valerie T. Cotter and Anessa M. Foxwell 31. Bereavement Inge B. Corless and Janice Bell Meisenhelder 32. Supporting Families and Family Caregivers in Palliative Care Kelli I. Stajduhar and J. Nicholas Dionne-Odom 33. Planning for the Actual Death Patricia Berry and Julie Griffie 34. Spiritual Screening, History, and Assessment Elizabeth Johnston Taylor 35. Spiritual Care Intervention William Rosa 36. Meaning in Illness Tami Borneman and Katherine Brown-Saltzman SECTION IV Special Patient Populations 37. Cultural Considerations in Palliative Care Carrie Cormack, Polly Mazanec, and Joan T. Panke 38. Older Adult Patients in the Community Carol O. Long 39. Poor, Homeless and Underserved Populations Caroline Olney, Sarah Stroe, and Anne Hughes 40. Palliative Care for Patients with Mental Illness John D. Chovan and Betty D. Morgan 41. Palliative Care for People Living with HIV Jacquelyn Slomka 42. Caring for the Patient with Substance Use Disorder at the End of Life Peggy Compton, Yu-Ping Chang, and Salimah Meghani 43. Cancer Survivorship Anne Reb and Denice Economou 44. Veterans Deborah Grassman 45. Organ Donation Lissi Hansen and Lauren F. Dunn 46. Pulmonary Palliative Care Patricia A. Maani-Fogelman and Ruby A. Weller 47. Palliative Care in Heart Failure J. Nicholas Dionne-Odom, Rachel Wells, and Keith M. Swetz SECTION V End-of-Life Care across Settings 48. Improving the Qual