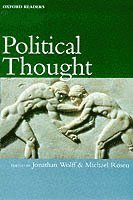 Fler böcker inom
Format

Häftad (Paperback)

Språk

Engelska

Antal sidor

448

Utgivningsdatum

1999-09-01

Förlag

Medarbetare

Wolff, Jonathan

Illustrationer

bibliog.

Dimensioner

235 x 160 x 25 mm

Vikt

635 g

Antal komponenter

1

ISBN

9780192892782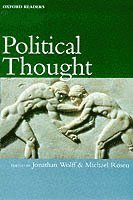 Political Thought
Skickas inom 5-8 vardagar.
Fri frakt inom Sverige för privatpersoner.
This Oxford Reader contains 140 essential readings covering the most important debates in the Western political tradition and presents samples of the major political ideologies. Issues discussed include; the role of human nature in determining social arrangements; the political significance of gender differences; the justification for the powers of the state; democracy and the rights of minorities; the tension between liberty and equality; the way in which resources
ought to be distributed; and international relations. Authors range from Plato and Aristotle to Martin Luther King, Michel Foucault and Isaiah Berlin.
Passar bra ihop
+
Kundrecensioner
Det finns 1 recension av Political Thought. Har du också läst boken?
Sätt ditt betyg »
Bra bok som introduktion

Perfekt bok som introduktion till politisk filosofi. Boken innehåller en mängd utdrag ur de viktigaste texterna som skrivits genom historien i detta ämne.
Bloggat om Political Thought
Övrig information
<br>Jonathan Wolff is Reader in Philosophy at University College London and author of An Introduction to Political Philosophy (OUP, 1996) and Robert Nozick (1991). Michael Rosen is a Fellow of Lincoln College, Oxford, coeditor of The Cambridge Edition of the Works of Immanuel Kant, and author of Hegel'sDialectic and its Criticism (OUP, 1982) and The Need for Interpretation (Abalone, 1987).<br>
Innehållsförteckning
PREFACE; INTRODUCTION; CHAPTER 1: HUMAN NATURE; INTRODUCTION; 1A: THE NATURAL STATE OF MANKIND; 1. ARISTOTLE: THE STATE EXISTS BY NATURE; 2. THOMAS HOBBES: THE MISERY OF THE NATURAL CONDITION OF MANKIND; 3. JOHN LOCKE: THE STATE OF NATURE AND THE STATE OF WAR; 4. BARON DE MONTESQUIEU: FEAR AND PEACE; 5. JEAN-JACQUES ROUSSEAU: THE NOBLE SAVAGE; 6. ROBERT OWEN: MAN'S CHARACTER IS FORMED FOR HIM; 7. KARL MARX AND FRIEDRICHENGELS: MAN AS A PRODUCTIVE BEING; 8. CHARLES DARWIN: NATURAL SELECTION; 9. CHARLES DARWIN: THE ADVANTAGE OF MORALITY; 10. PETER KROPOTKIN: MUTUAL AID; 1B: MAN'S NATURE AND WOMAN'S NATURE; 11. PLATO: WOMEN AS WEAKER PARTNERS; 12. ARISTOTLE: SEPARATE SPHERES; 13. JEAN-JACQUES ROUSSEAU: THE LIKENESS AND UNLIKENESS OF THE SEXES; 14. MARY WOLLSTONECRAFT: THE RIGHTS OF WOMEN; 15. JOHN STUART MILL: THE SUBJECTION OF WOMEN; 16. CAROL GILLIGAN: IN A DIFFERENT VOICE; 17. ALISON M JAGGAR: SOCIALIST FEMINISM AND THE STANDPOINT OF WOMEN; CHAPTER 2: THE JUSTIFICATION OF THE STATE; 2A WHAT IS THE STATE?; 18. JOHN LOCKE: POLITICAL POWER; 19. MAX WEBER: THE STATE AND COERCION; 2B THE SOCIAL CONTRACT; 20. THOMAS HOBBES: CREATING LEVIATHAN; 21. JOHN LOCKE: EXPRESS AND TACIT CONSENT; 22. JEAN-JACQUES ROUSSEAU: NATURAL FREEDOM AND THE FREEDOM OF THE CITIZEN; 23. IMMANUEL KANT: THE HYPOTHETICAL CONTRACT; 2CAGAINST THE SOCIAL CONTRACT; 24. DAVID HUME: THE IRRELEVANCE OF CONSENT; 25. JEREMY BENTHAM: UTILITY AS THE TRUE FOUNDATION; 26. G.W.F HEGEL: THE PRIORITY OF THE STATE OVER THE INDIVIDUAL; 27. H.L.A. HART: THE PRINCIPLE OF FAIRNESS; 2D: THE ANARCHIST RESPONSE; 28. MICHAEL BAKUNIN: SCIENCE AND THE PEOPLE; 29. ROBERT PAUL WOLFF: THE CONFLICT OF AUTONOMY AND AUTHORITY; 2E: CIVIL DISOBEDIENCE; 30. PLATO: THE DUTY OF OBEDIENCE; 31. HENRY DAVID THOREAU: THE DUTY OF DISOBEDIENCE; 32. MARTIN LUTHER KING: AN UNJUST LAW IS NO LAW; 33. JOHN RAWLS: CIVIL DISOBEDIENCE; CHAPTER 3: DEMOCRACY AND ITS DIFFICULTIES; 3A: AGAINST DEMOCRACY; 34. PLATO: RULING AS A SKILL; 35. FREDERICK THE GREAT: THE ENLIGHTENED DESPOT; 3B: DEMOCRATIC IDEALS; 36. JEAN-JACQUES ROUSSEAU: THE GENERAL WILL; 37. IMMANUEL KANT: FREEDOM AND EQUALITY; 38. JOHN STUART MILL: THE DEMOCRATIC CITIZEN; 39. JOHN RAWLS: MAJORITY RULE; 3C TRUE AND FALSE DEMOCRACY; 40. V.I. LENIN: BOURGEOIS AND PROLETARIAN DEMOCRACY; 41. CAROLE PATEMAN: PARTICIPATORY DEMOCRACY; 3D DANGERS IN DEMOCRACY; 42. ARISTOTLE: RULE OF THE PEOPLE AND RULE OF LAW; 43. JAMES MADISON: THE DANGER OF FACTION; 44. ALEXIS DE TOCQUEVILLE: TYRANNY OF THE MAJORITY; 3E DEMOCRACY AND BUREAUCRACY; 45. MAX WEBER: BUREAUCRATIC ADMINISTRATION; 46. VILFEDO PARETO: RULE BY OLIGARCHY; 3F: SEPARATION OF POWERS; 47. JOHN LOCKE: LEGISLATIVE, EXECUTIVE, AND FEDERATIVE POWERS; 48. BARON DE MONTESQUIEU: THE IDEAL CONSTITUTION; CHAPTER 4: LIBERTY AND RIGHTS; 4A: WHAT IS LIBERTY?; 49. BENJAMIN CONSTANT: THE LIBERTY OF THE ANCIENTS AND THE LIBERTY OF THE MODERNS; 50. ISAIAH BERLIN: TWO CONCEPTS OF LIBERTY; 51. CHARLES TAYLOR: IN DEFENCE OF POSITIVE FREEDOM; 52. RONALD DWORKIN: NO RIGHT TO LIBERTY; 4B: LAW AND MORALITY; 53. JOHN STUART MILL: ONE SIMPLE PRINCIPLE; 54. JAMES FITZJAMES STEPHEN: THE CONSEQUENCES OF LIBERTY; 55. PARTICK DEVLIN: THE ENFORCEMENT OF MORALS; 56. H.L.A. HART: THE CHANGING SENSE OF MORALITY; 4C: TOLERATION AND FREE EXPRESSION; 57. JOHN LOCKE: THE FUTILITY OF INTOLERANCE; 58. THOMAS SCANLON: FREE EXPRESSION AND THE AUTHORITY OF THE STATE; 59. JEREMY WALDRON: THE SATANIC VERSES; 60. CATHERINE MACKINNON: ONLY WORDS; 4D: VIRTUE AND CITIZENSHIP; 61. PERICLES: THE DEMOCRATIC CITIZEN; 62. ARISTOTLE: THE REQUIREMENTS OF CITIZENSHIP; 63. NICCOLO MACHIAVELLI: THE SERVILITY OF THE MODERNS; 64. ALEXIS DE TOCQUEVILLE: THE NATURE OF MODERN SERVITUDE; 65. QUENTIN SKINNER: THE REPUBLICAN IDEAL OF POLITICAL LIBERTY; 4E: RIGHTS; 66. JEREMY BENTHAM: NONSENSE ON STILTS; 67. KARL MARX: THE RIGHTS OF EGOISTIC MAN; 68. ROBERT NOZICK: RIGHTS AS SIDE-CONSTRAINTS; 69. RONALD DWORKIN: TAKING RIGHTS SERIOUSLY; 4F: PUNISHMENT; 70. JOHN