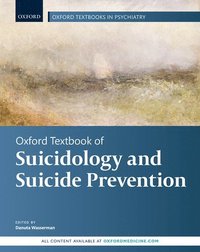 Format

Inbunden (Hardback)

Språk

Engelska

Antal sidor

856

Utgivningsdatum

2021-01-08

Upplaga

2

Förlag

Medarbetare

Wasserman, Danuta (ed.)

Dimensioner

282 x 229 x 38 mm

Vikt

2361 g

Antal komponenter

1

ISBN

9780198834441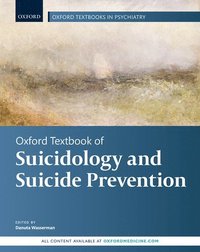 Oxford Textbook of Suicidology and Suicide Prevention
Skickas från oss inom 7-10 vardagar.

Fri frakt över 249 kr för privatkunder i Sverige.
Finns även som
Läs i DRM-kompatibel e-boksläsare.

Läs i DRM-kompatibel e-boksläsare.
Part of the authoritative Oxford Textbooks in Psychiatry series, the new edition of the Oxford Textbook of Suicidology and Suicide Prevention remains a key text in the field of suicidology, fully updated with new chapters devoted to major psychiatric disorders and their relation to suicide.
Passar bra ihop
+
Fler böcker av Danuta Wasserman
Övrig information
Danuta Wasserman is Professor in Psychiatry and Suicidology at Karolinska Institutet (KI), and the Founding Head of the National Centre for Suicide Research and Prevention of Mental Ill-Health (NASP). Since 1995, she has also been the Director of the WHO Collaborating Centre for Research, Methods Development and Training in Suicide Prevention, and an expert advisor to the WHO office in Copenhagen and Geneva. Former President of the European Psychiatric Association, she is Honotaty President of the Swedish-Estonian Institute of Suicidology. Professor Wasserman has received a number of research awards for her work, such as the Stengel Award, the American Foundation for Suicide Prevention: Distinguished Research Award, the Hans-Rost Prize, and the Nordic Public Health Prize.
Innehållsförteckning
Part I: Suicide in a Religious and Cross-cultural Perspective 1: Camilla Wasserman: Religion, more than just protective 2: Herman M van Praag: The role of religion in suicide prevention 3: Wu Fei: Confucianism, Taosim, and suicide 4: Lakshmi Vijayakumar: Hindu religion and suicide in India 5: Somparn Promta and Prakarn Thomyangkoon: A Buddhist perspective on suicide 6: Yoshihiro Kaneko, Akiko Yamasaki, and Kiminori Arai: The Shinto religion and suicide in Japan 7: Aaron Rabinowitz and Israel Orbach: Suicide in the Jewish scriptures 8: Ahmed Okasha and Tarek Okasha: Suicide and Islam 9: Oivind Ekeberg and Nils Retterstol: Christianity and suicide 10: Emilio Ovuga and Jed Boardman: The role of religion in suicide prevention work in Uganda 11: Gaspar Baquedano: Maya religion and traditions: Inauencing suicide prevention in contemporary Yucatan, Mexico Part 2: The Magnitude and Implication of Suicide and Attempted Suicide 12: Jose M Bertolote and Danuta Wasserman: Development of definitions of suicidal behaviours: from suicidal thoughts to completed suicides 13: Alexandra Fleischmann and Elise Paul: A global perspective on suicides and suicide attempters 14: Emma Bjoerkenstam, Ellenor Mittendorfer-Rutz, and Armin Schmidtke: Attempted Suicide 15: Romuald Brunner, Kathrin Mikan, Maximilian Niebler, and Stephanie Kandsperger: International perspective on non-suicidal self-injury (NSSI) 16: David Lester: Extended suicide 17: Herbert Hendin, Kathleen Foley and Josephine Hendin: Physician Assisted Suicide and Euthanasia in the Netherlands and Oregon: A Medical and Psychological Perspective 18: Philippe Courtet and Emilie Olie: Legislation and ethics of physician-assisted suicide and euthanasia in psychiatric patients: evidence from Benelux Part 3: Theories of Suicidal Behaviour 19: Ilkka Henrik Makinen and Yerko Rojas: Social theories of suicide 20: Elsa Ronningstam, Igor Weinberg, and John T. Maltsberger: Psychoanalytic theories of suicide: historical overview and empirical evidence 21: David Rudd and Andrea Perez Munoz: Psychological theories of suicidal behaviour 22: Gustavo Turecki: Biological theories of suicidal behaviour 23: Danuta Wasserman, Jerzy Wasserman, Dan Rujescu, and Marcus Sokolowski: Neurobiology and the genetics of suicide Part 4: Political, Social and Economic Determinants of Suicide 24: Airi Varnik and Peeter Varnik: Suicide during transition in the Former Soviet Union 25: David Lester: Suicide during war and genocides 26: Vsevolod Rozanov: Suicide in military settings 27: Marco Sarchiapone and Miriam Iosue: Suicide in prisons and remand centres: Risk factors and prevention 28: Adam Montgomery and Dinesh Bhugra: Suicide among migrants 29: Jennifer Hughes and Gergoe Hadlaczky: Suicide and attempted suicide among indigenous people 30: Ilkka Henrik Makinen, Yerko Rojas and Danuta Wasserman: Labour market, work environment and suicide Part 5: Psychiatric and Somatic Determinants of Suicide 31: Jouko Lonnqvist: Mood and anxiety disorders in suicide and suicide at-tempters 32: Herbert Hendin: Post-traumatic stress disorder and risk for suicide in combat veterans 33: Tine Maes and Geert Dom: Alcohol, other psychoactive substance use disorders, and suicide 34: Merete Nordentoft and Trine Madsen: Suicide among people with psychosis in schizophrenia spectrum epidemiology and prevention 35: Maj Vinberg and Merete Nordentoft: Suicidal behaviour and bipolar disorder: risk and resilience factors 36: Judit Balazs and Lili Olga Horvath: Suicidal behaviour and non-suicidal self-injury among patients with eating disorders 37: Mira Levis Frenk and Alan Apter: Adjustment disorder and suicide in adult and youth population 38: Barbara Stanley, Raksha Kandlur, and Jennifer Jones: Risk for suicidal behaviour in personality disorders Part 6: Somatic and gender Determinants of Suicide 39: Elsebeth Stenager, Egon Stenager and Annette Erlangsen: Somatic diseases and suicidal behaviour 40: Silvia Sara Canetto: Women and suicidal behaviou