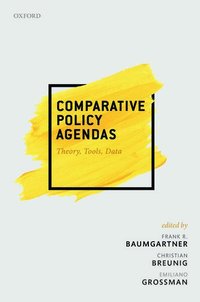 Fler böcker inom
Format

Inbunden (Hardback)

Språk

Engelska

Antal sidor

432

Utgivningsdatum

2019-03-22

Förlag

Medarbetare

Breunig, Christian / Grossman, Emiliano

Dimensioner

241 x 165 x 25 mm

Vikt

807 g

Antal komponenter

1

ISBN

9780198835332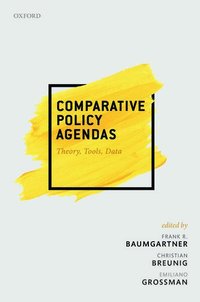 Comparative Policy Agendas
Theory, Tools, Data
Skickas inom 5-8 vardagar.
Fri frakt inom Sverige för privatpersoner.
This book summarizes recent advances in the work on agenda-setting in a comparative perspective.
Passar bra ihop
+
Bloggat om Comparative Policy Agendas
Övrig information
Frank R. Baumgartner started the US-based Policy Agendas Project with Bryan Jones over 25 years ago, and has been involved in its comparative extensions from the beginning. His research has variously focused on public policy processes, lobbying, agenda-setting, framing, race and criminal justice, and the death penalty. He has worked over the years in both American and comparative public policy issues. Christian Breunig is Professor of Comparative Politics at the Department of Politics and Public Administration at the University of Konstanz. He is interested in issues of representation and public policy, in particular law-making and budgetary politics, in advanced democracies. He directs the German Policy Agendas project which is part of the Comparative Agendas Project. Emiliano Grossman isProfessor Ppolitical Science at Sciences Po. He teaches comparative politics and public policy at Sciences Po, where he is the convenor of the program in 'Politics and Public Policy'. His research concentrates on political institutions, agenda-setting processes and the role of media in politics. He is currently co-editor of the European Journal of Political Research. He has recently co-edited The Oxford Handbook of French Politics.
Innehållsförteckning
I. Roots, Foundations, and Evolution 1: Frank R. Baumgartner, Christian Breunig, Emiliano Grossman: The Comparative Agendas Project: Intellectual Roots and Current Developments 2: Shaun Bevan: 1. Gone Fishing: The Creation of the Comparative Agendas Project Master Codebook 3: Stefaan Walgrave and Amber Boydstun: The Comparative Agendas Project: The Evolving Research Interests and Designs of the CAP Scholarly Community II. Country Projects 4: Keith Dowding, Aaron Martin, and Rhonda L. Evans: The Australian Policy Agendas Project 5: Stefaan Walgrave, Jeroen Joly, and Julie Sevenans: The Belgian Agendas Project 6: Jean-Philippe Gauvin and Eric Montpetit: The Canadian Agendas Project 7: Daniela %Sirini'c and Dario Niki'c %Cakar: Croatian Political Agendas 8: Christoffer Green-Pedersen and Peter B. Mortensen: The Danish Agendas Project 9: Emiliano Grossman: The French Agendas Project 10: Christian Breunig and Tinette Schnatterer: Political Agendas in Germany 11: Zsolt Boda and Miklos Sebok: The Hungarian Agendas Project 12: Nir Kosti, Ilana Shpaizman, and David Levi-Faur: The Israeli Agendas Project 13: Enrico Borghetto, Marcello Carammia, and Federico Russo: The Italian Agendas Project 14: Arco Timmermans and Gerard Breeman: The Dutch Policy Agendas Project 15: Rhonda L. Evans: The New Zealand Policy Agendas Project 16: Ana Maria Belchior and Enrico Borghetto: The Portuguese Policy Agendas Project 17: Laura Chaques-Bonafont, Anna M. Palau, and Luz Munoz Marquez: Agenda Dynamics in Spain 18: Roy Gava, Pascal Sciarini, Anke Tresch, and Frederic Varone: The Swiss Policy Agendas Project 19: Alper Tolga Bulut and Tevfik Murat Yildirim: The Turkish Policy Agendas Project 20: Shaun Bevan and Will Jennings: The UK Policy Agendas Project 21: Rebecca Eissler and Bryan D. Jones: The US Policy Agendas Project 22: Petya Alexandrova: The EU Policy Agendas Project 23: Kevin Fahey, Patrick Merle, Teresa Cornacchione, and Carol Weissert: Agenda- Setting in the Florida Legislature 24: Jay Jennings, Stefanie Kasparek, and Joseph McLaughlin: Pennsylvania Policy Database Project III. Comparative Perspectives 25: Shaun Bevan and Will Jennings: The Public Agenda: A Comparative Perspective 26: Amnon Cavari and Guy Freedman: From Public to Publics: Assessing Group Variation in Issue Priorities in the United States and Israel 27: Stefaan Walgrave and Rens Vliegenthart: Protest and Agenda-Setting 28: Rens Vliegenthart and Stefaan Walgrave: The Media Agenda 29: Enrico Borghetto and Laura Chaques-Bonafont: Parliamentary Questions 30: Christian Breunig, Emiliano Grossman, and Tinette Schnatterer: Connecting Government Announcements and Public Policy 31: Pascal Sciarini, Frederic Varone, Roy Gava, Sylvain Brouard, Julien Navarro, Anna M. Palau, and Rens Vliegenthart: The Europeanization of Parliamentary Attention in and out of the European Union: France, Spain, the Netherlands, and Switzerland Compared 32: Gerard Breeman and Arco Timmermans: Horizontal and Vertical Attention Dynamics: Environmental Problems on Executive Policy Agendas in EU Member States 33: Ilana Shpaizman: Using CAP Data for Qualitative Policy Research 34: Christoffer Green-Pedersen: Issue Attention in West European Party Politics: CAP and CMP Coding Compared 35: Frank R. Baumgartner, Christian Breunig, and Emiliano Grossman: Advancing the Study of Comparative Public Policy