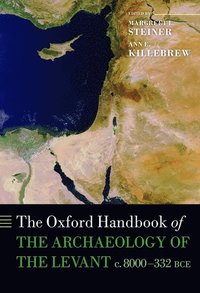 Fler böcker inom
Format

Inbunden (Hardback)

Språk

Engelska

Antal sidor

910

Utgivningsdatum

2014-01-16

Förlag

Medarbetare

Killebrew, Ann E.

Illustrationer

227 in-text illustrations

Dimensioner

254 x 177 x 50 mm

Vikt

1927 g

Antal komponenter

1

ISBN

9780199212972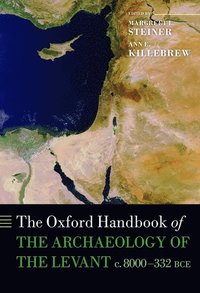 The Oxford Handbook of the Archaeology of the Levant
c. 8000-332 BCE
Skickas inom 5-8 vardagar.
Fri frakt inom Sverige för privatpersoner.
This Handbook offers an overview of the archaeology of the Levant. Written by leading scholars in the field, it integrates the treatment of the archaeology of the region within its larger cultural and social context and focuses chronologically on the Neolithic through to the Persian periods.
Passar bra ihop
+
Fler böcker av Margreet L Steiner
Recensioner i media
Jan P. Stronk, Classical Journal Online their contents, the scope of the contributions, and the obvious mastery of the subjects discussed, exceeded my expectations: both Steiner and Killebrew ... are to be congratulated for works that deserve to be on the bookshelf or the desk of anyone working in the field of, notably, Ancient Near Eastern research.


Alexander Ahrens, BiOr the Oxford Handbook of theArchaeology of the Levant will certainly be consulted regularly by students and scholars alike.


Kurtis Peters, Reviews in Biblical and Early Christian Studies Steiner and Killebrew have delivered exactly what those of us in Biblical Studies needed an access point for engaging with the world of archaeology as it pertains to the Levant.



Bloggat om The Oxford Handbook of the Archaeology of...
Övrig information
<br>Margreet L. Steiner is an independent scholar in Leiden, The Netherlands. She has, together with Henk Franken, published the results of the large trench of Kenyon's excavations in Jerusalem. For the past thirty years she has participated in or directed excavations in Jordan, Syria, Lebanon, and the Palestinian Territories. Currently she is co-director of the renewed excavations of tell Abu Sarbut, Jordan. She has published widely on the archaeology of the Levant. <br>Ann E. Killebrew is an Associate Professor in the Department of Classics and Ancient Mediterranean Studies and Jewish Studies program at the Pennsylvania State University. She has directed or participated in dozens of excavations in Israel, Turkey, and Egypt during the past thirty-five years. Currently she co-directs the Tel Akko Total Archaeology Project in Israel. She is author of numerous publications relating to archaeology of the Levant, including the award-winning book, Biblical Peoples and Ethnicity: An Archaeological Study of Egyptians, Canaanite, Philistines, and Early Israel1300 - 1100 B.C.E. (2005).<br>
Innehållsförteckning
LIST OF FIGURES ; Introduction ; SECTION 1: ARCHAEOLOGY OF THE LEVANT: BACKGROUND AND DEFINITIONS ; 1. Historical geography of the ancient Levant ; 2. Peoples and languages of the Levant during the Bronze and Iron Ages ; 3. History of research ; 4. Levantine chronology ; SECTION 2: THE LEVANT AS THE CROSSROADS BETWEEN EMPIRES: EGYPT, ANATOLIA, MESOPOTAMIA, AND PERSIA ; 5. Egypt and the Levant ; 6. Anatolia (Hittites) and the Levant ; 7. Mesopotamia (Assyrians and Babylonians) and the Levant ; 8. Achaemenid Persia and the Levant ; SECTION 3: THE ARCHAEOLOGICAL RECORD ; SUBSECTION 1: THE NEOLITHIC PERIOD ; 9. Introduction to the Levant during the Neolithic Period ; 10. The northern Levant during the Neolithic period: Damascus and Beyond: Neolithic settlement dynamics in Syria and Lebanon ; 11. The southern Levant (Cisjordan) during the Neolithic period ; 12. The southern Levant (Transjordan) during the Neolithic period ; 13. Cyprus during the Neolithic period ; SUBSECTION 2: THE CHALCOLITHIC PERIOD ; 14. Introduction to the Levant during the Chalcolithic Period: Regional Perspectives ; 15. The northern Levant during the Chalcolithic period: The Lebanese-Syrian Coast ; 16. The southern Levant (Cisjordan) during the Chalcolithic period ; 17. The southern Levant (Transjordan) during the Chalcolithic period: Jordan (c. 4500-3500 BC) ; 18. Cyprus during the Chalcolithic period ; SUBSECTION 3: THE EARLY AND INTERNEDIATE BRONZE AGES ; 19. Introduction to the Levant during the Early Bronze Age ; 20. The northern Levant (Syria) during the Early Bronze Age ; 21. The northern Levant (Lebanon) during the Early Bronze Age ; 22. The southern Levant (Cisjordan) during the Early Bronze Age ; 23. The southern Levant (Transjordan) during the Early Bronze Age ; 24. Cyprus during the Early Bronze Age ; 25. The northern Levant during the Intermediate Bronze Age: Altered trajectories ; 26. The southern Levant during the Intermediate Bronze Age ; SUBSECTION 4: THE MIDDLE BRONZE AGE ; 27. Introduction to the Levant during the Middle Bronze Age ; 28. The northern Levant (Syria) during the Middle Bronze Age ; 29. The northern Levant (Lebanon) during the Middle Bronze Age ; 30. The southern Levant (Cisjordan) during the Middle Bronze Age ; 31. The southern Levant (Transjordan) during the Middle Bronze Age ; 32. Cyprus during the Middle Bronze Age ; SUBSECTION 5: THE LATE BRONZE AGE ; 33. Introduction to the Levant during Late Bronze Age ; 34. The northern Levant (Syria) during the Late Bronze Age: Small kingdoms between the supra-regional empires of the international age ; 35. The northern Levant (Lebanon) during the Late Bronze Age ; 36. The southern Levant (Cisjordan) during the Late Bronze Age ; 37. The southern Levant (Transjordan) during the Late Bronze Age ; 38. Cyprus during the Late Bronze Age ; SUBSECTION 6: THE IRON AGE I PERIOD ; 39. Introduction to the Levant during the Transitional Late Bronze Age/Iron Age I and Iron Age I periods ; 40. The northern Levant during the Iron Age I period ; 41. The southern Levant (Cisjordan) during the Iron Age I period ; 42. The southern Levant (Transjordan) during the Iron Age I period ; 43. Cyprus during the Iron Age I period (Late Cypriot IIC IIIA): Settlement Pattern crisis (LC IIC IIIA) to the restructuring (LC IIIB) of its settlement pattern ; SUBSECTION 7: THE IRON AGE II PERIOD ; 44. Introduction to the Levant during the Iron Age II period ; 45. The Aramean states during the Iron Age II-III periods ; 46. Phoenicia during the Iron Age II period ; 47. Philistia during the Iron Age II period ; 48. Israel during the Iron Age II period ; 49. Judah during the Iron Age II period ; 50. Ammon during the Iron Age II period ; 51. Moab during the Iron Age II period ; 52. Edom during the Iron Age II period ; 53. Cyprus during the Iron Age through the Persian period: From the eleventh century BC to the abolition of the city-kingdoms (c. 300 BC) ; 54. The Levant during the Babylonian period ; 55. The Levant duri