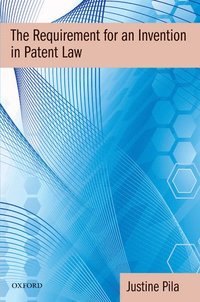 Fler böcker inom
Format

Inbunden (Hardback)

Språk

Engelska

Antal sidor

400

Utgivningsdatum

2010-03-18

Förlag

Illustrationer

Illustrations

Antal komponenter

1

ISBN

9780199296941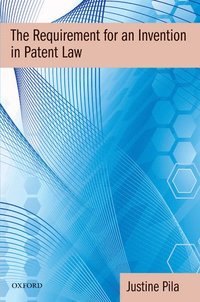 The Requirement for an Invention in Patent Law
Skickas inom 10-15 vardagar.
Fri frakt inom Sverige för privatpersoner.
This book provides a critical analysis of legal conceptions of the invention in UK patent law and under the European Patent Convention. A central theme of the book is that the requirement for an invention, properly construed, sets the boundaries of the patent system in two ways. The first is by defining the categories of subject matter capable of supporting a patent, and the second is by restricting the protection conferred by a patent to individual subject matter
conceived qua invention.
Passar bra ihop
+
Recensioner i media
www.ip-brands.com/blog Her analysis is accompanied by concise and digestible case notes, and her commentary provides a compelling narrative that ties the work together without being repetitive. a though provoking and informative book to suit anyone with a legal background and a strong interest in how and why contemporary society protects ideas


Bloggat om The Requirement for an Invention in Paten...
Övrig information
<br>Justine Pila, Dr Justine Pila is the University Lecturer in Intellectual Property Law at the University of Oxford, and an Official Fellow and the Senior Law Tutor at St Catherine's College, Oxford.<br>
Innehållsförteckning
INTRODUCTION; The Requirement for an Invention and Concept of Inherent Patentability; The Term 'Invention'; The Origins of the Contemporary (EPC) Definition of 'Invention'; The Uncertainty and Controversy Surrounding the Requirement for an Invention; The Need for a Conception and Epistemology of the InventionEL; Formulated in Light of the Purpose of the System, the Meaning of Europeanisation, and Insights from the History and Philosophy of Technology; PART I: THE REQUIREMENT FOR AN INVENTION IN HISTORICAL PERSPECTIVE; 1. The Origins of the Patent as an Exceptional Monopoly Grant: Pre-1623; Introduction; The Royal Custom of Rewarding the Introduction of New Trades and Devices; The Justification of the Custom in Supporting the Discovery of 'Things Useful for the Public'; The Abuse of the Custom and Intervention of the Common Law; Section 6 of the Statute of Monopolies: The Common Law Invention in its Original Form; Conclusion; 2. Inherent Patentability in the Pre-Modern Era of Mechanical and Chemical Manufacture: 1623 to 1882; Introduction; 1623 to 1794: The Post-Specification Invention as an Idea or Discovery; 1795 to 1829: The Invention in and after Boulton v Bull; 1830 to 1851: The (Patentable) Invention as a Mechanically Inventive Subject Matter; 1852 to 1882: The Basis of Losh v Hague in the Requirement for an 'Invention' the Patenting of which is not 'Generally Inconvenient'; Conclusion; 3. Inherent Patentability in the Modern Era of New Technologies: 1883 to 1977; Introduction; 1883 to 1959: The Invention as a Manner of New Manufacture, including an Alleged Invention; Post-1959: The Invention as a 'Proper Subject of Letters Patent According to the Principles EL Developed for Application of s 6 of the Statute of Monopolies'; Conclusion; PART II: THE REQUIREMENT FOR AN INVENTION IN THE ERA OF THE EUROPEAN PATENT CONVENTION; 4. The EPC Requirement for an Invention in its Interpretive Context; Introduction; The EPC Requirement for an Invention in its International and European Statutory Context; The European Framers' Intent Regarding the Requirement for an Invention; The European Framers' Intent Regarding Chemical Product Patents; Other European Perspectives on Chemical Product Patents: A Question of Non-Discrimination; The UK Model of Inherent Patentability at the Time of its Enactment; Conclusion; 5. Articles 52(2) and 52(3) EPC According to the EPO; Introduction; Different Approaches for Different Categories of Subject Matters: 1977 to 1987; Articles 52(2) and 52(3) EPC as a Requirement for Technical Character: 1988 to 1999; Inherent Patentability in an Era of Harmonisation: 1999 to Present; Conclusion; 6. Inherent Patentability in UK Law Since the EPC; Introduction; Different Approaches For Different Categories of Subject Matters: 1977 to 1989; Inherent Patentability as a Fact-Specific Enquiry: Computer-Related Subject Matters after Merrill Lynch; Inherent Patentability as a Requirement for a Subject Matter Sufficiently Supported Qua Invention: Biotechnology after Genentech; Revisiting the Computer Programs Exclusion in Light of Harmonisation: 2005 to Present; CONCLUSION