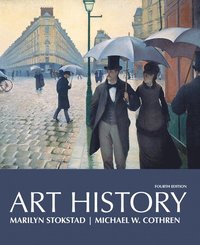 Fler böcker inom
Format

Inbunden (Hardback)

Språk

Engelska

Antal sidor

1240

Utgivningsdatum

2010-07-01

Upplaga

4

Förlag

Medarbetare

Cothren, Michael W.

Illustrationer

illustrations

Volymtitel

Combined Volume

Dimensioner

279 x 228 x 50 mm

Vikt

3923 g

Antal komponenter

1

Komponenter

PUZZLE

ISBN

9780205744220
Art History, Combined Volume
Slutsåld
For two-semester courses in Art History, Global Art History, and for Introductory Art courses taught from a historical perspective.
ART HISTORY
provides students with the most student-friendly, contextual, and inclusive art history survey text on the market.  These hallmarks make
ART HISTORY
the choice for instructors who seek to actively engage their students in the study of art
.
This new edition of ART HISTORY is the result of a happy and productive collaboration between two scholar-teachers (Marilyn Stokstad and Michael Cothren) who share a common vision that survey courses on the history of art should be filled with as much enjoyment as erudition, and that they should foster an enthusiastic, as well as an educated, public for the visual arts.   
Like its predecessors, this new edition seeks to balance formal and iconographic analysis with contextual art history in order to craft interpretations that will engage a diverse student population.  Throughout the text, the visual arts are treated as part of a larger world, in which geography, politics, religion, economics, philosophy, social life, and the other fine arts are related components of a vibrant and cultural landscape.  
Please visit
www.pearsonhighered.com/showcase/stokstad4e/
 for more information and to view a video from author, Marilyn Stokstad, to see a chapter from the book and an online demo of the Prentice Hall Digital Art Library.
Bloggat om Art History, Combined Volume
Övrig information
Marilyn Stokstad, teacher, art historian, and museum curator, has been a leader in her field for decades and has served as president of the College Art Association and the International Center of Medieval Art. In 2002, she was awarded the lifetime achievement award from the National Women's Caucus for Art. In 1997, she was awarded the Governor's Arts Award as Kansas Art Educator of the Year and an honorary degree of doctor of humane letters by Carleton College. She is Judith Harris Murphy Distinguished Professor Emerita at the University of Kansas, Lawrence. She has also served in various leadership capacities at the University's Spencer Museum of Art and is Consultative Curator of Medieval Art at the Nelson-Atkins Museum of Art in Kansas City, Missouri Michael W. Cothren is Scheuer Family Professor of Humanities at Swarthmore College, where he has also served as Art Department Chair, Coordinator of Medieval Studies, and Divisional Chair of the Humanities. Since arriving at Swarthmore in 1978, he has taught specialized courses on Medieval, Roman, and Islamic art and architecture, as well as seminars on visual narrative and on theory and method, but he particularly enjoys teaching the survey to Swarthmore beginners. His research and publications focus on French Gothic art and architecture, most recently in a book on the stained glass of Beauvais Cathedral entitled Picturing the Celestial City. Michael is a consultative curator at the Glencairn Museum in Bryn Athyn, Pennsylvania. He has served on the board of the International Center of Medieval Art and as President both of the American Committee of the International Corpus Vitrearum and of his local school board. When not teaching, writing, or pursuing art historical research, you can finding him hiking in the red rocks around Sedona, Arizona.
Innehållsförteckning
BRIEF CONTENTS
CONTENTS vii
PREFACE xii
WHATS NEW xiv
FACULTY AND STUDENT RESOURCES FOR ART HISTORY xviii
ACKNOWLEDGEMENTS AND GRATITUDE xix
USE NOTES xxi
STARTER KIT xxii
INTRODUCTION xxvi
Chapter 1 PREHISTORIC ART 1
Chapter 2 ART OF THE ANCIENT NEAR EAST 27
Chapter 3 ART OF ANCIENT EGYPT 49
Chapter 4 ART OF THE ANCIENT AEGEAN 81
Chapter 5 ART OF ANCIENT GREECE 101
Chapter 6 ETRUSCAN AND ROMAN ART 159
Chapter 7 JEWISH, EARLY CHRISTIAN, AND BYZANTINE ART 217
Chapter 8 ISLAMIC ART 261
Chapter 9 ART OF SOUTH AND SOUTHEAST ASIA BEFORE 1200 291
Chapter 10 CHINESE AND KOREAN ART BEFORE 1279 325
Chapter 11 JAPANESE ART BEFORE 1333 355
Chapter 12 ART OF THE AMERICAS BEFORE 1300 377
Chapter 13 EARLY AFRICAN ART 403
Chapter 14 EARLY MEDIEVAL ART IN EUROPE 423
Chapter 15 ROMANESQUE ART 453
Chapter 16 GOTHIC ART OF THE TWELFTH AND THIRTEENTH CENTURIES 491
Chapter 17 FOURTEENTH-CENTURY ART IN EUROPE 529
Chapter 18 FIFTEENTH-CENTURY ART IN NORTHERN EUROPE 561
Chapter 19 RENAISSANCE ART IN FIFTEENTH CENTURY ITALY 593
Chapter 20 SIXTEENTH-CENTURY ART IN ITALY 631
Chapter 21 SIXTEENTH-CENTURY ART IN NORTHERN EUROPE AND THE IBERIAN PENINSULA 677
Chapter 22 SEVENTEENTH-CENTURY ART IN EUROPE 711
Chapter 23 ART OF SOUTH AND SOUTHEAST ASIA AFTER 1200 771
Chapter 24 CHINESE AND KOREAN ART AFTER 1279 791
Chapter 25 JAPANESE ART AFTER 1333 813
Chapter 26 ART OF THE AMERICAS AFTER 1300 835
Chapter 27 ART OF PACIFIC CULTURES 859
Chapter 28 ART OF AFRICA IN THE MODERN ERA 879
Chapter 29 EIGHTEENTH- AND EARLY NINETEENTH CENTURY ART IN EUROPE AND NORTH AMERICA 903
Chapter 30 MID- TO LATE NINETEENTH-CENTURY ART IN EUROPE AND THE UNITED STATES 961
Chapter 31 MODERN ART IN EUROPE AND THE AMERICAS, 19001950 1017
Chapter 32 THE INTERNATIONAL SCENE SINCE 1950 1083
CONTEMPORARY WORLD MAP 1136
GLOSSARY 1137
BIBLIOGRAPHY 1146
CREDITS 1158
INDEX 1163
DETAILED CONTENTS
CONTENTS vii
PREFACE xiv
WHATS NEW xv
FACULTY AND STUDENT RESOURCES FOR ART HISTORY xviii
ACKNOWLEDGMENTS AND GRATITUDE xix
USE NOTES xxi
STARTER KIT xxii
INTRODUCTION xxvi
CHAPTER 1 PREHISTORIC ART 1
THE STONE AGE 2
THE PALEOLITHIC PERIOD 2
Shelter or Architecture? 4
Artifacts or Works of Art? 5
Cave Painting 8
Cave Sculptures 12
THE NEOLITHIC PERIOD 1...