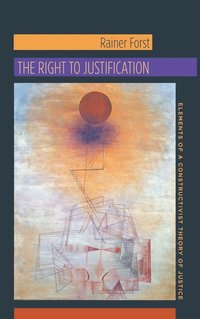 Fler böcker inom
Format

Häftad (Paperback / softback)

Språk

Tyska

Antal sidor

368

Utgivningsdatum

2014-09-02

Förlag

Översättare

Jeffrey Flynn

Originalspråk

German

Dimensioner

226 x 150 x 20 mm

Vikt

431 g

Antal komponenter

1

ISBN

9780231147095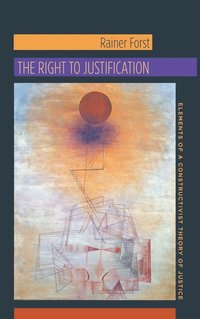 The Right to Justification
Elements of a Constructivist Theory of Justice
Skickas från oss inom 7-10 vardagar.

Fri frakt över 249 kr för privatkunder i Sverige.
Contemporary philosophical pluralism recognizes the inevitability and legitimacy of multiple ethical perspectives and values, making it difficult to isolate the higher-order principles on which to base a theory of justice. Rising up to meet this challenge, Rainer Forst, a leading member of the Frankfurt School's newest generation of philosophers, conceives of an "autonomous" construction of justice founded on what he calls the basic moral right to justification. Forst begins by identifying this right from the perspective of moral philosophy. Then, through an innovative, detailed critical analysis, he ties together the central components of social and political justice--freedom, democracy, equality, and toleration--and joins them to the right to justification. The resulting theory treats "justificatory power" as the central question of justice, and by adopting this approach, Forst argues, we can discursively work out, or "construct," principles of justice, especially with respect to transnational justice and human rights issues. As he builds his theory, Forst engages with the work of Anglo-American philosophers such as John Rawls, Ronald Dworkin, and Amartya Sen, and critical theorists such as Jurgen Habermas, Nancy Fraser, and Axel Honneth. Straddling multiple subjects, from politics and law to social protest and philosophical conceptions of practical reason, Forst brilliantly gathers contesting claims around a single, elastic theory of justice.
Passar bra ihop
+
Fler böcker av Rainer Forst
Recensioner i media
Rainer Forst is the premier political philosopher of his generation in Germany and one of the most innovative and promising in the world today. An extraordinarily impressive feature of his philosophical work is his ability to move expertly and deftly between foundational arguments of an abstract nature and practical considerations having to do with the way that political life actually works. The Right to Justification will have a significant impact on American philosophy. -- Charles Larmore, Brown University, author of The Practices of the Self Rainer Forst's master idea is that people have a right and duty of reciprocal justification in the domain of shared institutions and that testing for the justice of such arrangements means testing for how far they are indeed justifiable. These essays demonstrate the personal signature Forst gives to that idea and the effective manner in which he applies it in different contexts. -- Philip Pettit, Princeton University, author of A Theory of Freedom: From the Psychology to the Politics of Agency Rainer Forst is at the forefront of the exciting encounter between critical social theory and Anglo-American normative philosophy. His work is a worthy successor to the Rawls-Habermas dialogue, which ended all too quickly. This work documents his systematic attempt to build a theory of human rights and democratic justice, beginning with the principle of the right to justification. He writes with grace and wit; this book will be widely read. -- Seyla Benhabib, Yale University Rainer Forst advocates a critical theory of justice grounded on the 'basic right to justification.' In these luminous essays, he elaborates this simple yet powerful idea in relation to a broad range of issues, including the notions of practical reason and human autonomy; political liberty and multicultural toleration; deliberative democracy and the welfare state; and human rights and global justice. The result is a philosophical tour de force and a major new program for refounding critical theory. -- Nancy Fraser, New School, author of Scales of Justice: Reimagining Political Space in a Globalizing World Forst's Right to Justification is a tour de force that exhibits both a compelling, unified vision and a wide range of concrete insights. It ought to be read by all those with an interest in moral or political philosophy or in global justice. -- Henry S. Richardson Ethics and International Affairs In his ambitious masterpiece, Toleration in Conflict, Rainer Forst laid the groundwork for an innovative concept, the right to justification. Here he has developed this prolific idea in a systematic manner, establishing a compelling and original political theory. Forst, a brilliant scholar, deserves his reputation as one of the leading political philosophers of his generation. -- Juergen Habermas A brilliant work that cements Forst's place in the top rank of moral and political philosophers. -- William J. Talbott Ethics With penetrating insight and enviable clarity, Forst describes and critiques prominent approaches to designing theories of justice - both national and transnational - and, in turn, constructs a unique and persuasive theory of his own. -- Shaun P. Young Political Studies Review [The Right to Justification] offer[s] sophisticated contributions to our understanding of the theory and practice of democratic politics. -- Mark E. Button Perspectives on Politics Moving well beyond the earlier generation of discursive theories, [Forst] opens up new modalities of politics and provide[s] us with new ways of thinking about them. -- Kevin Olson Constellations Impressive in its scope and ambition. The European Legacy
Övrig information
Rainer Forst is professor of political theory and philosophy at Goethe University in Frankfurt am Main, Germany, and director of the research cluster on the "Formation of Normative Orders." He is the author of Contexts of Justice: Political Philosophy Beyond Liberalism and Communitarianism; Toleration in Conflict: Past and Present; Justification and Critique: Towards a Critical Theory of Politics, and coauthor, with Wendy Brown, of The Power of Tolerance: A Debate. In 2012 he received the Gottfried Wilhelm Leibniz Prize, the highest honor awarded to German researchers. Jeffrey Flynn is assistant professor of philosophy at Fordham University.
Innehållsförteckning
Preface Translator's Note Introduction: The Foundation of Justice Part 1: Foundations: Practical Reason, Morality, and Justice 1. Practical Reason and Justifying Reasons: On the Foundation of Morality 2. Moral Autonomy and the Autonomy of Morality: Toward a Theory of Normativity After Kant 3. Ethics and Morality 4. The Justification of Justice: Rawls's Political Liberalism and Habermas's Discourse Theory in Dialogue Part 2: Political and Social Justice 5. Political Liberty: Integrating Five Conceptions of Autonomy 6. A Critical Theory of Multicultural Toleration 7. The Rule of Reasons: Three Models of Deliberative Democracy 8. Social Justice, Justification, and Power Part 3: Human Rights and Transnational Justice 9. The Basic Right to Justification: Toward a Constructivist Conception of Human Rights 10. Constructions of Transnational Justice: Comparing John Rawls's The Law of Peoples and Otfried Hoffe's Democracy in an Age of Globalisation 11. Justice, Morality, and Power in the Global Context 12. Toward a Critical Theory of Transnational Justice Notes Bibliography