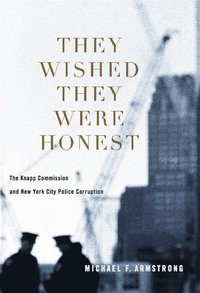 Fler böcker inom
Format

Inbunden (Hardback)

Språk

Engelska

Antal sidor

272

Utgivningsdatum

2012-05-25

Förlag

Originalspråk

English

Illustrationer

<B>20 photos</B>

Dimensioner

234 x 158 x 25 mm

Vikt

498 g

Antal komponenter

1

ISBN

9780231153546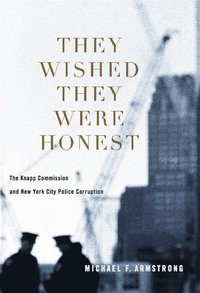 They Wished They Were Honest
The Knapp Commission and New York City Police Corruption
Skickas inom 5-8 vardagar.
Fri frakt inom Sverige för privatpersoner.
In fifty years of prosecuting and defending criminal cases in New York City and elsewhere,Michael F. Armstrong has often dealt with cops. For a single two-year span, as chief counsel to the Knapp Commission, he was charged with investigating them. Based on Armstrong's vivid recollections of this watershed moment in law enforcement accountability-prompted by the New York Times's report on whistleblower cop Frank Serpico-They Wished They Were Honest recreates the dramatic struggles and significance of the Commission and explores the factors that led to its success and the restoration of the NYPD's public image. Serpico's charges against the NYPD encouraged Mayor John Lindsay to appoint prominent attorney Whitman Knapp to chair a Citizen's Commission on police graft. Overcoming a number of organizational, budgetary, and political hurdles, Chief Counsel Armstrong cobbled together an investigative group of a half-dozen lawyers and a dozen agents. Just when funding was about to run out, the "blue wall of silence" collapsed. A flamboyant "Madame," a corrupt lawyer, and a weasely informant led to a "super thief" cop, who was trapped and "turned" by the Commission. This led to sensational and revelatory hearings, which publicly refuted the notion that departmental corruption was limited to only a "few rotten apples." In the course of his narrative, Armstrong illuminates police investigative strategy; governmental and departmental political maneuvering; ethical and philosophical issues in law enforcement; the efficacy (or lack thereof) of the police's anticorruption efforts; the effectiveness of the training of police officers; the psychological and emotional pressures that lead to corruption; and the effects of police criminality on individuals and society. He concludes with the effects, in today's world, of Knapp and succeeding investigations into police corruption and the value of permanent outside monitoring bodies, such as the special prosecutor's office, formed in response to the Commission's recommendation, as well as the current monitoring commission, of which Armstrong is chairman.
Passar bra ihop
+
Fler böcker av Michael F Armstrong
Recensioner i media
An exciting and important book. It tells the story of the day-by-day efforts of the Knapp Commission to expose corruption known to pervade the NYC Police Department but never before proved. The tales told also remind us how easy and tempting corruption can be and how we must be every watchful if we are to avoid the need of a new Knapp Commission. This is a must read for anyone who is concerned about integrity and honesty in government. -- Robert M. Morgenthau, 1975-2009 District Attorney for New York County In this account, both colorful and accurate, of New York City's police corruption scandals uncovered by the Knapp Commission in the 1970's, Michael Armstrong, using the notes he kept while serving as counsel in the investigation, has told not only a tautly drawn and engaging story, but also a cautionary tale for our own time. The characters -- Frank Serpico, the Mayflower Madam, Detective Robert Leuci -- leap from the page; the lesson -- that constant supervision and vigilance are necessary to assure honesty in those who enforce the law -- resonates in every chapter. -- Michael B. Mukasey, Chief Judge of the U.S. District Court for the Southern District of New York, 1988 - 2006 An amazing story about the investigation that changed American law enforcement forever. All who work in or study this field should be grateful for the additional information about the Knapp Commission provided in "They Wished They Were Honest," including remarkable transcripts of recordings by a rogues' gallery of undercover operatives. I look forward to the movie. -- Eric T. Schneiderman, New York Attorney General Mike Armstrong is widely regarded as the preeminent authority on police corruption. Armstrong's work in this area began when he became Counsel to the Knapp Commission in the 1970s and has continued to the present as Mayor Bloomberg's Chair of the Commission to Combat Police Corruption. Having investigated and reported on corruption, I believe the significance of Mike's accomplishments cannot be overstated. This book captures the wealth of Mike's historic knowledge and presents his insightful, balanced views. -- Rose Gill Hearn, Commissioner, New York City Department of Investigation Anyone interested in urban law enforcement and big city politics will find this book an important, surprising expose of the corruption and reform of police power. Publishers Weekly This is an important book. It tells the inside story of an investigation that changed New York and has great meaning today for law enforcement everywhere. -- Richard L. Thornburgh, Former Attorney General of the United States and Governor of the State of Pennsylvania By breaking the wall of science and powerfully revealing the prevalence of police corruption, the Knapp Commission played a critical role in transforming policing in, not just New York, but the country. Mike Armstrong's brilliant inside account of the Commission's work is as gripping as a novel and a compelling read for anyone interested in criminal justice or in New York City. -- William M. Treanor, dean, Georgetown University Law Center An impartial and detailed account of one of the most corrupt eras in recent police history. Library Journal A must-read for anyone concerned about corrupt cops, past or present. -- Sam Roberts New York Times Armstrong has told a compelling story about a crucial time in the city's history and it is a volume that will be of particular interest for anyone involved in the law or law enforcement and/or issues of government integrity. -- Stephen J. Fearon New York Law Journal Armstrong's account is a reminder to those of us who have forgotten-and an instructive primer to those too young to have ever known-just how pervasively the virus of corruption had infected the corpus of 'New York's Finest.' -- Philip Messing New York Post This is a cracking good story with implications that extend far beyond New York in the 1960s... Recommended. Choice Students of the police and general reader
Bloggat om They Wished They Were Honest
Övrig information
Michael F. Armstrong is a partner at the law firm Lankler and Carragher in New York. He was the chief counsel to the Knapp Commission and an assistant United States attorney in theSouthern District of New York (chief, Securities Fraud Unit), as well as district attorney for Queens County, New York. Currently chair of the New York City Commission to Combat Police Corruption, he served as advisor to New York Attorney General Andrew Cuomo regarding allegations of political influence in the state police and continues to work on high-profile cases, which have involved such people as financier Louis Wolfson, boxing promoter Don King, accused would-be wife killer Claus von Bulow, and Queens County Borough President Donald Manes.
Innehållsförteckning
Foreword 1. The Beginning 2. Staffing and Funding 3. Lurching Into Action 4. Gabe 5. Teddy and Xaviera 6. The Great Meat Robbery 7. George 8. Some Rough Spots 9. Leuci 10. Toody and Muldoon 11. Batman and Robin 12. Waverly Logan 13. Super Thief 14. The Freshman 15. Phillips at Work 16. Problems 17. Tank and Slim 18. Phillips 19. The Dynamic Duo-Again 20. The Eve of the Hearings 21. The Public Hearing: Phillips's Testimony 22. The Public Hearings: Droge 23. Serpico 24. Aftermath 25. Phillips-Epilogue 26. Special Prosecutor 27. Reflections Index