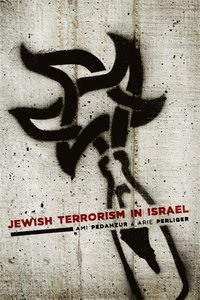 Fler böcker inom
Format

Inbunden (Hardback)

Språk

Engelska

Antal sidor

264

Utgivningsdatum

2009-10-08

Förlag

Originalspråk

English

Illustratör/Fotograf

Illustrationer

3 figures

Dimensioner

241 x 165 x 25 mm

Vikt

498 g

Antal komponenter

1

ISBN

9780231154468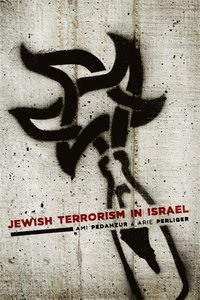 Jewish Terrorism in Israel
Skickas inom 7-10 vardagar.
Fri frakt inom Sverige för privatpersoner.
Ami Pedahzur and Arie Perliger, world experts on the study of terror and security, propose a theory of violence that contextualizes not only recent acts of terror but also instances of terrorism that stretch back centuries. Beginning with ancient Palestine and its encounters with Jewish terrorism, the authors analyze the social, political, and cultural factors that sponsor extreme violence, proving religious terrorism is not the fault of one faith, but flourishes within any counterculture that adheres to a totalistic ideology. When a totalistic community perceives an external threat, the connectivity of the group and the rhetoric of its leaders bolster the collective mindset of members, who respond with violence. In ancient times, the Jewish sicarii of Judea carried out stealth assassinations against their Roman occupiers. In the mid-twentieth century, to facilitate their independence, Jewish groups committed acts of terror against British soldiers and the Arab population in Palestine. More recently, Yigal Amir, a member of a Jewish terrorist cell, assassinated Yitzhak Rabin to express his opposition to the Oslo Peace Accords. Conducting interviews with former Jewish terrorists, political and spiritual leaders, and law-enforcement officials, and culling information from rare documents and surveys of terrorist networks, Pedahzur and Perliger construct an extensive portrait of terrorist aggression, while also describing the conditions behind the modern rise of zealotry.
Passar bra ihop
+
Recensioner i media
Jewish Terrorism in Israel addresses a huge lacuna in the field by providing the first systematic, in-depth treatment of Jewish terrorism from ancient times to today. It concludes with vitally important developments in Jewish extremism over the past nine years, making a signal contribution at a moment when interest in terrorism and counterterrorism is high, when more attention than ever is being focused on terrorism motivated by religion, and when we most need insight into the nature of the Palestinian-Israeli peace process. -- Bruce Hoffman, author of Inside Terrorism Ami Pedahzur and Arie Perliger provide us with an intelligent, sensible, and compelling story of terrorism among a people more famously known as historical victims rather than perpetrators. Their use of multiple research methods--including first-hand observations and interviews--is admirable; their insight into the interaction among religious, political, social, and psychological forces is convincing; and their accounts of informal networks and ideological socialization are especially revealing. This book is a model of scholarship on a topic most resistant to dispassionate analysis. -- Neil J. Smelser, University of California, Berkeley This engaging book documents the dark side of Jewish political activism in Israel from ancient times to the present. These gripping accounts, which describe the assassination of Prime Minister Yitzhak Rabin, the anti-Arab vitriol of Meir Kahane, and the strident opposition of the settler movement, show that terrorism has been in the shadows of Jewish politics in Israel, just as it has been in every other religious tradition around the world. Jewish Terrorism in Israel should be required reading for anyone concerned about the moral dilemmas of Jewish activism, peace in the Middle East, and the rise of religious violence everywhere. -- Mark Juergensmeyer, author of Terror in the Mind of God: The Global Rise of Religious Violence [Pedahzur and Perliger] provide excellent insight into a little reported and even lesser understood reality. Publishers Weekly (starred review) This work is timely, objective, and bold... highly recommended. Choice Choice Sets a high bar for subsequent works. -- L. Carl Brown Foreign Affairs [Jewish Terrorism in Israel] provides rich, detailed exploration of a form of terrorism often little noted within the Israeli-Palestinian conflict. -- Rebecca L. Torstrick H-Levant Most, perhaps all, religious traditions have produced their own long intermittent and unique histories of terrorism. Yet this remarkable, engrossing study is the first to put the story of one religion together. It will surely stimulate studies of other religious traditions, a subject everyone needs to know more about. -- David Rapoport, author of Inside Terrorist Organizations Essential reading for anyone interested in global terrorism. The European Legacy
Bloggat om Jewish Terrorism in Israel
Övrig information
Ami Pedahzur received his Ph.D. in political science from the University of Haifa in Israel, where he also taught until 2004. From 2000 to 2004, he served as a senior fellow at the University's National Security Studies Center and was a member of its Terrorism Research Project team. In 2004, Pedahzur arrived at the University of Texas as a Donald D. Harrington fellow, and since 2005 he has served as an associate professor in its departments of government and Middle Eastern studies. In 2007, he became a senior fellow at The University of Texas at Austin's Lyndon B. Johnson School of Public Affairs and currently serves as associate editor of the journal Studies in Conflict and Terrorism.Arie Perliger received his Ph.D. in political science from the University of Haifa in Israel, where he also taught until 2007. From 2002 to 2008, he served as a fellow at the University's National Security Studies Center. In 2007, Perliger became a Golda Meir Postdoctoral Fellow at the Hebrew University of Jerusalem and currently serves as an assistant professor in the Department of Social Sciences and an associate at the Combating Terrorism Center, United States Military Academy at West Point.
Innehållsförteckning
Preface Life in the Counterculture The Catastrophic Event The Dynamic and Causes of Radicalization Method Book Structure 1. Ancient and Modern History: The Founding Myths Hasmoneans Terrorism in Jerusalem Jewish Political Activism in the Nineteenth and Twentieth Centuries 2. Early and Mid-Twentieth Century: Ethno-Religious Terrorism The Split Between the Etzel and the Lehi The Assassination of Lord Moyne From the Season to the United Resistance Movement The Partition Plan The Assassination of Israel Kastner Kingdom of Israel (the Tzrifin Underground) Brit Hakanaim (Covenant of the Zealots) 3. The Camp David Accords: The Struggle over the Promised Land The Attack on the Mayors The Crisis of the Camp David Accords The Jewish Underground The Founding Clique Vengeance Removing the Abomination The Massacre at the Islamic College The Exposure of the Network and Conclusions 4. Meir Kahane and the Kach Movement: Jews Against Israelis Hebron Then and Now From Jewish Defense League to Kahanist Counterculture Early Days Yoel Lerner The Modern Hasmonean Revolt The Struggle in Sinai TNT The Committee for the Safety of the Roads The Disciples God of Vengeance 5. The Assassination of Yitzak Rabin The Vengeance Underground The Yigal Amir Group The Plot Formation of the Network 6. The Second Intifada: Vengeance The Hilltop Youth The Bat Ayin Group The Withdrawal from Gaza Gush Katif Sa Nur Kfar Tapuach Amona 7. Eccentric Cults, Vengeances, and Lone Wolves Uzi Meshulam Cult The Jerusalem Groups: The Ein Kerem Group and the Lifta Gang Spontaneous Vengeance Interim Summary: The Exceptional Groups Mental Health and External Events Vengeance, Counterculture, and Mental Disturbances The Lone Avengers The Mindset of the Lone Wolves 8. In the Name of God, the People, and the Land: Reassessment of the Causes of Jewish Terrorism Comparing Jewish Terrorism with Other Manifestations of Religious Terrorism Concluding Remarks: Looking Ahead Glossary Chronology of Attacks and Events Related to Jewish Terrorism Notes Index