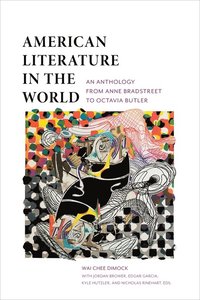 Fler böcker inom
Format

Häftad (Paperback / softback)

Språk

Engelska

Antal sidor

504

Utgivningsdatum

2016-12-01

Förlag

Originalspråk

English

Illustrationer

4 b&w illustrations

Dimensioner

228 x 152 x 25 mm

Vikt

698 g

Antal komponenter

1

ISBN

9780231157377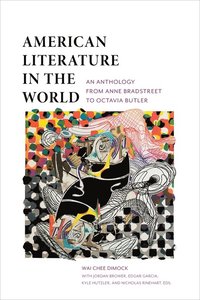 American Literature in the World
An Anthology from Anne Bradstreet to Octavia Butler
Skickas inom 7-10 vardagar.
Fri frakt inom Sverige för privatpersoner.
Finns även som
Skickas inom 7-10 vardagar
American Literature in the World is an innovative anthology offering a new way to understand the global forces that have shaped the making of American literature. The wide-ranging selections are structured around five interconnected nodes: war; food; work, play, and travel; religions; and human and nonhuman interfaces. Through these five categories, Wai Chee Dimock and a team of emerging scholars reveal American literature to be a complex network, informed by crosscurrents both macro and micro, with local practices intensified by international concerns. Selections include poetry from Anne Bradstreet to Jorie Graham; the fiction of Herman Melville, Gertrude Stein, and William Faulkner; Benjamin Franklin's parables; Frederick Douglass's correspondence; Theodore Roosevelt's Rough Riders; Langston Hughes's journalism; and excerpts from The Autobiography of Malcom X as well as Octavia Butler's Dawn. Popular genres such as the crime novels of Raymond Chandler, the comics of Art Spiegelman, the science fiction of Philip K. Dick, and recipes from Alice B. Toklas are all featured. More recent authors include Junot Diaz, Leslie Marmon Silko, Jonathan Safran Foer, Edwidge Danticat, Gary Shteyngart, and Jhumpa Lahiri. These selections speak to readers at all levels and invite them to try out fresh groupings and remap American literature. A continually updated interactive component at www.amlitintheworld.yale.edu complements the anthology.
Passar bra ihop
+
Recensioner i media
An inventive, exciting anthology of American literature that promises to make teaching and taking a survey course a global adventure! Collages of clustered texts around thematic nodes suggest creative juxtapositions certain to spark student interest. Familiar classics and less-known texts are well balanced, and the digital platform brings the American survey course into the twenty-first century of collaborations. -- Susan Stanford Friedman, author of Planetary Modernisms: Provocations on Modernity Across Time This is a vital anthology, both in conception and execution. For students and faculty alike, it will create an unprecedented sense of the dynamic force fields of American literature. I'm especially impressed by the anthology's fluid movement across media platforms and geographical divides. -- Rob Nixon, Princeton University With the inimitable vision we have come to expect from her, Dimock has assembled a nimble model for reading American literature beyond U.S. borders and traditional periodization, across both space and time. This vision of American literary history as an international, outward-facing, worldly tradition is timely and needed. -- Anna Brickhouse, University of Virginia
Bloggat om American Literature in the World
Övrig information
Wai Chee Dimock is William Lampson Professor of English and American Studies at Yale University. Her most recent books are Shades of the Planet: American Literature as World Literature (2007) and Through Other Continents: American Literature across Deep Time (2006). Editor of PMLA, and a film critic for the Los Angeles Review of Books, her essays have also appeared in Critical Inquiry, the Chronicle of Higher Education, the New York Times, and the New Yorker. Jordan Brower is a graduate student at Yale University. Edgar Garcia is an assistant professor at the University of Chicago. Kyle Hutzler works for McKinsey & Company. Nicholas Rinehart is a graduate student at Harvard University.
Innehållsförteckning
Introduction I. War Beginnings Anne Bradstreet, "Semiramis" Louise Gluck, "Parable of the Hostages" William Carlos Williams, "The Destruction of Tenochtitlan" Elizabeth Bishop, "Brazil, January 1, 1502" William Apess, "Eulogy on King Philip" French Revolution, 1789-1799 Thomas Jefferson, Letter to General Lafayette, June 16, 1792 Haitian Revolution, 1791-1804 Thomas Jefferson, Letter to James Monroe, July 14, 1793 Victor Sejour, "The Mulatto" Mexican War, 1846-1848 Henry David Thoreau, "Resistance to Civil Government" Revolutionary Europe, 1848-1849 Margaret Fuller, Dispatch 29 Spanish-American War, 1898-1902 Stephen Crane, "Stephen Crane's Vivid Story of the Battle of San Juan" Mark Twain, "Incident in the Philippines" John Ashbery, "Memories of Imperialism" World War I, 1914-1918 Edith Wharton, Fighting France Rita Dove, "The Return of Lieutenant James Reese Europe" Spanish Civil War, 1936-1939 Muriel Rukeyser, Mediterranean Langston Hughes, "Harlem Swing and Spanish Shells" Langston Hughes, "General Franco's Moors" Philip Levine, "To P.L., 1916-1937" World War II, 1939-1945 Gertrude Stein, Brewsie and Willie T. S. Eliot, "Little Gidding," from Four Quartets Kurt Vonnegut, Slaughterhouse-Five Jonathan Safran Foer, Extremely Loud and Incredibly Close Art Spiegelman, Maus Jorie Graham, "Soldatenfriedhof" William Faulkner, "Two Soldiers" Norman Mailer, The Naked and the Dead John Hersey, Hiroshima Leslie Marmon Silko, Ceremony Chang-Rae Lee, A Gesture Life Philip K. Dick, The Man in the High Castle Korean War, 1950-1953 Thomas McGrath, "Ode for the American Dead in Asia" Myung Mi Kim, "Under Flag" Cuban Revolution, 1959 Jay Cantor, The Death of Che Guevara Vietnam War, 1955-1975 Michael Herr, Dispatches Yusef Komunyakaa, "Tu Do Street" W. S. Merwin, "The Asians Dying" Maxine Hong Kingston, China Men Latin American State Violence, 1947-1991 Joan Didion, Salvador Junot Diaz, The Brief Wondrous Life of Oscar Wao Middle Eastern Conflict, 1991-present Philip Roth, Operation Shylock Michael Chabon, The Yiddish Policemen's Union Naomi Shihab Nye, "For Mohammed Zeid of Gaza, Age 15" II. Food Scarcity and Hunger Alvar Nunez Cabeza de Vaca, La Relacion Mary Rowlandson, The Sovereignty and Goodness of God Louise Erdrich, "Captivity" Theodore Roosevelt, The Rough Riders E. E. Cummings, The Enormous Room Amy Tan, The Kitchen God's Wife Ha Jin, War Trash Sharon Olds, "The Food-Thief" Ursula K. Le Guin, The Left Hand of Darkness Procuring, Preparing, and Consuming Herman Melville, "Stubb's Supper," from Moby-Dick Jack London, "The Water Baby" Upton Sinclair, The Jungle Willa Cather, Death Comes for the Archbishop Alice B. Toklas, The Alice B. Toklas Cookbook Monique Truong, The Book of Salt Natasha Trethewey, "Kitchen Maid with Supper at Emmaus, or The Mulata after the painting by Diego Velazquez, ca. 1619" Oscar Hijuelos, Our House in the Last World Cristina Garcia, Dreaming in Cuban Jamaica Kincaid, Annie John Julia Alvarez, How the Garcia Girls Lost Their Accents Edwidge Danticat, Breath, Eyes, Memory Jhumpa Lahiri, "When Mr. Pirzada Came to Dine" Allen Ginsberg, "One Morning I Took a Walk in China" Gerald Vizenor, Griever: An American Monkey King in China Ruth Ozeki, My Year of Meats Gary Shteyngart, Absurdistan Brainy Fruit Marianne Moore, "Nine Nectarines and Other Porcelain" Gary Snyder, "Mu Chi's Persimmons" Richard Blanco, "Mango No. 61" III. Work, Play, Travel Varieties of Fieldwork Frederick Douglass, Letter to William Lloyd Garrison, March 27, 1846 Nathaniel Hawthorne, The Marble Faun Henry James, The American Richard Wright, Black Power Norman Rush, Mating Robert Hass, "Ezra Pound's Proposition" Robert Pin