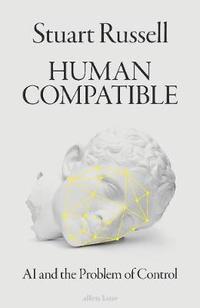 Fler böcker inom
Format

Inbunden (Hardback)

Språk

Engelska

Antal sidor

352

Utgivningsdatum

2019-10-08

Förlag

Dimensioner

165 x 240 x 32 mm

Vikt

506 g

ISBN

9780241335208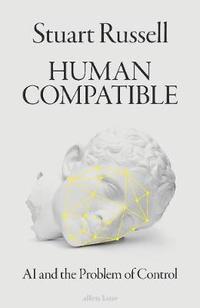 Human Compatible
AI and the Problem of Control
Skickas inom 2-5 vardagar.
Fri frakt inom Sverige för privatpersoner.
"The most important book I have read in quite some time" (Daniel Kahneman); "A must-read" (Max Tegmark); "The book we've all been waiting for" (Sam Harris) LONGLISTED FOR THE 2019 FINANCIAL TIMES AND MCKINSEY BUSINESS BOOK OF THE YEAR Humans dream of super-intelligent machines. But what happens if we actually succeed? Creating superior intelligence would be the biggest event in human history. Unfortunately, according to the world's pre-eminent AI expert, it could also be the last. In this groundbreaking book on the biggest question facing humanity, Stuart Russell explains why he has come to consider his own discipline an existential threat to our species, and lays out how we can change course before it's too late. There is no one better placed to assess the promise and perils of the dominant technology of the future than Russell, who has spent decades at the forefront of AI research. Through brilliant analogies and crisp, lucid prose, he explains how AI actually works, how it has an enormous capacity to improve our lives - but why we must ensure that we never lose control of machines more powerful than we are. Here Russell shows how we can avert the worst threats by reshaping the foundations of AI to guarantee that machines pursue our objectives, not theirs. Profound, urgent and visionary, Human Compatible is the one book everyone needs to read to understand a future that is coming sooner than we think.
Passar bra ihop
+
Fler böcker av Stuart Russell
Recensioner i media
A book that charts humanity's quest to understand intelligence, pinpoints why it became unsafe, and shows how to course-correct if we want to survive as a species. Stuart Russell, author of the leading AI textbook, can do all that with the wealth of knowledge of a prominent AI researcher and the persuasive clarity and wit of a brilliant educator. -- Jaan Tallinn, co-founder of Skype This beautifully written book addresses a fundamental challenge for humanity: increasingly intelligent machines that do what we ask but not what we really intend. Essential reading if you care about our future. -- Professor Yoshua Bengio, Computer Science and Operations Research, Universite de Montreal, winner of the 2018 Turing Award The same mix of de-mystifying authority and practical advice that Dr. Benjamin Spock once brought to the care and raising of children, Dr. Stuart Russell now brings to the care, raising, and yes, disciplining of machines. He has written the book that most -- but perhaps not all -- machines would like you to read. -- George Dyson, author of 'Turing's Cathedral' and 'Project Orion' Can we coexist happily with the intelligent machines that humans will create? "Yes," answers Human Compatible, "but first..." Through a brilliant reimagining of the foundations of artificial intelligence, Russell takes you on a journey from the very beginning, explaining the questions raised by an AI-driven society and beautifully making the case for how to ensure machines remain beneficial to humans. A totally readable and crucially important guide to the future from one of the world's leading experts. -- Tabitha Goldstaub, co-founder of CognitionX and Head of the UK Government's AI Council Persuasively argued and lucidly imagined, Human Compatible offers an unflinching, incisive look at what awaits us in the decades ahead. Stuart Russell's diagnosis of the risks and dangers of AI is convincing, and his prescription for action is compelling. No researcher has argued more persuasively about the risks of AI, nor has shown more clearly a pathway forward. Anyone who takes the future seriously should pay attention. -- Brian Christian, author of 'Algorithms to Live By' A strong case for planning for the day when machines can outsmart us. * Kirkus Review * Stuart Russell has long been the most sensible voice in computer science on the topic of AI risk. And he has now written the book we've all been waiting for. Human Compatible is a brilliant and utterly accessible guide to what will be either the best or worst technological development in human history. -- Sam Harris, author of five New York Times bestsellers and host of the Making Sense podcast In clear and compelling language, Stuart Russell describes the huge potential benefits of Artificial Intelligence, as well as the hazards and ethical challenges. It's specially welcome that a respected leading authority should offer this balanced appraisal, avoiding both hype and scaremongering. -- Professor Martin Rees, Emeritus Professor of Cosmology and Astrophysics, University of Cambridge, and author of 'On the Future' Stuart Russell, one of the most important AI scientists of the last 25 years, may have written the most important book about AI so far, on one of the most important questions of the 21st century: How to build AI to be compatible with us. The book proposes a novel and intriguing solution for this problem, while offering many thought-provoking ideas and insights about AI along the way. An accessible and engaging must-read for the developers of AI and the users of AI - that is, for all of us. -- James Manyika * Chairman and director of McKinsey Global Institute * Human Compatible made me a convert to Russell's concerns with our ability to control our upcoming creation -- super-intelligent machines. Unlike outside alarmists and futurists, Russell is a leading authority on AI. His new book will educate the public about AI more than any book I can think of, and is a delig
Bloggat om Human Compatible
Övrig information
Stuart Russell is a professor of Computer Science and holder of the Smith-Zadeh Chair in Engineering at the University of California, Berkeley, and an Honorary Fellow of Wadham College, University of Oxford. He has advised Number 10 and the United Nations about the risks of AI. In 1990, he received the Presidential Young Investigator Award of the National Science Foundation, in 1995 he was co-winner of the Computers and Thought Award and in 2005 he received the ACM Karlstrom Outstanding Educator Award. He is the author (with Peter Norvig) of Artificial Intelligence: A Modern Approach, the Number One bestselling textbook in AI which is used in over 1,300 universities in 118 countries around the world. He was born in England and lives in Berkeley.