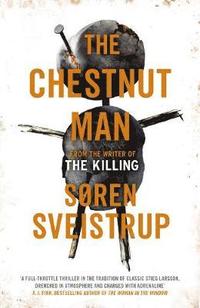 Fler böcker inom
Format

Inbunden (Hardback)

Språk

Engelska

Antal sidor

512

Utgivningsdatum

2019-01-10

Förlag

Originalspråk

Danish

Dimensioner

233 x 153 x 42 mm

Vikt

788 g

ISBN

9780241372104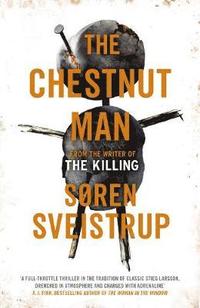 The Chestnut Man
The gripping debut novel from the writer of The Killing
Skickas inom 5-8 vardagar.
Fri frakt inom Sverige för privatpersoner.
Finns även som
Skickas inom 5-8 vardagar
THE GRIPPING DEBUT NOVEL FROM THE CREATOR AND WRITER OF HIT TV SHOW THE KILLING '***** Brilliant. Scandi noir is back with a bang with this sensational debut novel. The Stieg Larsson comparisons seem unfair - on Sveistrup. He's quite simply in another league' Metro _____________ One blustery October morning in a quiet Copenhagen suburb, the police make a terrible discovery. A young woman is found brutally murdered with one of her hands missing. Above her hangs a small doll made of chestnuts. Ambitious young detective Naia Thulin is assigned the case. Her partner, Mark Hess, is a burned-out investigator who's just been kicked out of Europol. They soon discover a mysterious piece of evidence on the chestnut man - evidence connecting it to a girl who went missing a year earlier and is presumed dead; the daughter of politician Rosa Hartung. But the man who confessed to her murder is already behind bars and the case long since closed. Soon afterwards, a second woman is found murdered, along with another chestnut man. Thulin and Hess suspect that there's a connection between the Hartung case and the murdered women. But what is it? Thulin and Hess are racing against the clock, because it's clear that the killer is on a mission that is far from over . . . Fans of The Killing, The Girl with the Dragon Tattoo and Jo Nesbo will love this debut thriller. _____________ 'A full-throttle thriller in the tradition of classic Stieg Larsson, drenched in atmosphere and charged with adrenaline. I loved this book' A. J. Finn, author of The Woman In The Window '***** This has success written all over it' Daily Express 'Creepy, clever and packed with tension' Sun 'If you're pining for a dose of Jo Nesbo-style Scandi noir, this should hit the spot. The twisty, tricksy storyline gathers an unstoppable momentum so that 500 pages disappear in a trice' The Times 'This might just be the thriller of the year' Jeffery Deaver, bestselling author of The Bone Collector Featured in BBC Top Fiction Picks of 2019, Guardian Books of 2019, Evening Standard Best Books of 2019 & Inside Soap's Hot List. LONGLISTED FOR A CWA DAGGER AWARD FOR THE BEST FIRST NOVEL _____________ Praise for The Killing: 'Soren Sveistrup, is clearly a master craftsman' Telegraph 'TV of the absolute finest quality . . . the writing shines' Guardian 'Excellent . . . A shrewd mix of police procedural, political thriller and domestic drama' New York Times 'The most talked-about, boxset-friendly cultural landmarks of the 21st century to date' Independent
Passar bra ihop
+
Recensioner i media
TV of the absolute finest quality . . . the writing shines * Guardian * Excellent . . . A shrewd mix of police procedural, political thriller and domestic drama * New York Times * Praise for The Killing * - * The Chestnut Man is an intensely gripping first novel that feels anything but debut-like. Seasoned crime fans with feel as though they're in very safe hands ... [Sveistrup] throws his hat into the ring with extreme professionalism and a talent for deploying his special tricks in precisely calibrated doses. * Borsen * Individual scenes in the narrative stand out knife-sharp in all their calculated evil. Their encounter with brutal reality nearly overwhelms those involved, and the reader is profoundly challenged by the novel's material. But you survive because you retain a clear sense that there must be a deep well of sorrow behind the crimes, and because the author depicts his cast of characters in such a nuanced way that you sympathise with the hard-pressed investigative team, the victims, and the person behind the terrible murders. Sveistrup keeps the reader gripped until the very end. This is professional writing in the very best sense, and I'm looking forward to more. * Dagbladenes Bureau * While other writers come across as formulaic, Sveistrup's plot develops naturally, and he finds space amid the child abuse and harassment for enough injections of humanity that The Chestnut Man never turns into violence porn, a stumbling block for several of his Danish colleagues. The key is Thulin and Hess, the most promising pair of investigators in Nordic crime since Saga and Martin first met over a corpse on a bridge in 2011 * A-magsinet * The ingredients in this stew are familiar to everyone who reads crime novels. Sveistrup's great skill becomes apparent in the solid, complex plot, as well as in the pacing and impact that drives the reader onward page after page. The Chestnut Man is a demonstration of how a novel of this type should be sewn together. The result is incredibly thrilling! * Dagbladet * Sveistrup is a skilled weaver of plot, able to surprise the reader and maintain a well-developed sense of pacing, tension and action. He keeps the reader hooked until the final page * Bok 365 * Crime fiction of the highest quality - fascinating characters, great storytelling, and unbearable suspense. I absolutely loved it * Deon Meyer * Simply so well written, well constructed and suspenseful. I've read a lot of fantastic crime novels, but this is far and away the best I've read in a long time. . . . insanely suspenseful and gripping * RandiGlensbo.dk * A powerful portrait of two intriguing detectives who are here to stay . . . * Vildmedkrimi.dk * This nerve-racking debut novel has a brilliant plot . . . * Ugebladet Sondag * Not all good scriptwriters can produce a detective story designed to be read rather than watched on TV. But Soren Sveistrup, the man responsible for The Killing, proves . . . that it can be done . . . The characters, the plot with its deep, eerie undercurrent of the unknown, and the intense, compelling manipulation of suspense are qualities reminiscent of The Killing * Marie Louise Toksvig * Absolutely fantastic crime novel. The plot keeps you gripped, and you always end up wanting to read just one more page. Nerve-racking. Nail-biting. Thrilling. Hair-raising * Krummeskrummelurer.dk * Simply an unparalleled page-turner * Ord fra en bibliofil * Nerve-racking, you're sitting on the edge of your seat, and by the time you've finished the book you've got no nails left * Livetidukkehuset.dk * Sveistrup sets new standards in crime * bogfriisen.dk * I was completely blown away by this debut novel * sidsesbogreol.dk * Sveistrup keeps the reader gripped until the very end * Dagbladenes Bureau * This one will have your heart in your mouth * Digital Spy * A superb debut novel from the writer behind hit TV series The Killing. This book grips you from the out and boils and boils to an almost sickening conclusion. It just do
Bloggat om The Chestnut Man
Övrig information
Soren Sveistrup (Author) Soren Sveistrup is an internationally acclaimed scriptwriter of the Danish television phenomenon The Killing which won various international awards and sold in more than a hundred countries. More recently, Sveistrup wrote the screenplay for Jo Nesbo's The Snowman. Sveistrup obtained a Master in Literature and in History from the University of Copenhagen and studied at the Danish Film School. He has won countless prizes, including an Emmy for Nikolaj and Julie and a BAFTA for The Killing.