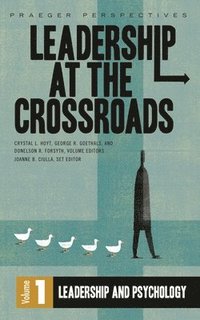 Fler böcker inom
Format

Inbunden (Hardback)

Språk

Engelska

Antal sidor

964

Utgivningsdatum

2008-10-30

Upplaga

illustrated ed

Förlag

Medarbetare

Forsyth, Donelson R. (red.)

Illustrationer

Illustrations

Dimensioner

241 x 165 x 82 mm

Vikt

1882 g

Antal komponenter

3

Komponenter

3 Hardbacks

ISBN

9780275997601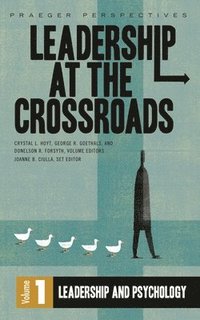 Leadership at the Crossroads [3 volumes]
Tillfälligt slut – klicka "Bevaka" för att få ett mejl så fort boken går att köpa igen.
What is leadership? Not only has that question been debated since the beginning of human culture and society, but it's a moving target based on the definer, and the epoch. The definition can be thought-provoking and profound: A leader is best when people barely know he exists, not so good when people obey and acclaim him, worse when they despise him, (Lao Tzu, 6th century BC ). Or the profundity may lie shrouded in the prosaic: A leader is one who has followers, (Peter Drucker, 20th century). However you define the concept, today's challenges for leaders of all stripes are monumental, and the need for effective leadership is huge. More than anything, this set travels farther and digs deeper than most leadership books. It takes us from mere explanations of leadership to an understanding of it as part of the human condition. Reading it should be at the top of the to-do list for any leader in any era. In Leadership at the Crossroads, contributors from a wide variety of fields, including management, economics, political science, philosophy, sociology, history, literature, and psychology, explore the many facets of leadership. The set comprises: Volume 1: Leadership and Psychology; Volume 2: Leadership and Politics; Volume 3: Leadership and the Humanities. Collectively, this set showcases traditional and emerging approaches to leadership in both theory and practice and raises new questions brought on by society's new challenges. It also suggests solutions for developing and promoting leadership in the corporate world, politics and diplomacy, religion, education, non-profits, and the arts. Whether identifying qualities that will serve a U.S. president well, or the characteristics of the essential can-do supervisor in today's corporation, Leadership at the Crossroads supplies insights and intelligence that will help leaders make the most of the challenges and opportunities lying before them.
Recensioner i media
"... The competent scholarship and careful editing provide a research foundation for leadership in a contextual environment, involving both realism and imagination. Volume 1, on social psychology, makes apparent the connections between human interactions and leadership; volume 2 establishes a basis for leadership in contemporary politics and the public arena. Articles show that leaders do not lead in a vacuum, and that one can only understand leadership's dynamic within a shared context. Volume 3 ties leadership models and theories to fictitious characters from classical literature, to historical leaders' situational reality, and to philosophy, music, and the arts, offering new insights in an imaginative, creative approach... Highly recommended. Upper-level undergraduates through professional/practitioners." - Choice
Bloggat om Leadership at the Crossroads [3 volumes]
Övrig information
Joanne B. Ciulla is Professor and Coston Family Chair in Leadership and Ethics at the Jepson School of Leadership Studies at the University of Richmond. She is one of the founding faculty members of the school. Ciulla also held the first UNESCO Chair in Leadership Studies at the United Nations University International Leadership Academy. She is an author or coauthor of five books, including Ethics, the Heart of Leadership (Praeger 2004), and numerous other publications on ethics and leadership. Ciulla is an Associate Editor of the Leadership Quarterly and sits on the editorial board of Business Ethics Quarterly. Donelson R. Forsyth is the Colonel Leo K. and Gaylee Thorsness Chair in Ethical Leadership at the Jepson School of Leadership Studies at the University of Richmond. An authority on group dynamics, Forsyth is the author of many articles and the textbook Group Dynamics. Michael A. Genovese is Professor of Political Science at Loyola Marymount University, where he holds the Loyola Chair of Leadership. He has written seventeen books, including The Paradoxes of the American Presidency, and The Presidency and Challenges of Democracy. He appears frequently as a commentator in the media. George R. Goethals holds the E. Claiborne Robins Distinguished Professorship in Leadership Studies at the Jepson School of Leadership Studies, University of Richmond. A Fellow of the American Psychological Society and other professional groups, Goethals is the coauthor of numerous journal articles. Lori Cox Han is Professor of Political Science at Chapman University. The author of many publications, she is the coeditor of Rethinking Madam President: Are We Ready for a Woman in the White House and the author of Women and American Politics: The Challenges of Political Leadership. Crystal L. Hoyt is Assistant Professor at the Jepson School of Leadership Studies, University of Richmond. A social psychologist, Hoyt brings a psychological perspective to the study and teaching of leadership. She is author or co-author of many journal articles or book chapters.
Innehållsförteckning
Preface Volume 1 Introduction: A Contemporary Social Psychology of Leadership Crystal L. Hoyt, George R. Goethals, and Donelson R. Forsyth 1. A Contemporary Social Psychology of Leadership by Crystal L. Hoyt, George R. Goethals, and Donelson R. Forsyth 2. Personality and Leadership by Stephen J. Zaccaro, Lisa M.V. Gulick, and Vivek P. Khare 3. Social Psychology and Charismatic Leadership by Ronald E. Riggio and Heidi R. Riggio 4. Knocking on Heavens Door: The Social Psychological Dynamics of Charismatic Leadership by Sheldon Solomon, Florette Cohen, Jeff Greenberg, and Tom Pyszczynski 5. Social Identity Theory of Leadership by Michael A. Hogg 6. Emotional Intelligence and Leadership: Implications for Leader Development by Paulo N. Lopes and Peter Salovey 7. Social Cognitive Perspectives on Leadership by Tiane L. Lee and Susan T. Fiske 8. Seeing and Being a Leader: The Perceptual, Cognitive, and Interpersonal Roots of Conferred Influence by Donelson R. Forsyth and Judith L. Nye 9. Presidential Greatness and its Socio-Psychological Significance: Individual or Situation? Performance or Attribution? by Dean Keith Simonton 10. The Unbearable Lightness of Debating: Performance Ambiguity and Social Influence by Matthew B. Kugler and George R. Goethals 11. Social Stigma and Leadership: A Long Climb up a Slippery Ladder by Crystal L. Hoyt and Martin M. Chemers 12. Deifying the Dead and Downtrodden: Sympathetic Figures as Inspirational Leaders by Scott T. Allison and George R. Goethals 13. Persuasion and Leadership by James M. Olson and Graeme A. Haynes 14. What it Takes to Succeed: An Examination of the Relationship Between Negotiators Implicit Beliefs and Performance by Laura J. Kray and Michael P. Haselhuhn 15. Presidential Leadership and Group Folly: Reappraising the Role of Groupthink in the Bay of Pigs Decisions by Roderick M. Kramer 16. Self Regulation and Leadership: Implications for Leader Performance and Leader Development by Susan Elaine Murphy, Rebecca J. Reichard and Stefanie K. Johnson 17. Evolution and the Social Psychology of Leadership: The Mismatch Hypothesis by Mark Van Vugt, Dominic D. P. Johnson, Robert B. Kaiser, and Rick OGorman 18. Harnessing Power to Capture Leadership by Adam D. Galinsky, Jennifer Jordan, & Niro Sivanathan 19. Morality as a Foundation of Leadership and a Constraint on Deference to Authority by Linda J. Skitka, Christopher W. Bauman, and Brad L. Lytle About the Editors and Contributors Volume 2 Preface Chapter 1 Leadership, Ethics, and the Problem of Dirty Hands John M. Parrish Chapter 2 Leadership, Cognition, and the Politics of Manipulation Wayne S. Le Cheminant Chapter 3 Leadership, Structure, and Agency: FRD Re-examined Bruce Miroff Chapter 4 Presidential Leadership: A Dyadic Model Michael A. Genovese Chapter 5 Making the Vision a Reality: Presidential Leadership in Congress Victoria Farrar-Myers Chapter 6 Leadership and the Supreme Court: First among Equals? Christopher Shortell Chapter 7 Leading a New Organization: Ridge, Chertoff, and the Department of Homeland Security Richard S. Conley Chapter 8 American Leadership of the International Community: The Role of the U.S. Permanent Representative to the United Nations Meena Bose Chapter 9 Public Leadership in the Political Arena Lori Cox Han Chapter 10 When the People Lead: Public Opinion and the Direction of Democratic Government Matthew J. Streb and Brian Frederick Chapter 11 Leading Elite Opinion: Law Reviews and the Distortion of Scholarship Robert J. Spitzer Chapter 12 Women and Political Leadership Caroline Heldman About the Editors and Contributor Volume 3 Introduction Preface 1. Nicholas O. Warner Of Gods and Commodores: Leadership in Melvilles Moby-Dick 2. Aurora Hermida-Ruiz The Relevance of Don Quixote to Leadership Studies: Nostalgia, Cynicism, and Ambivalence 3. Michael Harvey Against the Heroic: Gilgamesh and His City 4. George R. Goethals Personal Memoirs of U.S. Grant, and Alte