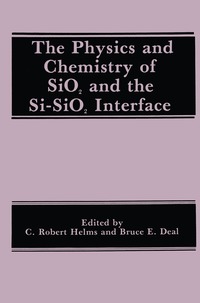 Fler böcker inom
Format

Inbunden (Hardback)

Språk

Engelska

Antal sidor

556

Utgivningsdatum

1989-02-01

Upplaga

1988 ed.

Förlag

Medarbetare

Deal, B. E. (ed.), Helms, C. R. (ed.)

Illustrationer

XIV, 556 p.

Dimensioner

251 x 165 x 36 mm

Vikt

839 g

Antal komponenter

1

Komponenter

1 Hardback

ISBN

9780306430329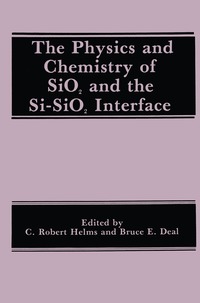 The Physics and Chemistry of SiO2 and the Si-SiO2 Interface
Proceedings of the Symposium on the Physics and Chemistry of SiO2 and the SI-SiO2 Interface
Skickas inom 10-15 vardagar.
Fri frakt inom Sverige för privatpersoner.
The properties of Si02 and the Si-Si02 interface provide the key foundation onto which the majority of semiconductor device technology has been built Their study has consumed countless hours of many hundreds of investigators over the years, not only in the field of semiconductor devices but also in ceramics, materials science, metallurgy, geology, and mineralogy, to name a few. These groups seldom have contact with each other even though they often investigate quite similar aspects of the Si02 system. Desiring to facilitate an interaction between these groups we set out to organize a symposium on the Physics and Chemistry of Si()z and the Si-Si()z Interface under the auspices of The Electrochemical Society, which represents a number of the appropriate groups. This symposium was held at the 173rd Meeting of The Electrochemical Society in Atlanta, Georgia, May 15-20, 1988. These dates nearly coincided with the ten year anniversary of the "International Topical Conference on the Physics of Si02 and its Interfaces" held at mM in 1978. We have modeled the present symposium after the 1978 conference as well as its follow on at North Carolina State in 1980. Of course, much progress has been made in that ten years and the symposium has given us the opportunity to take a multidisciplinary look at that progress.
Passar bra ihop
+
Fler böcker av författarna
Bloggat om The Physics and Chemistry of SiO2 and the...
Innehållsförteckning
I. Growth Mechanisms of SiO2 Films.- Historical Perspectives of Silicon Oxidation.- Oxidation of Silicon: Tests of Mechanisms.- Silicon Oxidation Models Based on Parallel Mechanisms.- The Role of SiO in Si Oxidation at a Si-SiO2 Interface.- Uncertainty Analysis of Analytic Oxidation Models.- Modeling of the Oxide Growth in a Chlorine Ambient.- Silicon Oxidation Studies: A Review of Recent Studies on Thin Film Silicon Dioxide Formation.- Si Oxidation Mechanisms as Studied by Oxygen Tracer Methods.- The Oxidation of Suicides on Silicon.- Oxidation Kinetics of Si in Dry CO2.- A Novel Silicon Oxidation Method - HF Enhanced Oxidation.- Thermal Oxidation of Silicon in an Afterglow Gas.- Deposition of SiO2 Thin Films by Remote Plasma Enhanced Chemical Vapor Deposition (Remote PECVD).- Anodic SiO2 for Low Temperature Gate Dielectrics.- II. Thermal and Structural Properties of SiO2.- Local Atomic Structure of Thermally Grown SiO2 Films.- Structural Relaxation and Growth of SiO2 Films on Si.- Structural Relaxation Effects in Dry Thermal Silicon Dioxide Films on Silicon.- Molecular Diffusion in a-SiO2: Its role in Annealing Radiation-Induced Defect Centers.- Current-Induced Charges and Hydrogen Species Distributions in MOS Silicon Dioxide Films.- III. The Atomic and Electronic Structure of the Si-SiO2 Interface.- The Structure of the Si/SiO2 Interface: A Review.- The Stoichiometry and Structure of the Si/SiO2 Interface: Ion Scattering Studies.- Scanning Tunneling Microscopy and Spectroscopy of Silicon Dangling Bond Defects.- The Microstructure of SiO2-Si(100) Interfaces Investigated by XPS and HRTEM.- Microscopic Structure of the SiO2-Si Interface.- ARXPS Analysis of Si-SiO2 Interfaces.- Dependence of SiO2-Si Interface Structures on Oxidation Process.- The Effect of Electrostatic Screening on Energy Positions of Spectra Near SiO2-Si Interfaces.- A Physical Model for the Observed Dependence of the Metal-Semiconductor Work Function Difference on Substrate Orientation.- Theoretical Calculations of the Electronic Structure in the Si-SiO2 Systems.- Theory of Defects in the MOS System.- IV. Defects, Impurities, and Damage Mechanisms in Si-SiO2 Systems.- Nature of Radiation-Induced Point Defects in Amorphous SiO2 and their Role in SiO2-on-Si Structures.- Chemical and Structural Features of Inherent and Process-Induced Defects in Oxidized Silicon.- Chemical Kinetics of Hydrogen and Pb Centers.- Electronic and Optical Properties of Silicon Dangling-Bond Defects at the Si-SiO2 Interface.- Transient Spectroscopy on Individual Interface Traps in MOSFETS.- Observation of "1/f-Noise States" in Conductance Measurements on MOS Structures.- The Gate-Voltage Dependence of Trapping into Individual Si:SiO2 Interface States.- Step Heights of Switching Effects of Single Interface Traps in MOSFETS.- Low Temperature Conductance of Si-MOS Devices after Hot Carrier Degradation.- The Neutral Level of Si-SiO2 Interface States.- MOS Tunneling Rate and Interface State Capture Cross-Section.- Defect Transformation Process at SiO2/Si Interfaces.- V. Effects of Preoxidation Substrate Quality, Surface Treatments, and Oxidation Induced Point Defect Generation.- Preoxidation Surface Treatments in Thermal Oxidation of Silicon.- The Si-SiO2 Interface Roughness: Causes and Effects.- Defects and Impurities in SiO2 Interface for Oxides Prepared Using Superclean Methods.- The Effect of Chemical Cleaning on the Kinetics of Thermal Oxidation.- Studies of Anhydrous HF Preoxidation Treatment of Silicon Surfaces.- The Influence of the Si-Substrate Characteristics on the Quality of Poly-Si and Al Gated MOS Oxides.- Dielectric Breakdown of SiO2 Grown on Rough Si Surfaces.- Effects of Deionized Water Rinses on Gate Oxide Leakage Currents.- Oxidation-Induced Defects and Effects in Silicon During Low Thermal-Budget Processing.- Implications of Oxidation Models on the Point Defect Behavior in the Silicon Substrate.- Interstitial Fluxes During Silicon Oxidation.- VL Electron and H