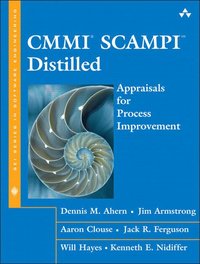 Fler böcker inom
Format

Häftad (Paperback)

Språk

Engelska

Antal sidor

218

Utgivningsdatum

2005-03-01

Upplaga

1

Förlag

Medarbetare

Armstrong, Jim / Clouse, Aaron / Ferguson, Jack R. / Hayes, Will / Nidiffer, Kenneth E.

Illustrationer

Illustrations

Dimensioner

235 x 175 x 15 mm

Vikt

460 g

Antal komponenter

1

ISBN

9780321228765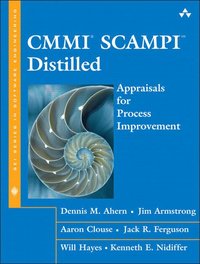 CMMI SCAMPI Distilled: Appraisals for Process Improvement
Skickas inom 5-8 vardagar.
Fri frakt inom Sverige för privatpersoner.
The Standard CMMI Appraisal Method for Process Improvement (SCAMPI) is an invaluable tool for organizations seeking to drive quantifiable improvements in systems and software engineering. SCAMPI appraisals can help those organizations identify the strengths and weaknesses of their current processes, reveal crucial development and acquisition risks, set priorities for improvement plans, derive capability and maturity level ratings, and even perform realistic benchmarking. These appraisals are rapidly becoming a core criterion in awarding major government and defense contracts. Thousands of professionals in all sectors are being called upon to participate in them for the first time.

CMMI SCAMPI SM Distilled, leading appraisers and quality experts from the Software Engineering Institute (SEI) and their partners in industry explain the nature and benefits of SCAMPI. Drawing on their direct and extensive experience, they demonstrate how SCAMPI works in the real worldand how to overcome obstacles that often get in the way of a successful appraisal.

The authors outline the role of appraisals as part of a comprehensive, state-of-the-art approach to process improvement, showing how SCAMPI integrates with quality initiatives, international standards, and other CMMI models and methods. They introduce SCAMPI Class A, B, and C, as well as SCAMPI modes for process improvement, supplier selection, and process monitoring. They guide the reader through the entire appraisal process: preparation; on-site activities; preliminary observations, findings, and ratings; final reporting; and follow-on activities. The authors also address crucial management issues faced by organizations involved with appraisals. Coverage includes: leveraging appraisals in organizations with immature processes; conducting cross-discipline appraisals; performing appraisals concurrently with other quality initiatives; and responding to customer-driven needs.

Whether you're a manager, team leader, acquisition specialist, quality specialist, or appraiser, this book will help you use SCAMPI to achieve your real goals: dramatically improved processes and better systems and software with fewer defects.

Copyright Pearson Education. All rights reserved.
Passar bra ihop
+
Bloggat om CMMI SCAMPI Distilled: Appraisals for Pro...
Övrig information
CMMI(R) SCAMPISM DistilledAbout the AuthorsDennis M. Ahern is an advisory engineer and manager for process improvement and industry initiatives at Northrop Grumman Corporation. Previously he taught at Yale University and the University of Maryland. He was the Deputy Project Manager of the CMMI Product Development Team and a coleader of the CMMI Editor Team. He was also a member of the CMMI Assessment Methodology Team and is an author of CMMI. He is coauthor of CMMI Distilled, Second Edition (Addison-Wesley, 2004). Dr. Ahern received his Ph.D. from the University of California, Irvine.Jim Armstrong is Chief Technologist for Systems for the Systems and Software Consortium, Inc. (SSCI). He has 37 years of experience in systems development and is an assessor for systems engineering and CMMI appraisals. He was a member of the author teams for IEEE 1220, EIA/IS 731, CMMI, and SCAMPI among other standards. Jim has worked with companies of diverse size and products in implementing process improvement, application of CMMI, and preparation for SCAMPI appraisals.Aaron Clouse is an Engineering Fellow at Raytheon Company. He has 30 years of experience in electronics systems and software engineering. He is a member of the CMMI Model Team, is an authorized Introduction to CMMI instructor, and has participated in several appraisals. He coauthored both CMMI itself and CMMI Distilled, Second Edition.Jack R. Ferguson is Manager of the SEI Appraisal Program. He has 39 years of experience in engineering, mainly related to the U.S. space program, and received the U.S. Air Force Research and Development Award for his work on Global Positioning System spacecraft attitude control. Dr. Ferguson also led the teams that developed the Software Acquisition CMM and the initial CMMI Product Suite, and recently spent two years in the Office of the Secretary of Defense as Director of Software Intensive Systems. He has a Ph.D. from the University of Texas at Austin.Will Hayes is Senior Member of the Technical Staff of the Software Engineering Institute. He has been with the Software Engineering Institute (SEI) for 15 years, where he has held a number of positions focused on measurement, process improvement, and process appraisals. He is currently serving as the Quality Manager for the SEI Appraisal Program, a position he helped define. Will has extensive experience in process improvement consulting, process appraisals, and professional training. He has trained hundreds of lead appraisers and process improvement professionals, supporting the creation and/or delivery of courses focused on maturity models, measurement, statistical process control, and process appraisals. Will was a member of the Appraisal Method Integrated Team, which developed the SCAMPI V1.1 method, where he served as the primary author of the Method Definition Document.Kenneth E. Nidiffer is Vice President of SSCI, with more than 43 years of experience in the marketing, research, development, maintenance, and acquisition of software-intensive systems. He has held several executive-level positions in the Department of Defense and the industry (e.g. Systems and Software Consortium, Inc., Northrop Grumman Corporation, and Fidelity Investments) where he has sponsored systematic process improvement initiatives. Dr. Nidiffer is currently responsible for program management and customer support activities that are responsive to the Consortium's 95-member company needs.
Innehållsförteckning
Figure List.
Preface.
Acknowledgments.
About the Authors.
I. WHY SCAMPI NOW?
1. Process Appraisal Strategies.
Process Improvement Models and CMMI
The CMMI Product Suite TodayV1.1
Lean
Six Sigma
ISO 9000
Agile
Integrating Appraisal Efforts
Summary
II. SCAMPI APPRAISALS.
2. New Aspects of the SCAMPI Method.
From Discovery to Verification
Focused Investigations
For EIA 731 Users
Summary
3. SCAMPI Class A Method Definition.
Background
Scampi PIIDs
PreparationBefore Going Off to the Races
Conducting an Appraisal
And in Conclusion
Summary
4. SCAMPI Class B and C Appraisal Methods.
Scampi C Method Overview
Scampi B Method Overview
Using the Integrated Suite of SCAMPI Methods
Using SCAMPI Methods as Stand Alone
5. SCAMPI for Internal Process Improvement.
Preparation Is Critical
The Appraisal Team
The Appraisal Teams Timeline
6. SCAMPI for External Audits.
Appraisal Objectives
Requirements for External Appraisals
The Appraisal Team
Issues for External Appraisals
III. USING SCAMPI.
7. SCAMPI Implementation Issues.
Deploying CMMI-Compliant Processes
Objective Evidence
Appraisal Strategies Across Disciplines
Initial Process Improvement Efforts
Overlaps in CMMI
Importance of Documentation
Appraisal Sponsor Considerations
Roles in CMMI
High Maturity Organizations
Tools
Appraisal of a Multiorganization Program
The Recipe.
Appendix A. Glossary.
Appendix B. Practice Implementation Descriptions.
SEI Figure Credit List.
Index.