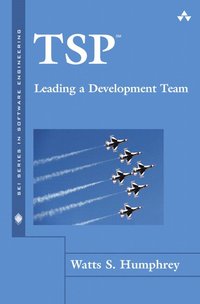 Fler böcker inom
Format

Häftad (Paperback)

Språk

Engelska

Antal sidor

304

Utgivningsdatum

2005-09-01

Upplaga

1

Förlag

Medarbetare

Humphrey, Watts

Illustratör/Fotograf

Illustrationer

illustrations

Dimensioner

244 x 163 x 26 mm

Vikt

760 g

Antal komponenter

1

ISBN

9780321349620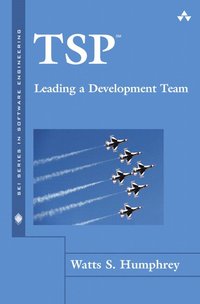 TSP - Leading a Development Team
Slutsåld
Leaders of software-development projects face many challenges. First, you must produce a quality product on schedule and on budget. Second, you must foster and encourage a cohesive, motivated, and smoothly operating team. And third, you must maintain a clear and consistent focus on short- and long-term goals, while exemplifying quality standards and showing confidence and enthusiasm for your team and its efforts. Most importantly, as a leader, you need to feel and act responsible for your team and everything that it does.

Accomplishing all these goals in a way that is rewarding for the leader and the team--while producing the results that management wants--is the motivation behind the Team Software Process (TSP). Developed by renowned quality expert Watts S. Humphrey, TSP is a set of new practices and team concepts that helps developers take the CMM and CMMI Capability Maturity Models to the next level. Not only does TSP help make software more secure, it results in an average production gain of 68 percent per project. Because of their quality, timeliness, and security, TSP-produced products can be ten to hundreds of times better than other hardware or software.

In this essential guide to TSP, Humphrey uses his vast industry experience to show leaders precisely how to lead teams of software engineers trained in the Personal Software Process (PSP). He explores all aspects of effective leadership and teamwork, including building the right team for the job, the TSP launch process, following the process to produce a quality product, project reviews, and capitalizing on both the leader's and team's capabilities. Humphrey also illuminates the differences between an ineffective leader and a superb one with the objective of helping you understand, anticipate, and correct the most common leadership failings before they undermine the team.

An extensive set of appendices provides additional detail on TSP team roles and shows you how to use an organization's communication and command networks to achieve team objectives.

Whether you are a new or an experienced team leader, TSPSM: Leading a Development Team provides invaluable examples, guidelines, and suggestions on how to handle the many issues you and your team face together.
Fler böcker av Watts S Humphrey
Watts S Humphrey, James W Over

Every business is a software business, and every business can profit from improved software processes   Leadership, Teamwork, and Trust discusses the critical importance of knowledge work to the success of modern organizations. It explains co...
Övrig information
Known as the father of software quality, Watts S. Humphrey is the author of numerous influential books on the software-development process and software process improvement. Humphrey is a fellow of the Software Engineering Institute (SEI) at Carnegie Mellon University, where he founded the Software Process Program and provided the vision and early leadership for the original Capability Maturity Model (CMM). He also is the creator of the Personal Software Process (PSP) and Team Software Process (TSP). Recently, he was awarded the National Medal of Technology--the highest honor given by the president of the United States to America's leading innovators.
Innehållsförteckning
Preface.
I. INTRODUCTION.
1. The Team Leader.
What Management Expects
What the Team Expects
Management Priorities Versus Team Interests
The Team's Goals
Setting an Example
Standards
The Leadership Attitude
Taking Responsibility
The Team Leader's Job
Summary
2. Leadership.
Leadership Problems
Symptoms of Poor Leadership
The Fundamental Leadership Problem
Leading Versus Managing
Leaders Have Followers
The Leader's Vision and Commitment
The Leadership Attitude
Transformational and Transactional Leadership
Becoming a Leader
Acting Like a Leader
Leading from Below
Summary
3. Teams.
What Is a Team?
The Power of Teams
Why Teams Are Needed
The Nature of Self-Directed Teams
Membership and Belonging
Commitment to a Common Goal
Owning the Process and Plan
Skill and Discipline
A Dedication to Excellence
The Need for Leadership
Summary
4. Team Motivation.
What Is Motivation?
Goals and Motivation
Feedback
Sustaining Motivation
Motivation and the Job
Kinds of Motivation
Commitment
Building Motivation
Sustaining Motivation
Summary
II. BUILDING TEAMS.
5. TSP Overview.
The Team Leader's Objectives
Meeting the Team Leader's Objectives
Forming the Team
Launching the Team
Teamwork
Training
Team Ownership
Summary
6. Team Formation.
The Selection Process
Inheriting Formed Teams
Selection Criteria
Training
Team Players
Potential Leaders
Summary
7. The TSP Team Launch.
Launch Objectives
&...