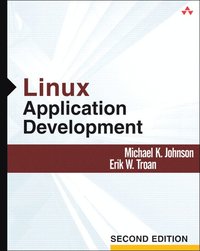 Fler böcker inom
Format

Häftad (Paperback)

Språk

Engelska

Antal sidor

736

Utgivningsdatum

2004-11-01

Upplaga

2

Förlag

Medarbetare

Troan, Erik W.

Dimensioner

244 x 190 x 35 mm

Vikt

1340 g

Antal komponenter

1

ISBN

9780321563224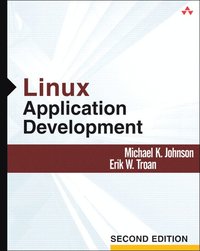 Linux Application Development (paperback)
Tillfälligt slut – klicka "Bevaka" för att få ett mejl så fort boken går att köpa igen.
"The first edition of this book has always been kept within arm's reach of my desk due to the wonderful explanations of all areas of the Linux userspace API. This second edition greatly overshadows the first one, and will replace it."
--Greg Kroah-Hartman, Linux kernel programmer
Develop Software that Leverages the Full Power of Today's Linux
Linux Application Development, Second Edition,
is the definitive reference for Linux programmers at all levels of experience, including C programmers moving from other operating systems. Building on their widely praised first edition, leading Linux programmers Michael Johnson and Erik Troan systematically present the key APIs and techniques you need to create robust, secure, efficient software or to port existing code to Linux.
This book has been fully updated for the Linux 2.6 kernel, GNU C library version 2.3, the latest POSIX standards, and the Single Unix Specification, Issue 6. Its deep coverage of Linux-specific extensions and features helps you take advantage of the full power of contemporary Linux. Along the way, the authors share insights, tips, and tricks for developers working with any recent Linux distribution, and virtually any version of Unix.
Topics include  
Developing in Linux: understanding the operating system, licensing,
and documentation
The development environment: compilers, linker and loader, and unique
debugging tools
System programming: process models, file handling, signal processing, directory operations, and job control
Terminals, sockets, timers, virtual consoles, and the Linux console
Development libraries: string matching, terminal handling, command-line parsing, authentication, and more
Hundreds of downloadable code samples
New to this edition
The GNU C library (glibc), underlying standards, and test macros
Writing secure Linux programs, system daemons, and utilities
Significantly expanded coverage of memory debugging, including Valgrind and mpr
Greatly improved coverage of regular expressions
IPv6 networking coverage, including new system library interfaces for using IPv6 and IPv4 interchangeably
Coverage of strace, ltrace, real-time signals, poll and epoll system calls, popt library improvements, Pluggable Authentication Modules (PAM), qdbm, and much more
Improved index and glossary, plus line-numbered code examples
Bloggat om Linux Application Development (paperback)
Övrig information
Michael K. Johnson is an operating system engineer at Specifix. He was formerly an operating system developer for Red Hat, where he managed the kernel team for three and a half years, and was founding technical leader of the Fedora Project. He occasionally teaches full-day tutorials on Linux application development. Erik W. Troan, cofounder and Executive VP of Operating Systems at Specifix, was formerly Vice President of Product Engineering at Red Hat, where he was responsible for specifying and building technologies such as RPM, Linux operating systems, the Red Hat Network, high-performance Web servers, and the infrastructure for Red Hat's Web site.
Innehållsförteckning
List of Tables.
Code Examples.
Preface.
I. GETTING STARTED.
1. History of Linux Development.
A Short History of Free Unix Software.
Development of Linux.
Notional Lineage of Unix Systems.
Linux Lineage.
2. Licenses and Copyright.
Copyright.
Licensing.
Free Software Licenses.
3. Online System Documentation.
The man Pages.
The Info Pages.
Other Documentation.
II. DEVELOPMENT TOOLS AND ENVIRONMENT.
4. Development Tools.
Editors.
Make.
The GNU Debugger.
Tracing Program Actions.
5. gcc Options and Extensions.
gcc Options.
Header Files.
6. The GNU C Library.
Feature Selection.
POSIX Interfaces.
Compatibility.
7. Memory Debugging Tools.
Buggy Code.
Memory-Checking Tools Included in glibc.
Finding Memory Leaks with mpr.
Investigating Memory Errors with Valgrind.
Electric Fence.
8. Creating and Using Libraries.
Static Libraries.
Shared Libraries.
Designing Shared Libraries.
Building Shared Libraries.
Installing Shared Libraries.
Using Shared Libraries.
9. Linux System Environment.
The Process Environment.
Understanding System Calls.
Finding Header and Library Files.
III. SYSTEM PROGRAMMING.
10. The Process Model.
Defining a Process.
Process Attributes.
Process Information.
Process Primitives.
Simple Children.
Sessions and Process Groups.
Introduction to l a d s h.
Creating Clones.
11. Simple File Handling.
The File Mode.
Basic File Operations.
Querying and Changing Inode Information.
Manipulating Directory Entries.
Manipulating File Descriptors.
Creating Unnamed Pipes.
Adding Redirection to l a d s h. ...