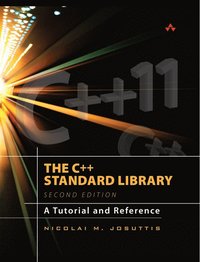 Fler böcker inom
Format

Inbunden (Hardback)

Språk

Engelska

Antal sidor

1128

Utgivningsdatum

2012-04-17

Upplaga

2

Förlag

Illustratör/Fotograf

Illustrationer

With Figs. a. Tabs.

Dimensioner

228 x 152 x 44 mm

Vikt

1655 g

Antal komponenter

1

ISBN

9780321623218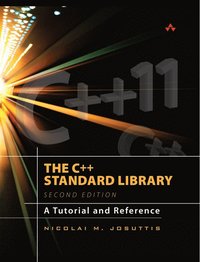 The C++ Standard Library: A Tutorial and Reference
Tillfälligt slut – klicka "Bevaka" för att få ett mejl så fort boken går att köpa igen.
The Best-Selling C++ Resource
Now Updated for C++11
The C++ standard library provides a set of common classes and interfaces that greatly extend the core C++ language. The library, however, is not self-explanatory. To make full use of its componentsand to benefit from their poweryou need a resource that does far more than list the classes and their functions.  
The C++ Standard Library: A Tutorial and Reference, Second Edition,
describes this library as now incorporated into the new ANSI/ISO C++ language standard (C++11). The book provides comprehensive documentation of each library component, including an introduction to its purpose and design; clearly written explanations of complex concepts; the practical programming details needed for effective use; traps and pitfalls; the exact signature and definition of the most important classes and functions; and numerous examples of working code. The book focuses in particular on the Standard Template Library (STL), examining containers, iterators, function objects, and STL algorithms.  
The book covers all the new C++11 library components, including  
Concurrency
Fractional arithmetic
Clocks and timers
Tuples
New STL containers
New STL algorithms
New smart pointers
New locale facets
Random numbers and distributions
Type traits and utilities
Regular expressions
The book also examines the new C++ programming style and its effect on the standard library, including lambdas, range-based for  loops, move semantics, and variadic templates.  
An accompanying Web site, including source code, can be found at www.cppstdlib.com.  
Bloggat om The C++ Standard Library: A Tutorial and ...
Övrig information
Nicolai M. Josuttis is a systems architect, senior consultant for system development, and senior programmer, and author of the best-selling first edition of The C++ Standard Library - A Tutorial and Reference. His books also include SOA in Practice, C++ Templates: The Complete Guide(with David Vandevoorde), and Object-Oriented Programming in C++. Josuttis has served on the C++ Standard Committee library working group and the C++ Report Editorial Board.
Innehållsförteckning
Preface to the Second Edition xxiii
Acknowledgments for the Second Edition xxiv
Preface to the First Edition xxv
Acknowledgments for the First Edition xxvi
Chapter 1: About This Book 1
1.1 Why This Book 1
1.2 Before Reading This Book 2
1.3 Style and Structure of the Book 2
1.4 How to Read This Book 4
1.5 State of the Art 5
1.6 Example Code and Additional Information 5
1.7 Feedback 5
Chapter 2: Introduction to C++ and the Standard Library 7
2.1 History of the C++ Standards 7
2.2 Complexity and Big-O Notation 10
Chapter 3: New Language Features 13
3.1 New C++11 Language Features 13
3.2 Old New Language Features 33
Chapter 4: General Concepts 39
4.1 Namespace std 39
4.2 Header Files 40
4.3 Error and Exception Handling 41
4.4 Callable Objects 54
4.5 Concurrency and Multithreading 55
4.6 Allocators 57
Chapter 5: Utilities 59
5.1 Pairs and Tuples 60
5.2 Smart Pointers 76
5.3 Numeric Limits 115
5.4 Type Traits and Type Utilities 122
5.5 Auxiliary Functions 134
5.6 Compile-Time Fractional Arithmetic with Class ratio<> 140
5.7 Clocks and Timers 143
5.8 Header Files <cstddef>, <cstdlib>, and <cstring> 161
Chapter 6: The Standard Template Library 165
6.1 STL Components 165
6.2 Containers 167
6.3 Iterators 188
6.4 Algorithms 199
6.5 Iterator Adapters 210
6.6 User-Defined Generic Functions 216
6.7 Manipulating Algorithms 217
6.8 Functions as Algorithm Arguments 224
6.9 Using Lambdas 229
6.10 Function Objects 233
6.11 Container Elements 244
6.12 Errors and Exceptions inside the STL 245
6.13 Extending the STL 250
Chapter 7: STL Containers 253
7.1 Common Container Abilities and Operations 254
7.2 Arrays 261
7.3 Vectors 270
7.4 Deques 283
7.5 Lists 290
7.6 Forward Lists 300
7.7 Sets and Multisets 314
7.8 Maps and Multimaps 331
7.9 Unordered Containers 355
7.10 Other STL Containers 385
7.11 Implementing Reference Semantics 388
7.12 When to Use Which Container 392
Chapter 8: STL Container Members in Detail 397
8.1 Type Definitions 397
8.2 Create, Copy, and Destroy Operations 400
8.3 Nonmodifying Operations 403
8.4 Assignments 406
8.5 Direct Element Access 408
8.6 Operations to Generate Iterators 410
8.7 Inserting and Removing Elements 411
8.8 Special Member Functions for Lists and Forward Lists 420
8.9 Container Policy Interfaces 427
8.10 Allocator Support 430
Chapter 9: STL Iterators 433
9.1 Header Files for...