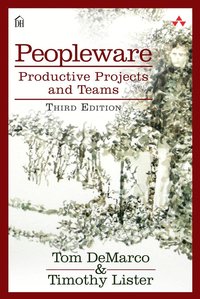 Fler böcker inom
Format

Häftad (Paperback)

Språk

Engelska

Antal sidor

272

Utgivningsdatum

2013-07-02

Upplaga

3

Förlag

Medarbetare

Lister, Tim / Dorset House

Illustratör/Fotograf

Illustrationer

Illustrationsstrations

Dimensioner

228 x 158 x 19 mm

Vikt

385 g

Antal komponenter

1

Komponenter

,

ISBN

9780321934116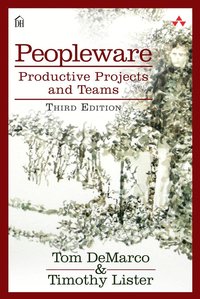 Peopleware: Productive Projects and Teams
Skickas inom 7-10 vardagar.
Fri frakt inom Sverige för privatpersoner.

 

Few books in computing have had as profound an influence on software management as Peopleware. The unique insight of this longtime best seller is that the major issues of software development are human, not technical. Theyre not easy issues; but solve them, and youll maximize your chances of success.

 

Peopleware has long been one of my two favorite books on software engineering. Its underlying strength is its base of immense real experience, much of it quantified. Many, many varied projects have been reflected on and distilled; but what we are given is not just lifeless distillate, but vivid examples from which we share the authors inductions. Their premise is right: most software project problems are sociological, not technological. The insights on team jelling and work environment have changed my thinking and teaching. The third edition adds strength to strength.

Frederick P. Brooks, Jr., Kenan Professor of Computer Science, University of North Carolina at Chapel Hill, Author of The Mythical Man-Month and The Design of Design

Peopleware is the one book that everyone who runs a software team needs to read and reread once a year. In the quarter century since the first edition appeared, it has become more important, not less, to think about the social and human issues in software development. This is the only way were going to make more humane, productive workplaces. Buy it, read it, and keep a stock on hand in the office supply closet.

Joel Spolsky, Co-founder, Stack Overflow

When a book about a field as volatile as software design and use extends to a third edition, you can be sure that the authors write of deep principle, of the fundamental causes for what we readers experience, and not of the surface that everyone recognizes. And to bring people, actual human beings, into the mix! How excellent. How rare. The authors have made this third edition, with its additions, entirely terrific.

Lee Devin and Rob Austin, Co-authors of The Soul of Design and Artful Making

 

For this third edition, the authors have added six new chapters and updated the text throughout, bringing it in line with todays development environments and challenges. For example, the book now discusses pathologies of leadership that hadnt previously been judged to be pathological; an evolving culture of meetings; hybrid teams made up of people from seemingly incompatible generations; and a growing awareness that some of our most common tools are more like anchors than propellers. Anyone who needs to manage a software project or software organization will find invaluable advice throughout the book.

 
Passar bra ihop
+
Bloggat om Peopleware: Productive Projects and Teams
Övrig information
Tom DeMarco and Timothy Lister are principals of the Atlantic Systems Guild (www.systemsguild.com), a consulting firm specializing in the complex processes of system building, with particular emphasis on the human dimension. Together, they have lectured, written, and consulted internationally since 1979 on management, estimating, productivity, and corporate culture. Tom DeMarco is the author or coauthor of nine books on subjects ranging from development methods to organizational function and dysfunction, as well as two novels and a book of short stories. His consulting practice focuses primarily on expert witness work, balanced against the occasional project and team consulting assignment. Currently enjoying his third year teaching ethics at the University of Maine, he lives in nearby Camden. Timothy Lister divides his time among consulting, teaching, and writing. Based in Manhattan, Tim is coauthor, with Tom, of Waltzing With Bears: Managing Risk on Software Projects (Dorset House Publishing Co., Inc., 2003), and of Adrenaline Junkies and Template Zombies: Understanding Patterns of Project Behavior (Dorset House Publishing Co., Inc., 2008), written with four other principals of the Atlantic Systems Guild. He is a member of the IEEE, the ACM, and the Cutter IT Trends Council, and is a Cutter Fellow.
Innehållsförteckning
Preface xv
About the Authors xvii
Part I: Managing the Human Resource 1
Chapter 1: Somewhere Today, a Project Is Failing 3
The Name of the Game 4
The High-Tech Illusion 5
Chapter 2: Make a Cheeseburger, Sell a Cheeseburger 7
A Quota for Errors 8
Management: The Bozo Definition 8
The People Store 9
A Project in Steady State Is Dead 10
We Havent Got Time to Think about This Job,
Only to Do It 11
Chapter 3: Vienna Waits for You 13
Spanish Theory Management 13
And Now a Word from the Home Front 14
There Aint No Such Thing as Overtime 15
Workaholics 15
Productivity: Winning Battles and Losing Wars 16
Reprise 17
Chapter 4: QualityIf Time Permits 19
The Flight from Excellence 20
Quality Is Free, But . . . 22
Power of Veto 23
Chapter 5: Parkinsons Law Revisited 25
Parkinsons Law and Newtons Law 25
You Wouldnt Be Saying This If Youd Ever
Met Our Herb 26
Some Data from the University of New South Wales 27
Variation on a Theme by Parkinson 29
Chapter 6: Laetrile 31
Lose Fat While Sleeping 31
The Seven Sirens 32
This Is Management 34
Part II: The Office Environment 35
Chapter 7: The Furniture Police 37
The Police Mentality 38
The Uniform Plastic Basement 38
Chapter 8: You Never Get Anything Done around Here between 9 and 5. 41
A Policy of Default 42
Coding War Games: Observed Productivity Factors 43
Individual Differences 44
Productivity Nonfactors 45
You May Want to Hide This from Your Boss 46
Effects of the Workplace 47
What Did We Prove? 48
Chapter 9: Saving Money on Space 49
A Plague upon the Land 50
We Interrupt This Diatribe to Bring You a Few Facts 51
Workplace Quality and Product Quality 52
A Discovery of Nobel Prize Significance 53
Hiding Out 54
Intermezzo: Productivity Measurement and Unidentified Flying Objects 57
Gilbs Law 58
But You Cant Afford Not to Know 59
Measuring with Your Eyes Closed 59
Chapter 10: Brain Time versus Body Time 61
Flow 61
An Endless State of No-Flow 62
Time Accounting Based on Flow 63
The E-Factor 64
A Garden of Bandannas 65
Thinking on the Job 65
Chapter 11: The Telephone 67
Visit to an Alternate Reality 67
Tales from the Crypt 69
A Modified Telephone Ethic 70
In...