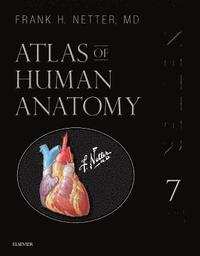 Fler böcker inom
Format

Inbunden (Hardback)

Språk

Engelska

Antal sidor

672

Utgivningsdatum

2018-02-28

Upplaga

7

Illustratör/Fotograf

Illustrationer

Approx. 535 illustrations (535 in full color)

Dimensioner

285 x 222 x 31 mm

Vikt

2199 g

Antal komponenter

1

Komponenter

,

ISBN

9780323554282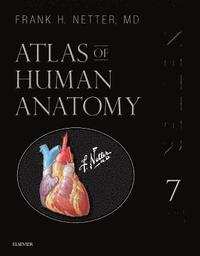 Atlas of Human Anatomy, Professional Edition
including NetterReference.com Access with Full Downloadable Image Bank
Skickas inom 5-8 vardagar.
Fri frakt inom Sverige för privatpersoner.
The only anatomy atlas illustrated by physicians, Atlas of Human Anatomy, 7th edition, brings you world-renowned, exquisitely clear views of the human body with a clinical perspective. In addition to the famous work of Dr. Frank Netter, you'll also find nearly 100 paintings by Dr. Carlos A. G. Machado, one of today's foremost medical illustrators. Together, these two uniquely talented physician-artists highlight the most clinically relevant views of the human body. In addition, more than 50 carefully selected radiologic images help bridge illustrated anatomy to living anatomy as seen in everyday practice.
Passar bra ihop
+
Bloggat om Atlas of Human Anatomy, Professional Edition
Övrig information
Frank H. Netter was born in New York City in 1906. He studied art at the Art Students League and the National Academy of Design before entering medical school at New York University, where he received his Doctor of Medicine degree in 1931. During his student years, Dr. Netter's notebook sketches attracted the attention of the medical faculty and other physicians, allowing him to augment his income by illustrating articles and textbooks. He continued illustrating as a sideline after establishing a surgical practice in 1933, but he ultimately opted to give up his practice in favor of a full-time commitment to art. After service in the United States Army during World War II, Dr. Netter began his long collaboration with the CIBA Pharmaceutical Company (now Novartis Pharmaceuticals). This 45-year partnership resulted in the production of the extraordinary collection of medical art so familiar to physicians and other medical professionals worldwide. Icon Learning Systems acquired the Netter Collection in July 2000 and continued to update Dr. Netter's original paintings and to add newly commissioned paintings by artists trained in the style of Dr. Netter. In 2005, Elsevier Inc. purchased the Netter Collection and all publications from Icon Learning Systems. There are now over 50 publications featuring the art of Dr. Netter available through Elsevier Inc.
Dr. Netter's works are among the finest examples of the use of illustration in the teaching of medical concepts. The 13-book Netter Collection of Medical Illustrations, which includes the greater part of the more than 20,000 paintings created by Dr. Netter, became and remains one of the most famous medical works ever published. The Netter Atlas of Human Anatomy, first published in 1989, presents the anatomic paintings from the Netter Collection. Now translated into 16 languages, it is the anatomy atlas of choice among medical and health professions students the world over.
The Netter illustrations are appreciated not only for their aesthetic qualities, but, more importantly, for their intellectual content. As Dr. Netter wrote in 1949 "clarification of a subject is the aim and goal of illustration. No matter how beautifully painted, how delicately and subtly rendered a subject may be, it is of little value as a medical illustration if it does not serve to make clear some medical point. Dr. Netter's planning, conception, point of view, and approach are what inform his paintings and what make them so intellectually valuable.
Frank H. Netter, MD, physician and artist, died in 1991.
Innehållsförteckning
SECTION 1 INTRODUCTION PLATES 1-7
Introduction Plates 1-7
Plate 1 Body Planes and Terms of Relationship
Plate 2 Surface Anatomy: Regions (Anterior view of female)
Plate 3 Surface Anatomy: Regions (Posterior view of male)
Plate 4 Major Arteries and Pulses
Plate 5 Major Veins of the Cardiovascular System
Plate 6 General Organization of the Nervous System
Plate 7 Overview of the Lymphatic System
Electronic Bonus Plates BP1-BP16
Plate BP 1 Cross Section of Skin
Plate BP 2 Pilosebaceous Unit
Plate BP 3 Major Body Cavities
Plate BP 4 Skeletal System: Axial and Appendicular Skeleton
Plate BP 5 Types of Joints
Plate BP 6 Joints and Ligaments
Plate BP 7 Architecture of Bone
Plate BP 8 The Muscular System
Plate BP 9 Overview of the Gastrointestinal System
Plate BP 10 Overview of Endocrine System
Plate BP 11 Neurons and Synapses
Plate BP 12 Features of a Typical Peripheral Nerve
Plate BP 13 Sites of Visceral Referred Pain
Plate BP 14 General Organization of the Cardiovascular System
Plate BP 15 Cardiovascular System: Composition of Blood
Plate BP 16 Arterial and Venous Structures
SECTION 2 HEAD AND NECK PLATES 8-160
Surface Anatomy Plate 8
Plate 8 Head and Neck: Surface Anatomy
Superficial Head and Neck Plates 9-10
Plate 9 Cutaneous Nerves of Head and Neck
Plate 10 Superficial Arteries and Veins of Face and Scalp
Bones and Ligaments Plates 11-30
Plate 11 Skull: Anterior View
Plate 12 Skull: Radiographs
Plate 13 Skull: Lateral View
Plate 14 Skull: Lateral Radiograph
Plate 15 Skull: Midsagittal Section
Plate 16 Calvaria
Plate 17 Cranial Base: Inferior View
Plate 18 Cranial Base: Superior View
Plate 19 Foramina and Canals of Cranial Base: Inferior View
Plate 20 Foramina and Canals of Cranial Base: Superior View
Plate 21 Skull of Newborn
Plate 22 Bony Framework of Head and Neck
Plate 23 Pterygoid Fossae
Plate 24 Mandible
Plate 25 Temporomandibular Joint
Plate 26 Cervical Vertebrae: Atlas and Axis
Plate 27 Cervical Vertebrae (continued)
Plate 28 Cervical Vertebrae: Uncovertebral Joints
Plate 29 External Craniocervical Ligaments
Plate 30 Internal Craniocervical Ligaments
Neck Plates 31-41
Plate 31 Muscles of Facial Expression: Lateral View
Plate 32 Muscles of Neck: Anterior View
Plate 33 Fascial Layers of Neck
Plate 34 Cervical Fascia
Plate 35 Infrahyoid and Suprahyoid Muscles
Plate 36 Muscles of Neck: Lateral View
Plate 37 Scalene and Prevertebral Muscles
Plate 38 Superficial Veins and Cutaneous Nerves of Neck
Plate 39 Nerves and Vessels of Neck
Plate 40 Nerves and Vessels of Neck (continued)
Plate 4...