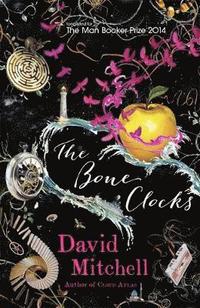 Fler böcker inom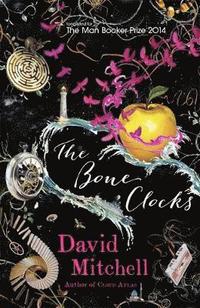 The Bone Clocks
Tillfälligt slut – klicka "Bevaka" för att få ett mejl så fort boken går att köpa igen.
Metaphysical thriller, meditation on mortality and chronicle of our self-devouring times, this is the kaleidoscopic new novel from the author of Cloud Atlas. SHORTLISTED FOR THE NATIONAL BOOK AWARDS UK AUTHOR OF THE YEAR 2014 LONGLISTED FOR THE MAN BOOKER PRIZE 2014 LONGLISTED FOR THE FOLIO PRIZE 2015 One drowsy summer's day in 1984, teenage runaway Holly Sykes encounters a strange woman who offers a small kindness in exchange for 'asylum'. Decades will pass before Holly understands exactly what sort of asylum the woman was seeking . . . The Bone Clocks follows the twists and turns of Holly's life from a scarred adolescence in Gravesend to old age on Ireland's Atlantic coast as Europe's oil supply dries up - a life not so far out of the ordinary, yet punctuated by flashes of precognition, visits from people who emerge from thin air and brief lapses in the laws of reality. For Holly Sykes - daughter, sister, mother, guardian - is also an unwitting player in a murderous feud played out in the shadows and margins of our world, and may prove to be its decisive weapon.
Recensioner i media
Another exacting, challenging and deeply rewarding novel from logophile and time-travel master Mitchell . . . If Thatcher's 1984 is bleak, then get a load of what awaits us in 2030. Speculative, lyrical and unrelentingly dark - trademark Mitchell, in other words. * Kirkus Reviews * Is The Bone Clocks the most ambitious novel ever written, or just the most Mitchell-esque? . . . From gritty realism to far-out fantasy, each section has its own charm and surprises. With its wayward thoughts, chance meetings, and attention to detail, Mitchell's novel is a thing of beauty. * Publishers Weekly * One of the most entertaining and thrilling novels I've read in a long time. Much of the entertainment comes from Mitchell's mastery over what feels like the entire world and all its inhabitants. Time keeps pulsing ahead in The Bone Clocks, and Mitchell pushes his cast of characters into the future, ending the book in a terrifying world. But for all the dystopia, and the mysticism, and the wild and clanging noise, and the flights of invention that have taken place in this extraordinary fun house of a novel, Mitchell's novel-writing rules allow him to retain his great sensitivity toward his main character from start to finish. * NPR * Mitchell's new novel almost manages to make the rest of his work look hidebound and provincial . . . Mitchell is writing about a mortal among immortals, and he never abandons the human half of the story: the fell swoop of first love, the labyrinth of silence where unhappy couples live, the clear cut inside a parent when a child goes missing, the chasm between frontline and home front in a nation at war . . . I was undone by the ending * New York Magazine * [The Bone Clocks] has finally descended incarnate from the mind of this divinely inventive author . . . This new novel offers up a rich selection of domestic realism, gothic fantasy and apocalyptic speculation, stretching around the world from the Margaret Thatcher era of the 1980s to the Endarkenment of 2043 . . . Some of these narrators are moving and sympathetic; others radiate the metastasizing creepiness of a Patricia Highsmith villain. Their stories evolve in subtly distinctive tones and forms * Washington Post * With The Bone Clocks, Mitchell rises to meet and match the legacy of Cloud Atlas . . . interconnected lives stretch across time; human contact is both frightening and vital. This novel electrifyingly unites Mitchell's fictions into one universe while telling the story of Holly Sykes, an ordinary young woman whose chance encounters give her life meaning. * LA Times * Dazzling . . . Mitchell's heavy arsenal of talents is showcased in these pages: his symphonic imagination; his ventriloquist's ability to channel the voices of myriad characters from different time zones and cultures; his intuitive understanding of children and knack for capturing their solemnity and humor; and his ear for language - its rhythms, sounds and inflections. -- Michiko Kakutani * New York Times * If David Mitchell isn't the most talented novelist of his generation, is there any doubt that he is the most multi-talented? He is, at his best, a superior writer to Jonathan Franzen, a better storyteller than Michael Chabon, more wickedly clever than Jennifer Egan, nearly as fluent as Junot Diaz in multiple dialects, and as gifted as Alice Munro . . . [The Bone Clocks] offers everything you could possibly want from a conjurer at the height of his powers - a ludicrously ambitious, unstoppably clever epic told through a chorus of diverse narrators that is both outrageous in scope and meticulous in execution . . . The Bone Clocks affords its readers the singular gift of reading - the wish to stay put and to be nowhere else but here. * The Atlantic * Our most accomplished inventor of multitudinous worlds, which are filled with complex, vital people . . . The Bone Clocks features a gyre-works inventiveness that's well matched by (bizarrely) cerebral substance . . . his most sinewy, fin
Bloggat om The Bone Clocks
Övrig information
David Mitchell is the author of the novels Ghostwritten, number9dream, Cloud Atlas, Black Swan Green, The Thousand Autumns of Jacob de Zoet, The Bone Clocks and Slade House. He has been shortlisted twice for the Booker Prize, won the John Llewellyn Rhys, Geoffrey Faber Memorial and South Bank Show Literature Prizes among others, and been named a Granta Best Young British Novelist. In 2018, he won the Sunday Times Award for Literary Excellence, given in recognition of a writer's entire body of work. In addition, David Mitchell together with KA Yoshida has translated from the Japanese two books by Naoki Higashida - The Reason I Jump: One Boy's Voice from the Silence of Autism and Fall Down Seven Times, Get Up Eight: A Young Man's Voice from the Silence of Autism. He lives with his wife and their two children in Ireland. .