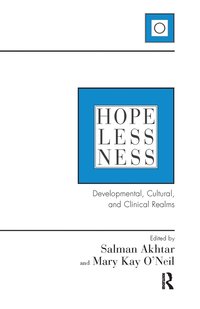 Fler böcker inom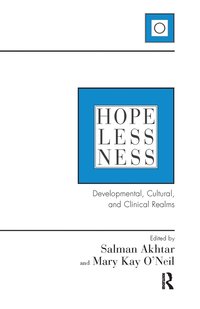 Hopelessness
Developmental, Cultural, and Clinical Realms
Specialorder (osäker tillgång). Skickas inom 11-20 vardagar.
Fri frakt inom Sverige för privatpersoner.
Hope is the most reliable sustainer of life. It offers the promise of something good in the future, contributes to resilience, and keeps one going. However, there are circumstances when hope dries up. This book seeks to map out such dark terrain of hopelessness. While it allows for the fact that a modicum of hopelessness might help in reducing infantile omnipotence and curtailing fixation on unrealistic goals, its focus is upon severe and clinically significant shades of hopelessness. The book opens with a broad overview of the nature, developmental origins, and technical implications of hope and hopelessness, and closes with a thoughtful summary, synthesis, and critique of the intervening essays; this summary forges both theoretically and technically significant links between the experiences of helplessness and hopelessness. Sandwiched between these opening and closing commentaries are nine essays which address the ontogenetic trajectory, phenomenological variations, cultural and literary portrayals, and clinical ramifications of sustained hopelessness.
Passar bra ihop
+
Recensioner i media
"Contending with hopelessness can, at times, lead to the creation of improbable and novel life alternatives that only the good fortunes of a depressive position can allow. More often, lasting despair results in psychic collapse or narcissistic retreat into a schizoid cloister of myth, magic, and distorted mentation. Such dark reaches of human experience form the topic of this book. Searching, informative, and moving essays by distinguished contributors shed light on the myriad phenomena associated with hopelessness that pose both clinical and existential challenges for all of us. Reading them greatly enhances therapeutic empathy for despondent and despairing individuals."--M. Hossein Etezady, MD, Faculty member "This book fills a lacuna in the psychoanalytic literature that has existed, presumably, because hopelessness is one of the most unbearable feelings human beings endure. Drs Akhtar and O'Neil, together with their outstanding contributors, have met that challenge courageously. With the help of numerous clinical examples, they offer the reader a theoretical, developmental, and technical approach to hopelessness. In addition, the book offers helpful perspectives from literature and cinema illustrating the universality of hopelessness. I found of particular value their insightful discussions about pathological optimism as a defense against hopelessness, the relationship between helplessness and hopelessness, and how frenetic desire can be an expression of hopelessness. Every clinician's library will be enriched by this book."--Axel Hoffer, MD, Training and Supervising Analyst
Innehållsförteckning
ACKNOWLEDGEMENTS ABOUT THE EDITORS AND CONTRIBUTORS INTRODUCTION PROLOGUECHAPTER ONE Hope and hopelessness: an introductory overview - Salman AkhtarPART I: DEVELOPMENTAL REALM CHAPTER TWO The encounter with hopelessness in childhood - Ann Smolen CHAPTER THREE Adolescent hope and hopelessness - Rose A. Vasta CHAPTER FOUR Hopelessness and midlife - Jon P. EllmanPART II: CULTURAL REALM CHAPTER FIVE Literary depictions of hopelessness: a short story, a novel, and a poem - Eve Holwell CHAPTER SIX The illusion of a future: hopelessness in contemporary cinema - Sylvia ChongPART III: CLINICAL REALM CHAPTER SEVEN From hopelessness to despair - Jeanne Bailey CHAPTER EIGHT On the edge of hopelessness and despair: an uncertain landscape - Judi B. Kobrick CHAPTER NINE Hope and hopelessness in the couple relationship - Sarah Fels Usher CHAPTER TEN Hopelessness in the countertransference - Dhwani ShahEPILOGUECHAPTER ELEVEN The hopelessness and helplessness dyad: a concluding commentary - Mary Kay O'NeilREFERENCES INDEX