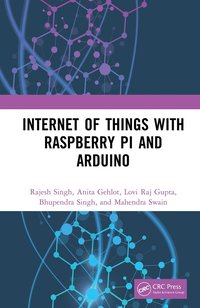 Fler böcker inom
Format

Inbunden (Hardback)

Språk

Engelska

Antal sidor

190

Utgivningsdatum

2019-11-12

Förlag

Illustratör/Fotograf

Illustrationer

8 Tables, black and white; 128 Illustrations, black and white

Antal komponenter

1

ISBN

9780367248215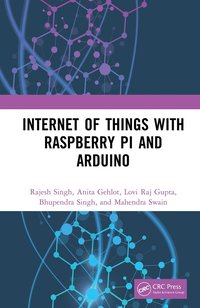 Internet of Things with Raspberry Pi and Arduino
Skickas inom 5-8 vardagar.
Fri frakt inom Sverige för privatpersoner.
This book provides a platform to understand Internet of things with Raspberry Pi and the basic knowledge of the programming and interfacing of the devices and designed systems. It broadly covers introduction to Internet of Things and enabling technologies, interfacing with Raspberry Pi and Arduino and interfacing with Raspberry Pi GPIO. Internet of Things with Raspberry pi and Arduino is aimed at senior undergraduate, graduate students and professionals in electrical engineering, computer engineering including robotics.
Passar bra ihop
+
Bloggat om Internet of Things with Raspberry Pi and ...
Övrig information
Dr. Anita Gehlot is currently associated with Lovely Professional University as Associate Professor with more than ten years of experience in academics. She has twenty patents in her account. She has published more than fifty research papers in referred journals and conference. She has organized a number of workshops, summer internships and expert lectures for students. She has been invited as session chair and keynote speaker to international/national conferences and faculty development program. She has been awarded with "certificate of appreciation" from University of Petroleum and Energy Studies for exemplary work. She has been honored with "certificate of appriciation" from Rashtryapati Bhawan for mentoring project in Gandhian Young Technological Innovation Award-2018. She has published fifteen books in the area of Embedded Systems and Internet of Things with reputed publishers like CRC/Taylor & Francis, Bentham Science, Narosa, GBS, IRP, NIPA, River Publisher and RI publication. She is editor to a special issue published by AISC book series, Springer with title "Intelligent Communication, Control and Devices-2018". Dr. Rajesh Singh is currently associated with Lovely Professional University as Professor with more than fifteen years of experience in academics. He has been awarded as gold medalist in M.Tech and honors in his B.E. His area of expertise includes embedded systems, robotics, wireless sensor networks and Internet of Things. He has organized and conducted a number of workshops, summer internships and expert lectures for students as well as faculty. He has twenty three patents in his account. He has published around hundred research papers in referred journals/conferences. He has been invited as session chair and keynote speaker to international/national conferences and faculty development program. Under his mentorship students have participated in national/international competitions including Texas competition in Delhi and Laureate award of excellence in robotics engineering in Spain. Twice in last four years he has been awarded with "certificate of appreciation" and "Best Researcher award- 2017" from University of Petroleum and Energy Studies for exemplary work. He got "certificate of appreciation" for mentoring the projects submitted to Texas Instruments Innovation challenge India design contest, from Texas Instruments, in 2015. He has been honored with "certificate of appriciation" from Rashtryapati Bhawan for mentoring project in Gandhian Young Technological Innovation Award-2018. He has been awarded with "young investigator award" at the International Conference on Science and Information in 2012. He has published fifteen books in the area of Embedded Systems and Internet of Things with reputed publishers like CRC/Taylor & Francis, Bentham Science, Narosa, GBS, IRP, NIPA, River Publisher and RI publication. He is editor to a special issue published by AISC book series, Springer with title "Intelligent Communication, Control and Devices"-2017 & 2018. Dr. Lovi Raj Gupta is the Executive Dean, Faculty of Technology & Sciences, Lovely Professional University. He is a leading light in the field of Technical and Higher education in the country. His research-focused approach and an insightful innovative intervention of technology in education has won him much accolades and laurels. He holds a Ph.D. in Bioinformatics. He did his M.Tech. in Computer Aided Design & Interactive Graphics from IIT, Kanpur and B.E. (Hons.) from MITS, Gwalior. Having flair for endless learning, has done more than twenty plus certifications and specializations online on Internet of Things (IoT), Augmented Reality, and Gamification, from University of California at Irvine, Yonsei University, South Korea, Wharton School, University of Pennsylvania, and Google Machine Learning Group. His research interests are in the areas of Robo
Innehållsförteckning
Section A Introduction 1. Introduction to Internet of Things 1.1 Characteristics of IoT 1.2 Design principles of IoT 1.3 IoT Architecture and Protocols 1.4 Enabling Technologies for IoT 1.5 IoT levels 1.6 IoT vs M2M 2. Sensors 2.1 Classification of Sensors 2.2 Working Principle of Sensors 2.3 Criteria to choose a Sensor 2.4 Generation of Sensors 3. IoT Design Methodology 3.1 Design methodology 3.2 Challenges in IoT Design 3.3 IoT System Management 3.4 IoT Servers Section B Basics of Arduino and Raspberry Pi 4. Basics of Arduino 4.1 Introduction to Arduino 4.2 Arduino IDE 4.3 Basic Commands for Arduino 4.4 Play with LED and Arduino 4.5 Play with LCD with Arduino 5. Basics of Raspberry Pi 5.1 Introduction to Raspberry pi 5.2 Installation of NOOBS on SD Card 5.3 Installation of Raspbian on SD Card 5.4 Terminal Commands 5.5 Installation of Libraries on Raspberry Pi 5.6 Getting the static IP address of Raspberry Pi 5.7 Run a Program on Raspberry Pi 5.8 Installing the Remote Desktop Server 5.9 Pi Camera 5.10 Face Recognition using Raspberry Pi 5.11 Installation of I2C driver on Raspberry Pi 5.12 SPI (serial peripheral interface) with Raspberry Pi 5.13 Programming a Raspberry Pi 5.14 Play with LED and Raspberry Pi 5.15 Reading the digital input 5.16 Reading an edge triggered input 5.17 Interfacing of Relay with Raspberry Pi 5.18 Interfacing of Relay with Raspberry Pi 5.19 Interfacing of LCD with Raspberry Pi 5.20 Interfacing LCD with Raspberry Pi in I2C mode 5.21 Interfacing of DHT11 sensor with Raspberry Pi 5.22 Interfacing of ultrasonic sensor with Raspberry Pi 5.23 Interfacing of camera with Raspberry pi Section C Interfacing with Raspberry Pi and Arduino 6. Raspberry Pi and Arduino 6.1 Install Arduino IDE on Raspberry Pi 6.2 Play with Digital Sensor 6.3 Play with Analog Sensor 6.4 Play with Actuators 6.5 Python and Arduino with Pyfirmata 7. Python and Arduino with Pyfirmata 7.1 Python with Arduino 7.2 Controlling the Arduino with Python 7.3 Play with LED 7.4 Reading an Arduino Digital Input with Pyfirmata 7.5 Reading flame sensor with Pyfirmata 7.6 Reading an Analog Input with Pyfirmata 7.7 Reading temperature sensor with Pyfirmata 7.8 Line following robot with Pyfirmata 8. Python GUI with Tkinter and Arduino 8.1 Tkinter for GUI design 8.2 LED Blink 8.3 LED brightness control 8.4 Selection from multiple options 8.5 Reading a PIR sensor 8.6 Reading an Analog Sensor 9. Data Acquisition with Python and Tkinter 9.1 Basics 9.2 CSV file 9.3 Storing Arduino data with CSV file 9.4 Plotting random numbers using matplotlib 9.5 Plotting real-time from Arduino 9.6 Integrating the plots in the Tkinter window Section D Connecting to the Cloud 10. Smart IoT Systems 10.1 DHT11 Data Logger with ThingSpeak Server 10.2 Ultrasonic Sensor Data Logger with ThingSpeak Server 10.3 Air Quality Monitoring System and Data Logger with ThingSpeak Server 10.4 Landslide Detection and Disaster Management System 10.5 Smart Motion Detector and Upload Image to gmail.com 11. Blynk Application with Raspberry Pi 11.1 Introduction to Blynk 11.2 Creating new project with Blynk 11.3 Home Appliance Control with Blynk App 12. Cayenne Application with Raspberry Pi 12.1 Introduction to Cayenne 12.2 LED blink with Cayenne App Bibliography