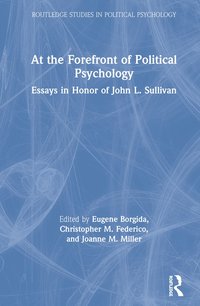 Fler böcker inom
Format

Inbunden (Hardback)

Språk

Engelska

Antal sidor

320

Utgivningsdatum

2020-02-19

Upplaga

2

Förlag

Illustrationer

29 Line drawings, black and white; 1 Halftones, black and white; 30 Tables, black and white

Antal komponenter

1

ISBN

9780367368111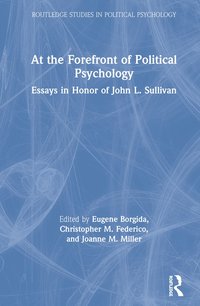 At the Forefront of Political Psychology
Essays in Honor of John L. Sullivan
Ännu ej utkommen – klicka "Bevaka" för att få ett mejl så fort boken boken går att köpa.
At the Forefront of Political Psychology pays tribute to John L. Sullivan, one of the most influential political psychologists of his generation. Sullivan's scholarly contributions have deeply shaped our knowledge of belief systems and political tolerance, two flourishing research areas in political psychology that are crucial to understanding the turbulence of our times. This volume, compiled by three of Sullivan's longtime colleagues and collaborators, includes cutting-edge contributions from scholars in political science and psychology. The book is divided into three sections; the first two focus on how Sullivan's work on political tolerance and belief systems influenced generations of political psychologists. The final section offers a more personal look at Sullivan's influence as a mentor to young scholars, many of whom are now intellectual leaders in political psychology. The chapters featured here elucidate how these students were able to flourish under Sullivan's tutelage and lifelong mentorship. One of John Sullivan's defining traits is his generosity-as a scholar, mentor, leader, and friend. Over the years, many have benefited greatly from Sullivan's willingness to share his intellect, insight, and passion for democratic values. This impressive collection will appeal to both students and professors of political psychology, but also scholars of social and political behavior, political tolerance, and anyone who has an interest in the contributions made by Sullivan.
Recensioner i media
"This volume provides the reader with a comprehensive and carefully drawn discussion of the ideas and influence of one of the most impactful scholars within the ever growing field of political psychology. It is simply must reading for those scholars, educators and policy makers are interested in the psychology of political and social intolerance." - Jim Sidanius, John Lindsley Professor of Psychology in Memory of William James, Harvard University "In this volume a distinguished group of political scientists and psychologist pay tribute to John Sullivan. Their work builds in important ways on Sullivan's legacy, updating and extending his seminal insights into political tolerance and ideological reasoning. Perhaps just as importantly, the volume celebrates Sullivan's role as a valued research colleague and mentor. Its contents are inspiring, informative, and a "must read" for political psychologists." - Leonie Huddy, Professor of Political Science, Stony Brook University
Bloggat om At the Forefront of Political Psychology
Övrig information
Eugene Borgida is a professor of psychology and law at the University of Minnesota. He is a Morse-Alumni Distinguished Professor of Psychology and held the Fesler-Lampert Chair in Urban and Regional Affairs for 2002-2003. In addition, Borgida is an adjunct professor of political science and has served as co-director of the Center for the Study of Political Psychology, which he co-founded, and co-editor of the journal Political Psychology. He is a Fellow of the Association of Psychological Science (APS), a Fellow in several divisions of the American Psychological Association (APA), and an elected Fellow of the American Association for the Advancement of Science (AAAS). He has served on the board of directors for the APS and the Social Science Research Council (SSRC). Borgida's research interests include social cognition, attitudes and persuasion, psychology and law, and political psychology. Christopher M. Federico is a professor of psychology and political science at the University of Minnesota. He is also the current director of the Center for the Study of Political Psychology at the University of Minnesota. His primary interest is in political psychology. In particular, he is interested in how a number of factors-namely, people's values and beliefs, the structural characteristics of their social environments, and their ability and willingness to use political information-interact to shape perceptions of the political world and attitudes toward objects in it. Currently, his research is centered on three specific topics: (1) racial attitudes, (2) attitude structure and belief systems, and (3) the nature of the interface between motivation and ideological affinity. Joanne M. Miller is an associate professor of political science in the Department of Political Science. She teaches courses on research design, quantitative methods, survey methods, political psychology, political propaganda, and belief in misinformation and conspiracy theories. Her research has been funded by the National Science Foundation and the Pew Charitable Trusts and has won awards from the following American Political Science Association sections: elections, public opinion, voting behavior, political communication, and political organizations and parties. She has published in journals such as the American Journal of Political Science, the Journal of Politics, Political Psychology, Public Opinion Quarterly and American Politics Research.
Innehållsförteckning
1. A Tribute to the Legacy of John L. Sullivan Christopher M. Federico, Eugene Borgida, and Joanne M. Miller Part 1: The Sullivan Legacy in Tolerance Research 2. Unravelling the Complexities of Tolerance George E. Marcus 3. Authoritarianism, Threat, and Intolerance Stanley Feldman 4. Putting Groups Back Into the Study of Political Intolerance James L. Gibson, Christopher Claassen, and Joan Barcelo 5. The Promise of Adopting an Emotional Approach to Understanding and Reducing Political Intolerance Ruthie Pliskin and Eran Halperin 6. Tolerance and Threat Revisited: The Dynamics of Political Tolerance Under Persistent Terrorism Michal Shamir, Marc L. Hutchison, Mark Peffley, and Yu Ouyang 7. Ethnic and Religious Tolerance in Poland Through the Lens of the Sullivan et al. Framework Ewa Golebiowska 8. Terror and Tolerance: The Challenge of Inclusion of Muslims in Western Europe Paul M. Sniderman, Rune Slothuus, Michael Bang Petersen, Rune Stubager, Robert Ford, and Maria Sobolewska 9. Appreciating Madison's Democracy: Perceived Homogeneity, Tolerance, and Support for Democratic Processes Elizabeth Theiss-Morse Part 2: The Sullivan Legacy in Belief-Systems Research 10. Ideology in American Public Opinion, 1980-2004: The Changing Role of Individual Differences William G. Jacoby 11. Basic Human Values and Political Judgment: A Broader Approach Paul Goren and Matthew Motta 12. A Closer Look at the Ideological Structuring of Political Attitudes Ariel Malka Part 3: Sullivan as Mentor 13. The Sullivan Effect Jon Hurwitz and Mark Peffley 14. Shaping the Future of Political Psychology, One Person at a Time Angela L. Bos and Monica C. Schneider 15. John L. Sullivan: Master Mentor Melinda Jackson 16. John Sullivan's Pillars of Wisdom and How They Influenced a Young Scholar Dan Stevens 17. John Sullivan: Mentoring by Example John Transue Part 4: Coda 18. Reflections on a Life in Political Psychology John L. Sullivan