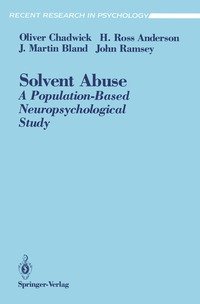 Fler böcker inom
Format

Häftad (Paperback / softback)

Språk

Engelska

Antal sidor

150

Utgivningsdatum

1991-10-01

Upplaga

1991.

Förlag

Medarbetare

Anderson, H. Ross / Bland, J. Martin

Illustrationer

XI, 150 p.

Antal komponenter

1

Komponenter

1 Paperback / softback

ISBN

9780387976075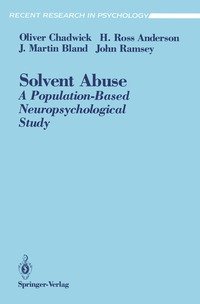 Solvent Abuse
A Population-Based Neuropsychological Study
Skickas inom 10-15 vardagar.
Fri frakt inom Sverige för privatpersoner.
Boken kan tyvärr inte levereras innan julafton.
1. 1 History of Solvent Abuse The practice of deliberately inhaling various gases or vapors in order to induce an altered state of mood or sensibility is not new. As noted repeatedly in other reviews (eg, Cohen, 1973; Novak, 1980), it was recognized in early Greek civilization as an adjunct to divination; indeed, it has now become customary, if not obligatory, to refer to the Oracle at Delphi before considering the more recent history of the subject. According to legend, the priestess at the Temple at Delphi would achieve communion with the Gods by inhaling the naturally-occurring gas that emanated from a fissure in a rock. Inhalation would induce a trance-like state. Her mystical observations and utterances while in this state were interpreted by the Temple Prophet and issued as divine pronouncements to those seeking guidance. Incenses, perfumes and spices have probably always been used in ceremonial worship and religious ritual. However, in sofar as it is possible to make the distinction, these substances have been used primarily for their aromatic qualities rather than for their intoxicating effects. The recreational use of gases and vapors dates from the end of the eighteenth century and may be seen as a concomitant of the scientific advances that preceded the industrial revolution. Following the synthesis of nitrous oxide by Sir Joseph Priestley in 1776, the potential uses of the gas were explored in depth by Sir Humphrey Davy.
Passar bra ihop
+
Innehållsförteckning
1 Introduction.- 1.1 History of Solvent Abuse.- 1.2 The Abused Substances.- 1.3 Neurological and Neuropsychological Consequences of Abuse.- 1.3.1 Introduction.- 1.3.2 Studies of Occupational Exposure to Solvents.- 1.3.3 Solvent Abuse: Neurological Sequelae.- 1.3.4 Solvent Abuse: Neuropsychological Sequelae.- 1.4 Additional Issues to Be Adressed in the Study.- 1.4.1 The Prevalence and Pattern of Solvent Abuse Among Secondary School Children.- 1.4.2 Socio-demographic and Clinical Characteristics of Solvent Abusers.- 1.5 Rationale of the Design of the Present Investigation.- 1.5.1 Sample Size.- 1.5.2 Comparability of Cases and Controls on Factors Other than Solvent Abuse.- 1.5.3 Acute Intoxication.- 1.5.4 Blindness.- 1.5.5 The Choice of Measure to Assess Outcome.- 1.5.6 Test Performance Antecedent to Solvent Abuse.- 2 Method.- 2.1 Summary.- 2.2 The Target Population.- 2.3 Parental Permission and Absentees.- 2.4 The Screening Questionnaire.- 2.5 The Individual Assessments.- 2.5.1 Selection of Children for Individual Assessment.- 2.5.2 The Interview.- 2.5.3 Toxicological Examination.- 2.5.4 Neuropsychological Assessment.- 2.5.5 Lung Function Testing.- 2.6 Information Obtained from the Schools.- 2.6.1 Test Performance Prior to Solvent Abuse.- 2.6.2 School Attendance.- 2.7 Definition and Composition of the Case and Control Groups.- 2.8 The Follow-up Assessment.- 2.8.1 The Self-completed Solvent and Drug Use Questionnaire.- 2.8.2 The Follow-up Neuropsychological Assessment Battery.- 2.9 Statistical Methods.- 3 Results.- 3.1 Epidemiological Aspects of Solvent Abuse.- 3.1.1 Prevalence of Reported Solvent Abuse.- 3.1.2 Factors Affecting the Prevalence of Solvent Abuse.- 3.1.2.1 School.- 3.1.2.2 School Year and Sex.- 3.1.3 Frequency of Solvent Abuse.- 3.1.4 Types of Products Abused.- 3.1.5 Number of Different Products Abused.- 3.2 Comparison Between the Questionnaire, Interview and Toxicological Findings.- 3.2.1 Agreement Between the Questionnaire and Interview Findings.- 3.2.2 Toxicological Findings of the Interview - confirmed Cases and Controls.- 3.3 The History and Pattern of Solvent Abuse in Cases Confirmed at Interview.- 3.4 Background Characteristics of the Solvent Abusers.- 3.4.1 Age, Sex and Ethnic Background.- 3.4.2 Family and Domestic Factors.- 3.4.3 General Health and Accidents.- 3.4.4 Respiratory Health and Allergies.- 3.4.5 Cigarette Smoking.- 3.4.6 Alcohol Consumption.- 3.4.7 Behavioral and Emotional Aspects of Health.- 3.4.8 School Attendance and Performance.- 3.5 Psychological Test Results.- 3.5.1 Comparison Between Cases and Controls.- 3.5.2 Relationship with Frequency of Solvent Abuse.- 3.5.3 Relationship with Other Aspects of Solvent Abuse.- 3.6 Educational Test Results Antecedent to Solvent Abuse.- 3.7 Follow-up.- 3.7.1 The Follow-up Samples and Assessments.- 3.7.2 Comparison Between Cases and Controls at Follow-up.- 4 Discussion.- 4.1 Epidemiological Aspects of Solvent Abuse.- 4.1.1 Overall Prevalence.- 4.1.2 Variation by School Year.- 4.1.3 Variation by Sex.- 4.2 The Practice of Solvent Abuse.- 4.2.1 Pattern, History, and Degree of Involvement In the Practice.- 4.2.2 Associations with Cigarette Smoking, Drinking, and Illicit Drug Use.- 4.3 Characteristics of Children Who Abused Solvents.- 4.3.1 Ethnic Background.- 4.3.2 Socio-economic and Domestic Circumstances.- 4.3.3 General and Respiratory Health.- 4.3.4 Behavioral and Emotional Problems.- 4.4 Neuropsychological Consequences of Solvent Abuse.- 5 Summary of Main Findings.- Appendix A: Self-completed Screening Questionnaire.- Appendix B: Psychological Test Battery (Initial Assessment).- Appendix C: Psychological Test Introduced for Follow-up Assessment.- References.- Tables.- Figures.