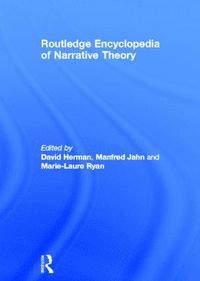 Fler böcker inom
Format

Inbunden (Hardback)

Språk

Engelska

Antal sidor

752

Utgivningsdatum

2004-12-01

Förlag

Dimensioner

255 x 182 x 48 mm

Vikt

1440 g

Antal komponenter

1

ISBN

9780415282598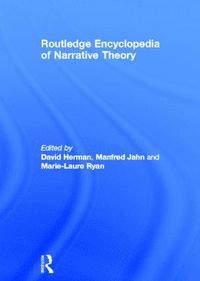 Routledge Encyclopedia of Narrative Theory
Specialorder (osäker tillgång). Skickas inom 11-20 vardagar.
Fri frakt inom Sverige för privatpersoner.
The past several decades have seen an explosion of interest in narrative, with this multifaceted object of inquiry becoming a central concern in a wide range of disciplinary fields and research contexts. As accounts of what happened to particular people in particular circumstances and with specific consequences, stories have come to be viewed as a basic human strategy for coming to terms with time, process, and change. However, the very predominance of narrative as a focus of interest across multiple disciplines makes it imperative for scholars, teachers, and students to have access to a comprehensive reference resource.
Passar bra ihop
+
Recensioner i media
'Potentially daunting, this complex subject is made a snap by clever arrangements for entries: five different types, from mini-essay to thumbnail definition, all cross-indexed. The helpful navigational aids include coded typeface, a thematically-organized reader's guide, and an excellent comprehensive index. Thorough, accessible, and remarkably free of obfuscating language. Highly recommended.'- Choice 'It is the single volume I would advise my students and other budding narratologists to purchase so as to have it constantly at hand for quick consultation...With its more than 700 tightly packed pages, close to 450 entries by 200 international experts on narrative-theoretical topics, plus an 80-page index, the Encyclopedia is well worth the investment.' - Pekka Tammi, Language and Literature 16:4 (2007)
Bloggat om Routledge Encyclopedia of Narrative Theory
Övrig information
David Herman teaches in the Department of English at Ohio State University. He has published several studies in the field, including The Cambridge Companion to Narrative, Narrative Theory and the Cognitive Sciences, Story Logic, and Narratologies. Manfred Jahn is based at the University of Cologne in Germany and has published articles on focalization, represented speech and thought, and cognitive narratology in venues such as the Journal of Pragmatics, Poetics Today, Style, and Narratologies. He has also authored a widely used online guide to narratology and narrative theory, freely available at . Marie-Laure Ryan is an independent scholar and a former recipient of NEH and Guggenheim Fellowships. She has published widely in the areas of narrative theory, electronic textuality, and media studies. Her most recent studies include Narrative across Media and Avatars of Story.
Innehållsförteckning
actant; action theory; adaptation; address; addresser and addressee; adolescent narrative; advertisements; African narrative; agency; allegory; alteration; alterity; anachrony; analepsis; ancient theories of narrative (Western); ancient theories of narrative (non-Western); anecdote; animated film; annals; anti-narrative; apology; archetypal patterns; architext; Artificial Intelligence and narrative; atomic and molecular narratives; attributive discourse; audience; Australian Aboriginal narrative; authentication; author; authorial narrative situation; autobiography; autodiegetic narration; autofiction; backstory; ballad; Biblical narrative; Bildungsroman; biography; biological foundations of narrative; blog (weblog); catachresis; catharsis; causality; character; Chicago school; children's stories (narratives written for children); children's storytelling; Chinese narrative; chronicle; chronotope; cineroman; closure; codes for reading; cognitive narratology; coincidence; comics and graphic novel; coming-out story; commentary; communication in narrative; communication studies and narrative; composite novel; computational approaches to narrative; computer games and narrative; concretisation; confessional narrative; conflict; Constance school; contextualism (in historiography); conversational storytelling; counterfactual history; courtroom narrative; cultural-studies approaches to narrative; cyberpunk fiction; dance and narrative; deconstructive approaches to narrative; defamiliarisation; deixis; denarration; description; desire; detective fiction; dialogism; dialogue in the novel; diary; didactic narrative; diegesis; digital narrative; discourse analysis (Foucault); discourse analysis (linguistics); disnarrated, the; distance; drama and narrative; dramatic irony; dramatic monologue; dramatic situations; dream narrative; dual-voice hypothesis; dystopian fiction; eco-narratives; ecriture feminine; education and narrative; ekphrasis; embedding; emic and etic; emotion and narrative; emplotment; encyclopedic novel; epic; epiphany; episode; epistolary novel; ergodic literature; ethical turn; ethnographic approaches to narrative; events and event-types; evolution of narrative forms; existent; experiencing-I; experientiality; exposition; extradiegetic narrator; fable; fabula; fairy tale; family chronicle; fantastic, the; fantasy; feminist narratology; fiction, theories of; Figura (Auerbach); figural narration; film narrative; first-person narration; focalization; folklore; folktale; foregrounding; formalism; frame theory; framed narrative; free indirect discourse; frequency; Freytag's triangle; function (Jakobson); function (Propp); gapping; gaze; gender studies; genealogy; genre fiction; genre theory in film studies; genre theory in narrative studies; gesture; gossip; Gothic novel; grand recit; graphic presentation as expressive device; hagiography; hermeneutics; hero; heterodiegetic narration; heteroglossia; historical novel; historical present; historicis; historiographic metafiction; historiographic narratology; historiography; Holocaust narrative; homodiegetic narration; horizon of expectations; horror narrative; humour studies and narrative; hybrid genres; hybridity; hypertext; hypertext and hypotext (Genette); hypodiegetic narrative; identity and narrative; ideology and narrative; image and narrative; immersion; implied author; implied reader; in medias res; indeterminacy; institutional narrative; intentionality; interactive fiction; interactivity; interdisciplinary approaches to narrative; interior monologue; intermediality; intertextuality; intradiegetic narrator; irony; isotopy; Japanese narrative; joke; journalism; law and narrative; legal fiction; legend; leitmotif; letters as narrative; life story; linguistic approaches to narrative; logic of narrative; magical realism; Marxist approaches to narrative; master narrative; media and narrative; mediacy; medicine and narrative; medieval narrative; memory; mental mapping of narrati