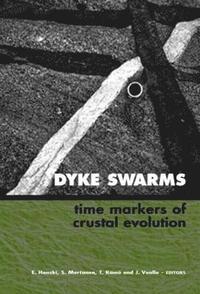 Fler böcker inom
Format

Inbunden (Hardback)

Språk

Engelska

Antal sidor

274

Utgivningsdatum

2006-09-01

Förlag

Illustrationer

Illustrations, maps

Antal komponenter

1

ISBN

9780415398992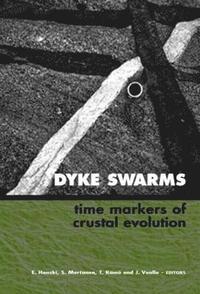 Dyke Swarms - Time Markers of Crustal Evolution
Selected Papers of the Fifth International Dyke Conference in Finland, Rovaniemi, Finland, 31 July- 3 Aug 2005 & Fourth International Dyke Conference, Kwazulu-Natal, South Africa 26-29 June 2001
Specialorder (osäker tillgång). Skickas inom 11-20 vardagar.
Fri frakt inom Sverige för privatpersoner.
Dyke swarms are remnants of large igneous provinces, and are pointers of continental break-up events, as well as indicators for ancient continental reconstructions. These global geodynamic aspects are of crucial significance in tectonics, and with recent developments in high-precision age, dating it has become possible to enter these short-lived magmatic events into a global data base. Every five years, scientists have met to consider new results and potential directions relating to the study of igneous dykes. At the Fifth International Dyke Conference, held in Rovaniemi, Finland in August 2005, igneous dykes, with particular attention to mafic dykes and dyke swarms, came under scrutiny. The properties of dykes, from Archean to Miocene, were explored in terms of mineralogy, geochemistry, isotopes, geochronology and paleomagnetics. This is a selection of twelve papers presented in Rovaniemi, together with updates of six papers from the South African meeting in 2001. For those who wish to have a summary of the current international status of igneous dykes, and their significance in interpreting geological and tectonic processes, this book is invaluable.
Passar bra ihop
+
De som köpt den här boken har ofta också köpt Diameter av Hannes Tschofenig, Sebastien Decugis, Jean Mahoney, Jouni Korhonen (inbunden).
Köp båda 2 för 2708 kr
Bloggat om Dyke Swarms - Time Markers of Crustal Evo...
Innehållsförteckning
IDC5 papers Short-lived mantle generated magmatic events and their dyke swarms: The key unlocking Earth's palaeogeographic record back to 2.6 Ga W. Bleeker & R. Ernst Giant dyke swarms and the reconstruction of the Canadian Arctic islands, Greenland, Svalbard and Franz Josef Land K.L. Buchan & R. Ernst AMS criteria for determining the azimuth and dip of a subduction zone from a mafic dyke swarm J.-P. Lefort, T. Aifa & F. Herve Palaeo- and Mesoproterozoic dyke swarms in the Lake Ladoga area, NW Russia - palaeomagnetic studies S. Mertanen, O. Eklund, A. Shebanov, D. Frank-Kamenetsky & T. Vasilieva U-Pb baddeleyite ages of Meso- and Neoproterozoic dykes and sills in central Fennoscandia: A review U. Soederlund The Kopparnas dyke swarm in Inkoo, southern Finland: New evidence for Jotnian magmatism in the SE Fennoscandian Shield A.V. Luttinen & P.J. Kosunen 1.80-1.75 Ga mafic dyke swarms in the central North China craton: Implications for a plume-related break-up event P. Peng, M.-G. Zhai & J.-H. Guo Mesoproterozoic mantle heterogeneity in the SW Amazonian Craton: 40Ar/39Ar and Nd-Sr isotopic evidence from mafic-felsic rocks W. Teixeira, J.S. Bettencourt, V.A.V. Girardi, A. Onoe, K. Sato & G.J. Rizzotto Mesozoic alkali basalts and felsic rocks in eastern Victoria, Australia A. Soesoo Precambrian mafic dyke swarms from the central Indian Bastar craton: Temporal evolution of the subcontinental mantle R.K. Srivastava Development of dyke and sheet swarms controlled by magma supply rate - an example from the Miocene Otoge igneous complex, central Japan N. Geshi Diabase intrusives of the Schmidt Hills, Pensacola Mountians, East Antarctica: Their petrology, petrogenesis and frequency distribution of plagioclase twin laws W.W. Boyd IDC4 papers Sills of the Theron Mountains, Antarctica: Evidence for long distance transport of mafic magmas during Gondwana break-up P.T. Leat, A.V. Luttinen, B.C. Storey & I.L. Millar Geochemical correlations between Jurassic gabbros and basaltic rocks in Vestfjella, Dronning Maud Land, Antarctica A.V. Luttinen & S.K. Vuori The Geology of a Mafic Dyke at Roerkulten, Sverdrupfjella, western Dronning Maud Land, Antarctica G.H. Grantham, R.A. Armstrong & A.B. Moyes Structural and AMS study of a Miocene dyke swarm located above the Patagonian subduction J.-P. Lefort, T. Aifa & F. Herve Palaeomagnetism of Palaeoproterozoic dolerite dykes in central Finland S. Mertanen, P. Hoeltta, L.J. Pesonen & J. Paavola Spatial distribution and emplacement features of Permo-Carboniferous dykes at the southwestern margin of the Fennoscandian Shield K. Obst & G. Katzung