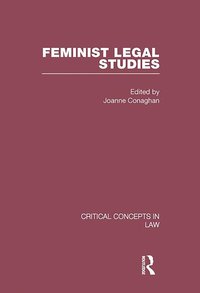 Fler böcker inom
Format

Inbunden (Hardback)

Språk

Engelska

Antal sidor

1864

Utgivningsdatum

2009-01-08

Förlag

Antal komponenter

4

Komponenter

Contains 4 Hardbacks

ISBN

9780415447461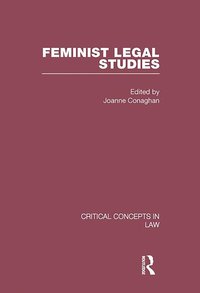 Feminist Legal Studies
Skickas inom 10-15 vardagar.
Fri frakt inom Sverige för privatpersoner.
A close engagement with law has long been a core dimension of feminist activism. However, it is only since the late twentieth century that a distinct and vital body of academic literature addressing the nature, effects, and limits of that engagement has emerged. In particular, from the 1980s onwards, a critical mass of scholarship has accumulated, establishing feminist legal studies not just as a recognizable subdiscipline, both of law and of feminist or women's studies, but also as a terrain of substance and complexity, the exploration and understanding of which requires increasingly sophisticated navigation skills. As research in and around the area flourishes as never before, this new title in the Routledge Major Works series, Critical Concepts in Law, meets the need for an authoritative reference work to make sense of a rapidly growing and ever more complex corpus of literature, and to provide a map of feminist legal studies as it has emerged, developed, and diverged over the last thirty years. There are many ways of classifying feminist thinking within and beyond law. A typical method is to divide work into competing political or theoretical camps (such as liberal feminism, socialist feminism, and radical feminism). Another way, more common in law, is to organize feminist perspectives around issues such as abortion, equal pay, and pornography. A third treatment would be to focus on epistemologies (for example, feminist empiricism, standpoint theory, and postmodernism). However, the editor of this reference work, an internationally renowned scholar, eschews these increasingly sterile approaches and instead offers a view of feminist legal studies as a dynamic process of engagement with law which takes different forms and emphases at different points and contexts. Feminist legal studies does not, she argues, comprise a static set of ideas; it is rather an ongoing conversation. For this reason, the material gathered here in this four-volume collection is, to a considerable extent, organized chronologically, starting with the key feminist issues and interventions of the early 1980s. The collection then progresses thematically to reflect the shifts and turns of feminist legal thought. The content of the material is explicitly inter-jurisdictional, and reflects the global nature of feminist legal scholarship and, in particular, current thematic preoccupations. With a comprehensive introduction, newly written by the editor, which places the material in its historical and intellectual context, Feminist Legal Studies is an essential work of reference and is destined to be valued by scholars and students of feminist law-as well as those working in allied areas-as a vital one-stop research resource.
Passar bra ihop
+
Fler böcker av Joanne Conaghan
Bloggat om Feminist Legal Studies
Innehållsförteckning
Volume I: EVOLUTION 1. Catharine MacKinnon, `Feminism, Marxism, Method and State: Towards a Feminist Jurisprudence', Signs, Journal of Women in Culture and Society, 8, 1983, 635-58. 2. Frances Olsen, `The Myth of State Intervention in the Family', University of Michigan, Journal of Law Reform, 18, 1985, 835-64. 3. Christine Chinkin, Shelley Wright, and Hilary Charlesworth, `Feminist Approaches to International Law', American Journal of International Law, 85, 1991, 613-45. 4. Reg Graycar and Jenny Morgan, `Legal Categories, Women's Lives and the Law Curriculum', Sydney Law Review, 18, 1996, 431-50. 5. Nicola Lacey, `Theory into Practice? Pornography and the Public/Private Dichotomy', Journal of Law and Society, 20, 1993, 93-113. 6. Carol Smart, `The Power of Law', Feminism and the Power of Law (Routledge, 1989), pp. 4-25. 7. Angela Harris, `Race and Essentialism in Feminist Legal Theory', Stanford Law Review, 42, 1990, 581-616. 8. Rosemary Hunter, `Deconstructing the Subject of Feminism: The Essentialist Debate in Feminist Theory and Practice', Australian Feminist Law Journal, 6, 1996, 135-62. 9. Brenda Cossman, `Turning the Gaze Back on Itself: Comparative Law, Feminist Legal Studies and the Postcolonial Project', Utah Law Review, 1997, 525-44. 10. Judith Butler, `Subjects of Sex/Gender/Desire', Gender Trouble, Feminism and the Subversion of Identity (Routledge, 1990), pp. 1-46. 11. Mary Joe Frug, `A Postmodern Feminist Legal Manifesto (An Unfinished Draft)', Harvard Law Review, 105, 1992, 1045-75. 12. Maria Drakopoulou, `The Ethic of Care, Female Subjectivity and Feminist Scholarship', Feminist Legal Studies, 8, 2000, 199-226. 13. Joanne Conaghan, `Reassessing the Feminist Theoretical Project in Law', Journal of Law and Society, 27, 3, 2000, 351-85. 14. Wendy Brown, `Wounded Attachments', States of Injury: Power and Freedom in Late Modernity (Princeton University Press, 1995), pp. 52-76. 15. Janet Halley, `Take a Break from Feminism?', in Karen Knop (ed.), Gender and Human Rights (Oxford University Press, 2004), pp. 57-81. Volume II: NEOLIBERAL ENCOUNTERS 16. Christine Littleton, `Restructuring Sexual Equality', California Law Review, 75, 1987, 1279-337. 17. Julia Sohrab, `Avoiding the "Exquisite Trap": A Critical Look at the Equal Treatment/Special Treatment Debate in Law', Feminist Legal Studies, 1, 1993, 141-62. 18. Catharine MacKinnon, `Difference and Dominance: On Sex Discrimination', Feminism Unmodified (Harvard University Press, 1987), pp. 32-45. 19. Didi Herman, `Beyond the Rights Debate', Social & Legal Studies, 2, 1993, 25-43. 20. Patricia Williams, `The Pain of Word Bondage', The Alchemy of Race and Rights (Harvard University Press, 1991), pp. 146-65. 21. Drucilla Cornell, `Living Together: Psychic Space and the Demand for Sexual Equality', The Imaginary Domain, Abortion, Pornography and Sexual Harassment (Routledge, 1995), pp. 3-27. 22. Anne Phillips, `Feminism and Liberalism Revisited: Has Martha Nussbaum Got it Right?', Constellations, 8, 2, 2001, 249-66. 23. Cathi Albertyn and Beth Goldblatt, `Facing the Challenge of Transformation: Difficulties in the Development of an Indigenous Jurisprudence of Equality', South African Journal on Human Rights, 14, 1998, 248-76. 24. Radha Jhappan, `The Equality Pit or the Rehabilitation of Justice', in R. Jhappan (ed.), Women's Legal Strategies in Canada (University of Toronto Press, 2002), pp. 175-234. 25. Narnia Bohler Muller, `What the Equality Courts Can Learn from Gilligan's Ethic of Care: A Novel Approach', South African Journal on Human Rights, 16, 2000, 623-41. 26. Davina Cooper, `"And You Can't Find Me Nowhere": Relocating Identity and Structure within Equality Jurisprudence', Journal of Law & Society, 27, 2000, 249-72. 27. Judy Fudge and Brenda Cossman, `Introduction: Privatization, Law and the Challenge to Feminism', in Cossman and Fudge (eds.), Privatization, Law and the Challenge