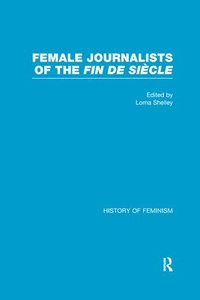 Fler böcker inom
Format

Inbunden (Hardback)

Språk

Engelska

Antal sidor

1712

Utgivningsdatum

2010-11-08

Förlag

Dimensioner

260 x 190 x 120 mm

Vikt

3787 g

Antal komponenter

4

Komponenter

Contains 4 Hardbacks

ISBN

9780415559492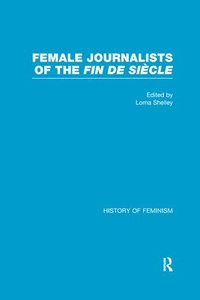 Female Journalists of the Fin de Siecle
Skickas inom 10-15 vardagar.
Fri frakt inom Sverige för privatpersoner.
Especially in recent years, late nineteenth-century novels, short stories, and essays have attracted considerable scholarly interest. Research into texts by and about the New Woman has played a major role in shaping a critical understanding of fin-de-siecle literature, New Journalism, gender politics, activism, work, and education. Serious academic work has, in particular, focused on changing gender roles and women's participation in the public sphere and urban spaces. This new title in the History of Feminism series, co-published by Routledge and Edition Synapse, is a four-volume collection of primary materials which builds on this existing scholarship. It brings together a wide range of fiction and non-fiction texts first published between the 1800s and the early twentieth century to present different aspects of what it meant to be a female journalist at the turn of the nineteenth century. Making readily available such materials-which are currently very difficult for scholars, researchers, and students across the globe to locate and use-Female Journalists of the Fin de Siecle is a veritable treasure-trove. The gathered works are reproduced in facsimile, giving users a strong sense of immediacy to the texts and permitting citation to the original pagination. The collection is also supplemented by a detailed and comprehensive introduction, newly written by the editor, which contextualizes the material in terms of fin-de-siecle publishing, journalism, and authorship. And with a detailed appendix providing data on the magazines, newspapers, and periodicals in which the articles and stories of the period were originally published, the collection is destined to be welcomed as a vital reference and research resource.
Passar bra ihop
+
Recensioner i media
'Shelley provides a wealth of material that would be difficult to access for all but the most intrepid researcher. Some of it comes from well known writers... but most is from writers and magazines that might otherwise be lost to obscurity. ... Making such obscure material readily available obviously rescues it from the proverbial dustbin of history, offering nuanced views of the period and women's professional role in it.' - Jane Marcellus, Middle Tennessee State University, USA 'The collection's strength is in its variety and its availability.' - Jane Marcellus, Middle Tennessee State University, USA 'Female Journalists of the Fin de Siecle makes a strong contribution to feminist history by excavating material about women's professional lives that might be otherwise left to languish.' - Jane Marcellus, Middle Tennessee State University, USA
Bloggat om Female Journalists of the Fin de Siecle
Innehållsförteckning
Volume I: The Advanced Woman in Journalism and the Case against the Woman Journalist Part 1: The Advanced Woman in Journalism 1. W. T. Stead, `The Future of Journalism', The Contemporary Review, 1886, Vol. 50, pp. 653-74. 2. Beatrice Webb, `Pages from a Work-Girl's Diary', The Nineteenth Century, 1888, Vol. 25, pp. 301-14. 3. W. T. Stead, `Young Women and Journalism', The Young Woman, 1892, Vol. I, pp. 12-14. 4. Charlotte Eccles [published anonymously], `Experiences of a Woman Journalist', Blackwood's Edinburgh Magazine, 1893, Vol. CLIII, pp. 830-8. 5. Elizabeth Banks, `American Women as Journalists', The Author, 1893, Vol. V, pp. 252-3. 6. ---- `A Famous Lady Journalist: A Chat with Mrs Emily Crawford', Young Woman, 1893-4, Vol. 2, pp. 183-5. 7. Emily Crawford, `Journalism as a Profession for Women', Contemporary Review, 1893, Vol. 64, pp. 362-71. 8. ---- `Mrs Fenwick Miller At Home', The Young Woman, 1893-4, Vol. 2, pp. 272-5. 9. ---- `The Perils of a Woman Journalist: Some Personal Experiences', Review of Reviews, 1893, Vol. VII, p. 630. 10. Miss Billington, `How Can I Earn my Living? IV: In Journalism, Art, or Photography', The Young Woman, 1893-4, Vol. 2, pp. 307-10. 11. Evelyn March-Phillips, `Women's Newspapers', Fortnightly Review, 1893-4, Vol. 62, pp. 663-70. 12. A. L. S., `The Women-Writers' Dinner: A Talk with Miss Honnor Morten', The Sketch, 30 May 1894, p. 265. 13. ---- `A Journalistic Experiment', The Sketch, 30 May 1894. 14. ---- `Women's Employments: Reporting for the Press', The Woman at Home, Jan. 1895, pp. 397-8. 15. F. M. Billington, `Leading Lady Journalists', Pearson's Magazine, 1896, Vol. II, pp. 101-12. 16. Wilhelmina Wimble, `Incomes for Ladies: Journalism', The Lady's Realm, May-Oct. 1897, Vol. II, pp. 467-8. 17. Elizabeth Banks, `American "Yellow Journalism"', The Nineteenth Century, July-Dec. 1898, Vol. XLIV, pp. 328-40. 18. Mary Krout, `Women's Clubs in London (Journalism): Chapter IX', A Looker-On in London (London: Grant Richards, 1899), pp. 79-85. 19. ---- `The Woman Journalist', The Academy and Literature, 27 Sept. 1902, pp. 309-10. 20. Florence Jackson, `Chances for Women in Journalism', Harper's Weekly, 12 Sept. 1903, Vol. 47, pp. 1492-3. 21. Dora E'spaigne, `How Did You Choose Your Pseudonym?', The Girl's Realm, Sept. 1904, Vol. 6, pp. 869-74. 22. Frances Low, Press Work for Women: A Text Book for the Young Woman Journalist (London: Upcott Gill, 1904) (100pp.). 23. M. Bird, `The Sentimental Journalist: The Adventures of a Would-be Author in Grub Street', The Lady's Realm, 1909, Vol. XXV, pp. 353-8. Part 2: `Women and Print do Not Mix': The Case Against the Woman Journalist 24. Walter Besant, `Notes and News', The Author, Mar. 1892, pp. 22-3. 25. ---- `The Hard Case of Women Journalists', Review of Reviews, Jan.-June 1896, Vol. XIII, p. 430. 26. Arnold Bennett, Women and Journalism: A Practical Guide (London: John Lane, The Bodley Head, 1898) (100pp.). 27. Anon, `The Sorrows of a Scribbler: Being the Confessions of a Magazine Contributor', The National Review, Mar. 1898, Vol. XXXI, pp. 63-74. 28. Helen M. Winslow, `Confessions of a Newspaper Woman', Atlantic Monthly, Feb. 1905, pp. 206-11. Volume II: Fiction I Part 3: Women Journalists as Characters in Fin-de-Siecle Stories 29. Netta Syrett, `That Dance at the Robsons', Longman's Magazine, Apr. 1890, Vol. 15, pp. 630-49. 30. Anonymous, `The Story of Anita', The Author, Apr. 1892, pp. 354-8. 31. Edith Nesbit, `Miss Lorrimore's Career', Sylvia's Journal, Feb. 1894, pp. 131-5. 32. `Belle', `The Journalistic Instinct', The Pall Mall Magazine, Sept.-Dec. 1894, Vol. IV, pp. 64-9. 33. George Paston, `A Lady Journalist', English Illustrated Magazine, Jan. 1895, pp. 65-73. 34. Ella Hepworth Dixon, `A Scribbler's Comedy', The Pall Mall Magazine, Jan.-Apr. 1895, Vol. V, pp. 286-94. 35. George Gissing, `Comrades in Arms', Human Odds and Ends: Stories and Sketches (Lon