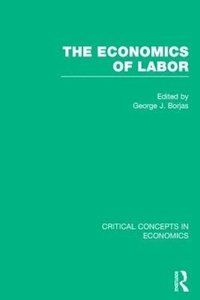 Fler böcker inom
Format

Inbunden (Hardback)

Språk

Engelska

Antal sidor

2200

Utgivningsdatum

2014-06-12

Förlag

Medarbetare

Borjas, George J.

Illustrationer

illustrations (black and white)

Dimensioner

241 x 171 x 139 mm

Vikt

3787 g

Antal komponenter

4

Komponenter

Contains 4 Hardbacks

ISBN

9780415577267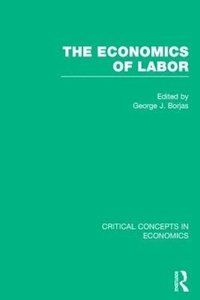 The Economics of Labor
Skickas inom 7-10 vardagar.
Fri frakt inom Sverige för privatpersoner.
The branch of economics concerned with the allocation of resources in the labor market addresses some of the most difficult issues facing governments and policy-makers at the beginning of the twenty-first century. The range of dizzying questions it seeks to answer include: what is the impact of immigration on the wage and employment opportunities of native-born workers? are government subsidies of investments in human capital an effective way to improve the economic well-being of disadvantaged workers? what factors determine the distribution of wages? what is the economic impact of trade unions? why did the labor-force participation of women rise steadily throughout the past century in many industrialized countries? In addition to its policy relevance, labor economics has played an important role in the development of modern economics as a whole. Because of the widespread availability of data on labor-market outcomes, labor economists have developed a number of econometric methods that have profoundly influenced the profession. The diffusion of these methods to other fields within economics (and to other social sciences) has radically changed how social scientists analyse and interpret data. This new title from Routledge meets the need for an authoritative reference work to make sense of the subject's vast literature and the continuing explosion in research. Edited by George J. Borjas, the pre-eminent scholar in the field, The Economics of Labor is a four-volume collection of classic and contemporary contributions. The first volume is dedicated to the basic models of labor supply and labor demand. Volume II, meanwhile, focuses on studies of labor-market equilibrium, including the theory of compensating differentials. The third and fourth volumes bring together a number of related topics, including labor-market discrimination, labor-market unions, migration, theories of incentives and compensation, and unemployment. Together, the four volumes provide a one-stop resource for all interested researchers, teachers, and students to gain a thorough understanding of the roots of labor economics and its future direction. With a comprehensive introduction, newly written by the editor, which places the collected material in its historical and intellectual context, The Economics of Labor is destined to be valued by all economists, as well as by other social scientists working in related areas, as an essential work of reference.
Passar bra ihop
+
Bloggat om The Economics of Labor
Övrig information
Edited and with a new introduction by George J. Borjas, Harvard University
Innehållsförteckning
Volume I: Labor Supply and Labor Demand A. Labor Supply 1. Jacob Mincer, `Labor Force Participation of Married Women', in H. Gregg Lewis (ed.), Aspects of Labor Economics (Princeton University Press, 1962), pp. 63-97. 2. Gary S. Becker, `A Theory of the Allocation of Time', Economic Journal, 1965, 75, 493-517. 3. James J. Heckman, `Shadow Prices, Market Wages, and Labor Supply', Econometrica, 1974, 42, 4, 679-94. 4. James J. Heckman, `Sample Selection Bias as a Specification Error with an Application to the Estimation of Labor Supply Functions', in James P. Smith (ed.), Female Labor Supply: Theory and Estimation (Princeton University Press, 1980), pp. 206-48. 5. Thomas E. MaCurdy, `An Empirical Model of Labor Supply in a Life-Cycle Setting', Journal of Political Economy, 1981, 89, 1059-85. 6. Orley Ashenfelter and James J. Heckman, `The Estimation of Income and Substitution Effects in a Model of Family Labor Supply', Econometrica, 1974, 42, 1, 73-85. 7. Pierre-Andre Chiappori, `Rational Household Labor Supply', Econometrica, 1988, 56, 63-90. 8. Richard Blundell, A. Duncan, and C. Meghir, `Estimating Labor Supply Responses Using Tax Reforms', Econometrica, 1998, 66, 4, 827-61. 9. Thomas MaCurdy, David Green, and Harry Paarsch, `Assessing Empirical Approaches for Analyzing Taxes and Labor Supply', Journal of Human Resources, 1990, 415-90. B. Labor Demand 10. Walter Oi, `Labor as a Quasi-Fixed Factor', Journal of Political Economy, 1962, 70, 6, 538-55. 11. Richard B. Freeman, `The Effect of Demographic Factors on the Age-Earnings Profile', Journal of Human Resources, Summer 1979, 239-318. 12. Finis Welch, `Effects of Cohort Size on Earnings: The Baby Boom Babies' Financial Bust', Journal of Political Economy, 1979, 87, S65-S97. 13. Daniel S. Hamermesh, `Labor Demand and the Structure of Adjustment Costs', American Economic Review, 1989, 79, 4, 674-89. 14. Claudia Goldin and Lawrence F. Katz, `The Origins of Technology-Skill Complementarity', Quarterly Journal of Economics, 1998, 113, 693-732. 15. John DiNardo, Nicole M. Fortin, and Thomas Lemieux, `Labor Market Institutions and the Distribution of Wages, 1973-1992: A Semiparametric Approach', Econometrica, 1996, 64, 5, 1001-44. 16. David Card and Alan B. Krueger, `Minimum Wages and Employment: A Case Study of the Fast-Food Industry in New Jersey and Pennsylvania', American Economic Review, 1994, 84, 772-93. 17. David Neumark and William Wascher, `Minimum Wages and Employment: A Case Study of the Fast-Food Industry in New Jersey and Pennsylvania: Comment', American Economic Review, 2000, 90, 5, 1362-96. Volume II. Labor Market Equilibrium C. Market Equilibrium 18. Olivier Jean Blanchard and Lawrence F. Katz, `Regional Evolutions', Brookings Papers on Economic Activity, 1992, 1, 1-61. 19. Daron Acemoglu, David H. Autor, and David Lyle, `Women, War and Wages: The Effect of Female Labor Supply on the Wage Structure at Midcentury', Journal of Political Economy, 2004, 112, 497-551. 20. William M. Boal and Michael R. Ransom, `Monopsony in the Labor Market', Journal of Economic Literature, 1997, 35, 86-112. D. Compensating Differentials 21. Sherwin Rosen, `Hedonic Prices and Implicit Markets', Journal of Political Economy, 1974, 82, 1, 34-55. 22. Charles Brown, `Equalizing Differences in the Labor Market', Quarterly Journal of Economics, 1980, 94, 113-34. 23. Richard Thaler and Sherwin Rosen, `The Value of Saving a Life: Evidence from the Labor Market', in Nestor Terleckyj (ed.), Household Production and Consumption (Columbia University Press, 1976), pp. 265-98. 24. John Abowd and Orley Ashenfelter, `Anticipated Unemployment, Temporary Layoffs, and Compensating Wage Differentials', in Sherwin Rosen (ed.), Studies in Labor Markets (University of Chicago Press, 1981), pp. 141-85. E. Labor Mobility 25. Boyan Jovanovic, `Job Matching and the Theory of Turnover', Journal of Political Economy, 1979, 972-90. 26. Robert H. Topel, `S