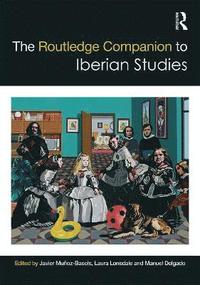 Fler böcker inom
Format

Inbunden (Hardback)

Språk

Engelska

Antal sidor

688

Utgivningsdatum

2017-03-27

Förlag

Medarbetare

Muanoz-Basol, Javier/Delgado, Manuel

Illustratör/Fotograf

Illustrationer

42 Halftones, black and white; 42 Illustrations, black and white

Dimensioner

254 x 177 x 44 mm

Vikt

1746 g

Antal komponenter

1

ISBN

9780415722834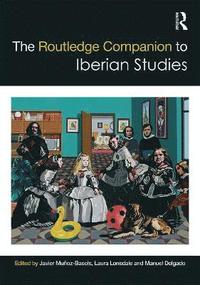 The Routledge Companion to Iberian Studies
Specialorder (osäker tillgång). Skickas inom 11-20 vardagar.
Fri frakt inom Sverige för privatpersoner.
The Routledge Companion to Iberian Studies takes an important place in the scholarly landscape by bringing together a compelling collection of essays that reflect the evolving ways in which researchers think and write about the Iberian Peninsula. Features include: A comprehensive approach to the different languages and cultural traditions of the Iberian Peninsula; Five chronological sections spanning the period from the Middle Ages to the 21st century; A state-of-the-art account of the field, reaffirming Iberian Studies as a dynamic and evolving discipline with promising areas for future research; An array of topics of an interdisciplinary nature (history and politics, language and literature, cultural studies and visual arts), focusing on the cultural distinctiveness of Iberian traditions; New perspectives and avenues of inquiry that aim to promote a comparative mode within Iberian Studies and Hispanism. The fifty authoritative, original essays will provide readers with a diverse cross-section of texts that will enrich their knowledge of Iberian Studies from an international perspective.
Passar bra ihop
+
Recensioner i media
"A remarkable collection of in-depth essays on a vast array of topics relating to Iberian cultures across the ages. Rather than focusing on Spain as an isolated unit, this book encourages readers to view Iberia as a whole-a multifaceted, multicultural entity in which diverse languages, traditions, and histories come into play. Interdisciplinary in concept, it includes essays on politics and art, literature and geography, economics and religion, history and visual culture by acclaimed experts from both sides of the Atlantic. The articles on Irish cultural influences in Spanish are particularly refreshing. The articles on women during different periods of Iberian history help to provide a comprehensive view of Iberian society. Also extremely innovative are the sections on twentieth and twenty-first-century Iberia, which offer not only a new look at the rise of fascism and the civil war, but also groundbreaking work on Spanish film, television and popular literature, including comics. This is a book that all Hispanicists will want to have on their bookshelves." -Professor Barbara Mujica, Georgetown University, USA "A timely and engaging exploration of the new mapping of the field. In less than a decade, the debate about the need to shelve monologic and monolithic versions of Hispanism and replace them with a more plural relational approach has taken centre stage. There is growing consensus that the cultural, historical and political complexity of the territory cannot be addressed within traditional disciplinary borders with the old methodological tools. This book is a response to demands to put the reconfiguration of the field into practice. Many of the leading scholars in Iberian Studies have contributed to this monumental collection that demonstrates the justification and rewards of a comparative perspective. It derives some fruitful lessons from the application of the premises of Comparative Literature to the internal differences and tensions in the Peninsula, and to the interaction between forms of cultural production. The most complete picture of the landscape is thus achieved by means of a prismatic composition: the sum of diverse fragments gives us a view of the whole." - Professor Antonio Monegal, Universitat Pompeu Fabra, Spain "A superbly rich collection of 50 articles by scholars deploying multiple approaches to the diverse cultures of Iberia, medieval to present day. A few samples: a witty history of the Camino de Santiago; articles on translation, medieval, Franco era and present day; on medieval hermeneutics and premodern subjectivity in the Libro de buen amor; on Alvar Nunez and sixteenth-century mapping; on blood (im)purity in Iberia and Iberian colonies; on paintings of the morisco expulsion; rehearsal scenes and the comedia as prompt book for a changing society; on Icarus and Phaethon in Golden Age cultural production; on Enlightenment painting; on women writers--medieval convent voices, Enlightenment Hispano-Irishwomen, Rosalia de Castro, and female detective novels; on the rise and demise of Iberian empires, on civil wars, nation formations, changing political vocabularies, city planning, Basque and Catalan cultures, cinema and graphic novels; and much, much more to savor. In all, an excellent contribution to the several fields of Hispanic studies, and given its interdisciplinary focus, to students and scholars in history, translation studies, art history, theater studies, women's studies, political science and cultural anthropology as well." - Professor Margaret R. Greer, Duke University, USA "This impressive book is an essential tool for research in Iberian Studies. The wide range of topics that are dealt with in this Companion constitutes a highly comprehensive view of Iberian history, politics and culture together with literature and visual arts. With contributions written by most prestigious scholars, the Companion offers a complete exploration of key topics from a
Bloggat om The Routledge Companion to Iberian Studies
Övrig information
Javier Munoz-Basols is Senior Instructor in Spanish and Co-ordinator of the Spanish language programme at the University of Oxford. Laura Lonsdale is Associate Professor of Spanish at the University of Oxford and Fellow of The Queen's College. Manuel Delgado is Professor of Spanish at Bucknell University.
Innehållsförteckning
PART I - Medieval Iberia (8th-15th Centuries) History, Politics and Cultural Studies 1 Festive Traditions in Castile and Aragon in the Late Middle Ages: Ceremonies and Symbols of Power TEOFILO F. RUIZ 2 Faith and Footpaths: Pilgrimage in Medieval Iberia GEORGE D. GREENIA 3 Before the Reconquista: Frontier Relations in Medieval Iberia, 718-1031 JONATHAN JARRETT 4 The Faiths of Abraham in Medieval Iberia JOHN EDWARDS 5 Medieval Iberian Cultures in Contact: Iberian Cultural Production as Translation and Adaptation MICHELLE M. HAMILTON Literature and Visual Culture 6 Court and Convent: Senses and Spirituality in Hispanic Medieval Women's Writing LESLEY K. TWOMEY 7 An Interstitial History of Medieval Iberian Poetry DAVID A. WACKS 8 Revisiting the History of Medieval Translation in the Iberian Peninsula JULIO-CESAR SANTOYO 9 Subjectivity and Hermeneutics in Medieval Iberia: The Example of the Libro de buen amor ROBERT FOLGER 10 Patrons, Artists and Audiences in the Making of Visual Culture in Medieval Iberia (11th-13th Centuries) MANUEL CASTINEIRAS PART II - The Iberian Peninsula in the Golden Age (16th and 17th Centuries) History, Politics and Cultural Studies 11 The Early Modern Iberian Empires: Emulation, Alliance, Competition ALEXANDER PONSEN AND ANTONIO FEROS 12 The Iberian Inquisitions in the Sixteenth and Seventeenth Centuries: Between Coercion and Accommodation HELEN RAWLINGS 13 The Way Behind and the Way Ahead: Cartography and the State of Spain in Cabeza de Vaca's Relacion KATHRYN M. MAYERS 14 Purity and Impurity of Blood in Early Modern Iberia RACHEL L. BURK 15 The Expulsion of the Moriscos: Seven Monumental Paintings from the Kingdom of Valencia E. MICHAEL GERLI Literature and Visual Culture 16 The Influence of Tirant lo Blanch on Golden Age Authors ROSA NAVARRO DURAN 17 Women from the Periphery in Don Quixote: Ekphrasis versus Counter-Narrative FREDERICK A. DE ARMAS 18 "Para tiempos de veras / se ejercitan en las burlas:" Some Uses of Rehearsal on the Golden Age Stage JONATHAN THACKER 19 Iberian Myths and American History in Balbuena's El Bernardo RODRIGO CACHO CASAL 20 Fallen Idols? Vice and Virtue in the Iconography of Icarus and Phaethon RICHARD RABONE PART III - The Iberian Peninsula in the 18th and 19th Centuries History, Politics and Cultural Studies 21 Hispano-Irish Women Writers of Spain's Late Enlightenment Period ELIZABETH FRANKLIN LEWIS 22 The End of Empire and the Birth of the Modern Nation, 1808-1868 JESUS CRUZ 23 Carlists against Liberalism: Counter-Revolution in the Iberian Peninsula during the Nineteenth Century JORDI CANAL 24 From Patriotism to Liberalism: Political Concepts in Revolution JAVIER FERNANDEZ SEBASTIAN 25 The Modern City, 1850-1900: Urban Planning and Urban Culture in Barcelona, Madrid and Bilbao BENJAMIN FRASER Literature and Visual Culture 26 Building Nations through Words: Iberian Identities in 19th-Century Literary Historiography SANTIAGO PEREZ ISASI 27 The Poetized Peopling of Nineteenth-Century Spain/s RONALD PUPPO 28 Death and the Crisis of Representation in Narcis Oller's La febre d'or and Perez Galdos's La de Bringas ELISA MARTI-LOPEZ 29 Performing the Peninsula: Costumbrismo and the Theatre of the Eighteenth and Nineteenth Centuries ALBERTO ROMERO FERRER 30 Painting in the Spanish Enlightenment: Artists at Court and in the Academy ANDREW SCHULZ PART IV - The Iberian Peninsula during the 20th Century History, Politics and Cultural Studies 31 The Idea of Empire in Portuguese and Spanish Life, 1890-1975 FILIPE RIBEIRO DE MENESES 32 The Fate of Spain's "Nationalisms" during the Spanish Civil War, 1936-1939 GEORGE ESENWEIN 33 Beyond the Nation: Spanish Civil War Exile and the Problem of Iberian Cultural History SEBASTIAAN FABER 34 Translation and Censorship under Franco and Salazar: Irish Theatre on Iberian Stages RAQUEL MERINO-ALVAREZ 35 Unsettling the Iberian Transitions to Democracy of the 1970s PAMELA RADCLIFF Literature an