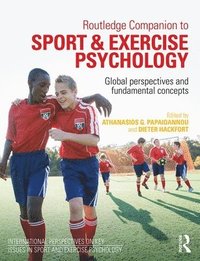 Fler böcker inom
Format

Häftad (Paperback)

Språk

Engelska

Antal sidor

1002

Utgivningsdatum

2016-03-14

Förlag

Illustrationer

40 Tables, black and white; 160 Illustrations, black and white

Dimensioner

234 x 184 x 50 mm

Vikt

1905 g

Antal komponenter

1

ISBN

9780415730327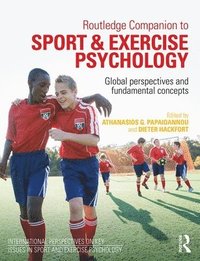 Routledge Companion to Sport and Exercise Psychology
Global perspectives and fundamental concepts
Skickas inom 5-8 vardagar.
Fri frakt inom Sverige för privatpersoner.
Written by an international team of expert contributors, this unique global and authoritative survey explores in full but accessible detail the basic constructs and concepts of modern sport and exercise psychology and their practical application. The book consists of 62 chapters, written by 144 contributors, deriving from 24 countries across the world. The chapters are arranged in nine cohesive sections: sport and exercise participants; the influence of environments on sport and exercise; motor skills; performance enhancement; building and leading teams; career, life skills and character development; health and well-being enhancement; clinical issues in sport psychology; and professional development and practice. Each chapter contains chapter summaries and objectives, learning aids, questions, exercises and references for further reading. Its comprehensive scale and global reach make this volume an essential companion for students, instructors and researchers in sport science, sport and exercise psychology, psychology, and physical education. It will also prove invaluable for coaches and health education practitioners.
Passar bra ihop
+
Bloggat om Routledge Companion to Sport and Exercise...
Övrig information
Athanasios Papaioannou is Chair of Sport Science at the University of Northumbria, UK, and he holds an adjunct position as Professor of Sport Psychology at the University of Thessaly, Greece. He is member of the Managing Council of the ISSP and the editor-in-Chief of the International Journal of Sport and Exercise Psychology. Professor Papaioannou has co-authored 5 books, and more than 100 articles, and has been the scientific coordinator of national and European projects aiming to promote physical activity and healthy lifestyles. Dieter Hackfort is Professor for Sport and Exercise Psychology, and also currently serving as Head of the Institute for Sport Science, both at the University FAF Munich, Germany. His research has been published in 25 books and edited volumes, and in more than 150 contributions in national and international journals. His main research interests are in performance enhancement management, and assessment and training of mental capacities.
Innehållsförteckning
Section 1: Understanding participants in sport and exercise contexts: Athanasios Papaioannou and Cliff Mallett 1.Developmental Perspectives on Sport and Physical Activity Participation, T. S. Horn and J. Butt 2. Nurturing Talent in Youth Sport, J. Cote, D. J. Hancock and B. Abernethy 3. Understanding the importance of self-esteem and self-perceptions in sport and exercise K. R Fox and M. Lindwall 4. Achievement motivation in sport settings, G. C. Roberts and A. G. Papaioannou 5. Promoting Adaptive Motivation in Sport: A Self-determination theory Perspective, N. Ntoumanis and C. J. Mallett 6. Emotions in Sport and Exercise Settings, J. Hanin and P. Ekkekakis 7. Individuals With Disabilties: Exercise And Sport, J. J. Martin, F. Vitali and L. Whalen 8. Gender and Sexual Orientation, V. Krane and C. Symons 9. Cultural Diversity, D. L. Gill and T. V. Ryba 10. Perfectionism: The role of personality in shaping an athlete's sporting experience, H. K. Hall, G. E. Jowett and A. P. Hill 11. Coaches, Lorimer, R., and Jowett, S. Section 2 Understanding the influence of environments on sport and exercise: Sophia Jowett 12. Families, S. Carr and D. A. Weigand 13. Peer Relationships And The Youth Sport Experience, A. L. Smith and F. d'Arripe-Longueville 14. Audience Influences On Athlete Performances, B. Strauss and C. MacMahon 15. The Psychology Of Decision Making In Sports Officials, C. MacMahon and B. Strauss 16. Media, E. Kristiansen and G. Lines Section 3 Promoting motor skills: Thomas Schack and Hiroshi Sekiya 17. Attention and Neurocognition, Essig, K., Janelle, C., Borgo, F., & Koester, D. 18. Modeling and Feedback, D. I. Anderson, A. M. Rymal and D. M. Ste-Marie 19. Organization of Practice, D. L. Wright, H. Sekiya and J. Rhee 20. Elements and Construction of Motor Control, T. Schack, B. Blasing, C. Hughes, T. Flash, M. Schilling Section 4 Enhancing performance: Mark Williams and Gershon Tenenbaum 21. Psychological Skills Training And Programs, J. Dosil, J. Gualberto Cremades and S. Rivera 22. Goal Setting and Sport Performance: Research Findings and Practical Applications, R. Weinberg and J. Butt 23. Imagery, T. Bhasavanija and T. Morris 24. Self-Talk, A. Hatzigeorgiadis, N. Zourbanos, A. T. Latinjak, Y. Theodorakis 25. Psyching up and Psyching down, J. Acharya & T. Morris 26. Self-Regulation and Biofeedback, B. Blumenstein, E. Tsung-Min Hung and I. Orbach 27. Self-Confidence and Self-Efficacy, D. L. Feltz and E. OEncu 28. Coping with Stress and Anxiety, S. Hanton and S. D. Mellalieu 29. Perspectives On Choking In Sport, D. Marchant, and R. Maher and J. Wang 30. Individual and Team Decision-Making, G. Tenenbaum and L. Gershgoren 31. Performance Routines in Sport - Meaning and Practice, R. Lidor, D. Hackfort, and T. Schack 32. Preparing Athletes For Major Competitions, G. Si, T. Statler, and D. Samulski Section 5 Understanding how to build and lead teams: Mark Eys and Packianathan Chelladurai 33. Building Cohesive Groups, M. Blair Evans, M. A. Eys, M. W. Bruner, J. Kleinert 34. Norms, Rules, and Discipline in Sport, M. Van Bussel, M. Gregg 35. Creating adaptive motivational climates in sport and physical education, J. L. Duda, Athanasios Papaioannou, P. Appleton, E. J. Quested, C. Krommidas 36. Communication in Sport Teams, P. Sullivan, S. Jowett, D. Rhind 37. Transformational Leadership in Sport and Exercise, K. L. Morton, B. D. Sylvester, A. Justine Wilson, C. Lonsdale & M. R. Beauchamp 38. Athlete Leadership: Theory, Research, and Practice, T. M. Loughead, L. Mawn, J. Hardy, and K. J. Munroe-Chandler Section 6 Career, life skills and character development through sport: Brenda Bredemeier 39. Athletes' Career Development and Transitions, N. Stambulova and P. Wylleman 40. Developing Social and Emotional Skills, T. Lintunen and D. Gould 41. Promoting Morality and Character Development, D. Light Shields and B. L. Bredemeier 42. Controlling Anger and Aggression, C. J Gee and L. R Potwar