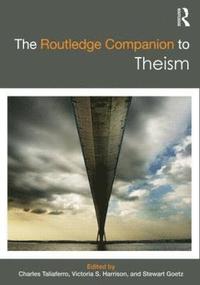 Fler böcker inom
Format

Inbunden (Hardback)

Språk

Engelska

Antal sidor

730

Utgivningsdatum

2012-08-20

Förlag

Dimensioner

253 x 179 x 45 mm

Vikt

1452 g

Antal komponenter

1

ISBN

9780415881647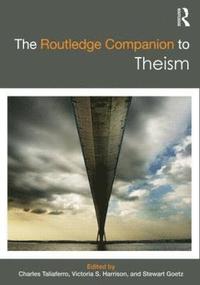 The Routledge Companion to Theism
Skickas inom 7-10 vardagar.
Fri frakt inom Sverige för privatpersoner.
There are deep and pervasive disagreements today in universities and colleges, and popular culture in general, over the credibility and value of belief in God. This has given rise to an urgent need for a balanced, comprehensive, accessible resource book that can inform the public and scholarly debate over theism. While scholars with as diverse interests as Daniel Dennett, Terry Eagleton, Richard Dawkins, Jurgen Habermas, and Rowan Williams have recently contributed books to this debate, "theism" as a concept remains poorly understood and requires a more thorough and systematic analysis than it has so far received in any single volume. The Routledge Companion to Theism addresses this need by investigating theism's history as well as its relationship to inquiry in the sciences, social sciences, and humanities, and to its wider cultural contexts. The contents are not confined within the philosophy of religion or even within the more expansive borders of philosophy. Rather, The Routledge Companion to Theism investigates its subject through the lens of a wide variety of disciplines and explores the ramifications of theism considered as a way of life as well as an intellectual conviction. The five parts of the volume indicate its inclusive scope: I. What is Theism?; II. Theism and Inquiry; III. Theism and the Socio-Political Realm; IV. Theism and Culture; V. Theism as a Way of Life. The result is a well ordered and thorough collection that should provide a wide spectrum of readers with a better understanding of a subject that's much discussed, but frequently misunderstood. As the editors note in their Introduction, while stimulating and informing the contemporary debate, a key aim of the volume is to open new avenues of inquiry into theism and thereby to encourage further research into this vital topic. Comprised of 54 essays by leading scholars in philosophy, history, theology, religious studies, political science, education and sociology, The Routledge Companion to Theism promises to be the most useful, comprehensive resource on an emerging subject of interest for students and scholars.
Passar bra ihop
+
Recensioner i media
"Theism not only shaped our past, but continues to shape our thought and institutions in a myriad of ways. This volume offers a wide ranging approach to the history, philosophy, and meaning of theism across many cultures and eras. For those who thought the 'new atheists' had settled the matter of God (but also hoped there were intelligent alternatives to their dismissals) this collection of wise essays will refresh their views of theism." -James Hudnut-Beumler, Dean of the Divinity School and Anne Potter Disinguished Professor of American Religious History, Vanderbilt University "This is the most comprehensive collection on the subject to date, written by the leading figures in the field. While maintaining a philosophical focus and grounded in the best of contemporary analytic philosophy, the anthology includes welcome multidisciplinary, global and historical perspectives." -Robert C. Koons, Professor of Philosophy, University of Texas, Austin "The Routledge Companion to Theism isn't just for academics; this is an essential resource for a better-informed public discourse about the myriad ways our beliefs about God affect the whole range of human affairs." --Jim Rice, editor, Sojourners magazine "A welcome addition to the literature that reflects the continuing resurgence of interest in theism, religion and philosophy in the academy... This Companion is a must have for collections that undergird programs in philosophy and religion." -M.Y. Spomer, Azusa Pacific University, CHOICE magazine
Bloggat om The Routledge Companion to Theism
Övrig information
Charles Taliaferro is Professor of Philosophy at St. Olaf College. Victoria Harrison is Reader in Philosophy at the University of Glasgow. Stewart Goetz is Chair and Professor in the department of Philosophy and Religion at Ursinus College.
Innehållsförteckning
Acknowledgments. Introduction Part 1: What is Theism? 1. Western Philosophy Graham Oppy 2. Asian Philosophy Matthew Dasti 3. The God of the Jews and the Jewish God Jerome Gellman 4. Christianity William Wainwright 5. Islam Oliver Leaman 6. Hindu Theism David Lawrence 7. Sikhism Nikky-Guninder Kaur Singh 8. African Religions Segun Gbadegesin 9. New Religious Movements Peter B. Clarke 10. Seventeenth and Eighteenth Century Intellectual Life Geoffrey Gorham 11. Nineteenth and Twentieth Century Intellectual Life Jacqueline Marina 12. Twenty-first Century Intellectual Life Chad Meister Part 2: Theism and Inquiry 13. Evidence John Bishop 14. Naturalism Robin Collins 15. Humanities Michael Beaty 16. Natural Sciences Michael Ruse 17. Evolution Jeffrey Schloss and Michael Murray 18. Physical Cosmology Hans Halvorson and Helge Kragh 19. Philosophical Methodology Charles Taliaferro 20. Philosophy of Religion Gwen Griffith-Dickson 21. Historical Inquiry Lydia McGrew 22. Sociology Steve Fuller 23. Psychology Beverley Clack 24. Religious Studies and Theology Alan Padgett 25. Moral Inquiry Mike Austin 26. Cognitive Science Mark Baker 27. Religious Language Keith Yandell 28. Arguments from Evil Trent Dougherty and Jerry Walls 29. Religious Experience Kai Man Kwan 30. Arguments About Human Persons James Porter Moreland Part 3: Theism and the Socio-Political Realm 31. Civil Society Ed Langerak 32. Human Rights Michael Perry 33. War Asa Kasher 34. Law Dan Robinson 35. Feminism Pamela Sue Anderson 36. Religious Diversity Victoria S. Harrison 37. Globalization H.E. Baber 38. Education David Carr 39. Bioethics Paul Copan 40. Animals Stephen Clark 41. Environment Holmes Rolston III Part 4: Theism and Culture 42. Architecture David Brown 43. Aesthetics Mark Wynn 44. Literature Douglas Hedley 45. Music John Foley 46. Film Douglas Geivett 47. Narrative Anthony Rudd Part 5: Theism as a Way of Life 48. Community David O'Hara 49. History and Experience Timothy Chappell 50. Spirituality John Cottingham 51. Happiness Suzanne Lock 52. Sex Brenda A. Wirkus 53. Irony Matt Dickerson 54. The Meaning of Life Stewart Goetz