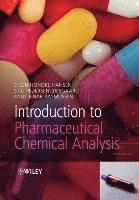 Fler böcker inom
Format

Häftad (Paperback / softback)

Språk

Engelska

Antal sidor

510

Utgivningsdatum

2011-12-16

Upplaga

1

Förlag

Illustrationer

black & white illustrations, black & white line drawings, black & white tables, figures

Dimensioner

245 x 170 x 22 mm

Vikt

760 g

Antal komponenter

1

Komponenter

,

ISBN

9780470661222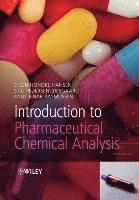 Introduction to Pharmaceutical Chemical Analysis
Skickas inom 3-6 vardagar.
Fri frakt inom Sverige för privatpersoner.
This textbook is the first to present a systematic introduction to chemical analysis of pharmaceutical raw materials, finished pharmaceutical products, and of drugs in biological fluids, which are carried out in pharmaceutical laboratories worldwide. In addition, this textbook teaches the fundamentals of all the major analytical techniques used in the pharmaceutical laboratory, and teaches the international pharmacopoeias and guidelines of importance for the field. It is primarily intended for the pharmacy student, to teach the requirements in analytical chemistry for the 5 years pharmacy curriculum, but the textbook is also intended for analytical chemists moving into the field of pharmaceutical analysis. * Addresses the basic concepts, then establishes the foundations for the common analytical methods that are currently used in the quantitative and qualitative chemical analysis of pharmaceutical drugs * Provides an understanding of common analytical techniques used in all areas of pharmaceutical development * Suitable for a foundation course in chemical and pharmaceutical sciences * Aimed at undergraduate students of degrees in Pharmaceutical Science/Chemistry Analytical Science/Chemistry, Forensic analysis * Includes many illustrative examples
Passar bra ihop
+
Recensioner i media
"It is teaches the fundamentals of all the major analytical techniques and their application in pharmaceutical laboratories, and it is valuable resource for pharmacy students and analytical chemists working in pharmaceutical analysis." (Analytical and Bioanalytical Chemistry, 1 August 2012)
Bloggat om Introduction to Pharmaceutical Chemical A...
Övrig information
Steen Hansen is professor in analytical chemistry at the Faculty of Pharmaceutical Sciences at Copenhagen University (Denmark), and has extensive experience in the teaching of analytical chemistry for pharmacy students. His main research interests are in basic separation sciences (primarily HPLC and CE), in particular on separation mechanisms, but also extend into hyphenated techniques using NMR and ICP-MS besides conventional detection techniques. He has authored and/or coauthored more than 240 papers in international peer-review journals. For 20 years, he was the President of the Scandinavian Section of The Chromatographic Discussion Group until this was renamed the Separation Sciences Foundation of which he is President. Knut Einar Rasmussen is professor in pharmacy at the School of Pharmacy at University of Oslo (Norway) and has similarly long experience in teaching of drug analysis for Pharmacy students. He has published extensively and his main research areas are focused on the development of innovative state-of-the-art miniaturized methods in separation science combined with detection and structure determination of drugs, naturally occurring biomolecules/biomarkers and environmental biomarkers. Stig Pedersen-Bjergaard is professor at at the School of Pharmacy, University of Oslo (Oslo, Norway) as well as in 2008, being appointed as full Professor (part time) at Department of Pharmaceutics and Analytical Chemistry, Faculty of Pharmaceutical Sciences, University of Copenhagen (Copenhagen, Denmark). SPB has specialized in analytical micro extraction technologies, on development and applications of artificial liquid membranes, and on electrokinetic separation methods. SPB has published more than 90 papers in international journals, given more than 65 presentations at international symposia, authored 6 patent applications, and is a member of the Editorial board for Analytica Chimica Acta and International Journal of Analytical Chemistry.
Innehållsförteckning
Preface xv 1 Introduction to Pharmaceutical Analysis 1 1.1 Applications and Definitions 1 1.2 The Life of Medicines 4 1.3 The Quality of Medical Products 8 1.4 Summary 11 2 International Pharmacopoeias, Regulations and Guidelines 13 2.1 Overview of Legislation 13 2.2 Legislation and Regulations for Industrial Production 14 2.3 Life Time of Drugs and Drug Substances 17 2.4 Pharmacopoeias 18 2.5 International Harmonization 19 2.5.1 International Conference on Harmonization 20 2.5.2 Pharmacopoeial Discussion Group 20 2.6 Legislation and Regulations for Pharmacy Production 20 2.7 Summary 21 3 Fundamental Chemical Properties, Buffers and pH 23 3.1 pH and pKa 23 3.2 Partition 25 3.3 Stereochemistry 28 3.4 Stability Testing 29 3.5 Summary 30 4 Fundamentals of Pharmaceutical Analysis 33 4.1 What is a Pharmaceutical (Chemical) Analysis? 33 4.2 How to Specify Quantities and Concentrations? 35 4.3 Basic Laboratory Equipment 37 4.3.1 The Analytical Balance 37 4.3.2 Pipettes 41 4.3.3 Volumetric Flasks 44 4.3.4 Burettes 47 4.4 How to Make Solutions and Dilutions 47 4.5 Calibration of Analytical Methods 49 4.6 Errors, Accuracy, and Precision 50 4.6.1 Systematic and Random Errors 50 4.6.2 Accuracy and Precision 51 4.7 Statistics 52 4.7.1 Mean Value and Standard Deviation 52 4.7.2 Confidence Intervals 54 4.7.3 Comparison of Means with a t-Test 55 4.7.4 Q-Test to Reject Outliers 56 4.7.5 Linear Regression with the Method of Least Squares 57 4.7.6 How to Present an Analytical Result 58 4.8 Some Words and Concepts 62 4.8.1 Analysis and Determination 62 4.8.2 Sample Replicates and Measuring Replicates 62 4.8.3 Interference 62 4.8.4 Blind Samples 62 5 Titrimetric Methods 65 5.1 Introduction 65 5.2 Acid Base Titrations 72 5.3 Acid Base Titrations in Non-Aqueous Media 75 5.4 Redox Titrations 78 5.5 Other Principles of Titration 81 5.6 Summary 82 6 Introduction to Spectroscopic Methods 83 6.1 Electromagnetic Radiation 83 6.2 Molecules and Electromagnetic Radiation 85 6.3 Atoms and Electromagnetic Radiation 86 6.4 Summary 88 7 UV Spectrophotometry 89 7.1 Principle of Quantitative Determination 89 7.2 Principle of Identification 94 7.3 Which Substances Have Strong UV Absorbance? 95 7.4 Instrumentation 95 7.5 Practical Work and Method Development 99 7.6 Areas of Usage and Performance 101 7.7 System Testing 101 7.8 Summary 102 8 IR Spectrophotometry 103 8.1 IR Spectrophotometry 103 8.2 Instrumentation 106 8.3 Scope 109 8.4 Instrument Calibration 109 8.5 NIR Spectrophotometry 110 8.6 Applications 112 8.7 Summary 114 9 Atomic Spectrometry 115 9.1 Atomic Absorption Spectrometry 115 9.2 Instrumentation 118 9.3 Applications and Performance 121 9.4 Practical Work and Method Development 122 9.5 Atomic Emission Spectrometry 123 9.6 Instrumentation 124 9.7 Summary 124 10 Chromatography 127 10.1 General Principles 127 10.2 Retention 131 10.3 Column Efficiency 133 10.4 Selectivity 135 10.5 Peak Symmetry 136 10.6 Resolution 138 10.7 Chromatographic Techniques 140 10.8 Summary 140 11 Chromatographic Separation Principles 141 11.1 General Introduction 141 11.2 Normal Phase Chromatography 142 11.2.1 Silica 142 11.2.2 Interactions 143 11.2.3 Order of Elution 144 11.2.4 Other Stationary Phases 145 11.2.5 Mobile Phases 146 11.2.6 Summary of Normal Phase Chromatography 147 11.3 Reversed Phase Chromatography 148 11.3.1 Stationary Phases 148 11.3.2 Retention Mechanisms 150 11.3.3 Mobile Phases 152 11.3.4 Ion-Pair Chromatography 155 11.3.5 Summary of Reversed Phase Chromatography 155 11.4 Hydrophilic Interaction Chromatography 156 11.5 Chiral Sep