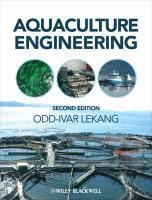 Fler böcker inom
Format

Inbunden (Hardback)

Språk

Engelska

Antal sidor

432

Utgivningsdatum

2013-02-22

Upplaga

2 Revised edition

Förlag

Illustrationer

Illustrations

Dimensioner

260 x 203 x 25 mm

Vikt

1088 g

Antal komponenter

1

ISBN

9780470670859
Aquaculture Engineering
Fåtal ex i lager. Skickas inom 1-2 vardagar.
Fri frakt inom Sverige för privatpersoner.
As aquaculture continues to grow at a rapid pace, understanding the engineering behind aquatic production facilities is of increasing importance for all those working in the industry. Aquaculture engineering requires knowledge of the many general aspects of engineering such as material technology, building design and construction, mechanical engineering, and environmental engineering. In this comprehensive book now in its second edition, author Odd-Ivar Lekang introduces these principles and demonstrates how such technical knowledge can be applied to aquaculture systems. Review of the first edition: 'Fish farmers and other personnel involved in the aquaculture industry, suppliers to the fish farming business and designers and manufacturers will find this book an invaluable resource. The book will be an important addition to the shelves of all libraries in universities and research institutions where aquaculture, agriculture and environmental sciences are studied and taught.' Aquaculture Europe 'A useful book that, hopefully, will inspire successors that focus more on warm water aquaculture and on large-scale mariculture such as tuna farming.' Cision
Passar bra ihop
+
Bloggat om Aquaculture Engineering
Övrig information
Odd-Ivar Lekang is Associate Professor of Aquaculture Engineering at the Department of Mathematical Sciences and Technology at the Norwegian University of Life Sciences in As.
Innehållsförteckning
Preface xv 1 Introduction 1 1.1 Aquaculture engineering 1 1.2 Classification of aquaculture 1 1.3 The farm: technical components in a system 2 1.3.1 Land-based hatchery and juvenile production farm 2 1.3.2 On-growing sea cage farm 4 1.4 Future trends: increased importance of aquaculture engineering 5 1.5 This textbook 6 References 6 2 Water Transport 7 2.1 Introduction 7 2.2 Pipe and pipe parts 7 2.2.1 Pipes 7 2.2.2 Valves 11 2.2.3 Pipe parts: fittings 12 2.2.4 Pipe connections: jointing 12 2.2.5 Mooring of pipes 13 2.2.6 Ditches for pipes 14 2.3 Water flow and head loss in channels and pipe systems 15 2.3.1 Water flow 15 2.3.2 Head loss in pipelines 16 2.3.3 Head loss in single parts (fittings) 18 2.4 Pumps 19 2.4.1 Types of pump 19 2.4.2 Some definitions 19 2.4.3 Pumping of water requires energy 22 2.4.4 Centrifugal and propeller pumps 23 2.4.5 Pump performance curves and working point for centrifugal pumps 26 2.4.6 Change of water flow or pressure 28 2.4.7 Regulation of flow from selected pumps 29 References 31 3 Water Quality and Water Treatment: An Introduction 32 3.1 Increased focus on water quality 32 3.2 Inlet water 32 3.3 Outlet water 33 3.4 Water treatment 35 References 36 4 Fish Metabolism, Water Quality and Separation Technology 37 4.1 Introduction 37 4.2 Fish metabolism 37 4.2.1 Overview of fish metabolism 37 4.2.2 The energy budget 38 4.3 Separation technology 39 4.3.1 What are the impurities in water? 39 4.3.2 Phosphorus removal: an example 41 References 42 5 Adjustment of pH 43 5.1 Introduction 43 5.2 Definitions 43 5.3 Problems with low pH 44 5.4 pH of different water sources 44 5.5 pH adjustment 45 5.6 Examples of methods for pH adjustment 45 5.6.1 Lime 45 5.6.2 Sea water 47 5.6.3 Lye or hydroxides 47 References 48 6 Removal of Particles: Traditional Methods 50 6.1 Introduction 50 6.2 Characterization of the water 51 6.3 Methods for particle removal in fish farming 51 6.3.1 Mechanical filters and microscreens 52 6.3.2 Depth filtration: granular medium filters 55 6.3.3 Settling or gravity filters 58 6.3.4 Integrated treatment systems 60 6.4 Hydraulic loads on filter units 62 6.5 Purification efficiency 62 6.6 Dual drain tank 63 6.7 Local ecological solutions 64 References 64 7 Protein Skimming, Flotation, Coagulation and Flocculation 66 7.1 Introduction 66 7.1.1 Surface tension, cohesion and adhesion 68 7.1.2 Surfactants 70 7.2 Mechanisms for attachment and removal 71 7.2.1 Attachment of particles to rising bubbles by collision, typically in flotation 72 7.2.2 Improving colloid and particle removal rates: pretreatment 73 7.2.3 Attachment of surface-active substances, typically in protein skimmers 78 7.2.4 Particle attachment by nucleation 80 7.3 Bubbles 80 7.3.1 What is a gas bubble? 80 7.3.2 Methods for bubble generation 80 7.3.3 Bubble size 82 7.3.4 Bubble coalescence 83 7.4 Foam 83 7.4.1 What is foam? 83 7.4.2 Foam stability 84 7.4.3 Foam breakers 85 7.5 Introduction of bubbles affects the gas concentration in the water 85 7.6 Use of bubble columns in aquaculture 85 7.7 Performance of protein skimmers and flotation plants in aquaculture 86 7.7.1 What is removed in inlet or effluent aquaculture water with the use of protein skimmers? 86 7.7.2 Factors affecting the efficiency of protein skimming in aquaculture 87 7.7.3 Use of ozone 89 7.7.4 Bubble fractionation 89 7.8 Design and dimensioning of protein skimmers and flotation plants 90 7.8.1 Protein skimmers: principles and design 90 7.8.2 Protein skimmers: dimensioning 92 7.8.3 Flotation plant 92 7.8.4 Important factors affecting design of a DAF plant 93 References 95 8 Membrane Filtration 99 8.1 History and use 99 8.2 What is membrane filtration? 100