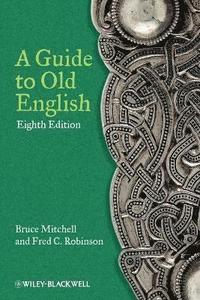 Format

Häftad (Paperback / softback)

Språk

Engelska

Antal sidor

444

Utgivningsdatum

2011-10-21

Upplaga

8th Edition

Förlag

Illustratör/Fotograf

Illustrationer

Illustrations, maps

Dimensioner

228 x 158 x 25 mm

Vikt

657 g

Antal komponenter

1

ISBN

9780470671078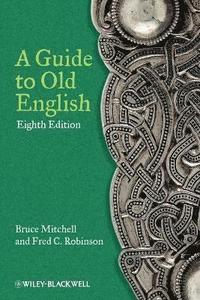 A Guide to Old English
Skickas inom 5-8 vardagar.
Fri frakt inom Sverige för privatpersoner.
A comprehensive introduction to Old English, combining simple, clear philology with the best literary works to provide a compelling and accessible beginners guide. * Provides a comprehensive introduction to Old English * Uses a practical approach suited to the needs of the beginning student * Features selections from the greatest works of Old English literature, organized from simple to more challenging texts to keep pace with the reader * Includes a discussion of Anglo-Saxon literature, history, and culture, and a bibliography directing readers to useful publications on the subject * Updated throughout with new material including the first 25 lines from Beowulf with detailed annotation and an explanation of Grimm s and Verner s laws
Passar bra ihop
+
Recensioner i media
"This is still the most comprehensive introduction to Old English available, providing detailed analysis of the language, literature, history, and culture of the Anglo-Saxons. This new edition expands on the changes in languages, and provides additional material on Beowulf." ?Stuart Lee, Oxford University "Mitchell and Robinson's A Guide to Old English, now available in its eighth edition, is an invaluable resource for teaching and delighting students of Old English. It is unsurpassed in its combination of a meticulously scholarly approach with a wide-ranging selection of Old English texts. The authors' enthusiasm for the subject is evident on every page and carries the reader with it." ?Susan Irvine, University College London
Bloggat om A Guide to Old English
Övrig information
Fred C. Robinson is Douglas Tracy Smith Professor Emeritus at Yale University. He is a Fellow and past President of the Medieval Academy of America, and has received many honors. He has written extensively on Beowulf, Old English, and English and American literature and language of all periods. Bruce Mitchell is late Fellow Emeritus of St. Edmund Hall, University of Oxford.
Innehållsförteckning
Foreword to the Eighth Edition vi Map of Anglo-Saxon England vii Abbreviations and Symbols xv How to Use this Guide 1 PART ONE. 1 Preliminary Remarks on the Language ( 1 4) 11 2 Orthography and Pronunciation ( 5 9) 13 i Orthography ( 5) 13 ii Stress ( 6) 13 iii Vowels ( 7) 14 iv Diphthongs ( 8) 14 v Consonants ( 9) 15 3 Inflexions ( 10 135) 17 Introduction ( 10 14) 17 i Pronouns ( 15 21) 18 ii Nouns and Sound-Changes Relevant to Them ( 22 62) 20 Weak Nouns ( 22 25) 20 Some Technical Terms ( 26 32) 20 Strong Nouns like stan (masc.) and scip (neut.) ( 33 44) 22 Masculine and Neuter Nouns in -e ( 45 46) 26 Strong Feminine Nouns ( 47 51) 27 i-Mutation ( 52 57) 28 Nouns Affected by i-Mutation ( 58 60) 29 u-Nouns ( 61 62) 30 iii Adjectives ( 63 76) 31 Introduction ( 63 64) 31 Weak Declension ( 65) 31 Strong Declension ( 66 67) 31 Stem Changes in Adjectives ( 68 73) 32 Comparison of Adjectives ( 74 76) 33 iv Observations on Noun, Adjective, and Pronoun Declensions ( 77 81) 34 v Numerals ( 82 86) 34 vi Strong Verbs and Sound-Changes Relevant to Them ( 87 114) 35 Introduction ( 87 89) 35 Principal Parts of the Strong Verbs ( 90 95) 36 Breaking ( 96 99) 38 Influence of Initial i, sc, h ( 100) 39 Influence of Nasals ( 101) 40 Summary of the Strong Verbs of Class III ( 102) 40 The Effects of Sound-Changes on Other Strong Verbs ( 103) 40 Strong Verbs of Class VII ( 104) 41 Grimm s Law and Verner s Law ( 105 109) 41 Conjugation of the Strong Verb ( 110 114) 43 vii Weak Verbs and Sound-Changes Relevant to Them ( 115 126) 46 Introduction ( 115) 46 Class 1 ( 116 123) 46 Class 2 ( 124 125) 49 Class 3 ( 126) 50 viii Anomalous Verbs ( 127 130) 51 Bbon ( 127) 51 Ddn and gan ( 128) 51 Willan ( 129) 52 Preterite-Present Verbs ( 130) 52 ix Is a Verb Strong or Weak? To which Class does it Belong? ( 131 134) 53 x Adverbs ( 135) 54 Formation ( 135) 54 Comparison ( 135) 54 4 Word Formation ( 136 138) 55 Introduction ( 136) 55 i Compounding ( 137) 56 ii The Addition of Affixes ( 138) 57 Prefixes ( 138) 58 Suffixes ( 138) 59 5 Syntax ( 139 214) 61 Introduction ( 139 142) 61 i Word-Order ( 143 147) 63 ii Sentence Structure ( 148 153) 66 Recapitulation and Anticipation ( 148) 66 The Splitting of Heavy Groups ( 149) 67 Correlation ( 150 153) 68 iii Noun Clauses ( 154 161) 70 Introduction ( 154) 70 Dependent Statements and Desires ( 155 156) 70 Dependent Questions ( 157 160) 72 The Accusative and Infinitive ( 161) 75 iv Adjective Clauses ( 162 165) 75 Definite Adjective Clauses ( 162 163) 75 Indefinite Adjective Clauses ( 164) 79 Mood ( 165) 80 v Adverb Clauses ( 166 181) 81 Introduction ( 166 167) 81 Non-Prepositional Conjunctions ( 168) 83 Prepositional Conjunctions ( 169 171) 83 An Exercise in Analysis ( 172) 86 Clauses of Place ( 173) 87 Clauses of Time ( 174) 88 Clauses of Purpose and Result ( 175) 89 Causal Clauses ( 176) 89 Clauses of Comparison ( 177) 89 Clauses of Concession ( 178) 90 Clauses of Condition ( 179) 91 Adverb Clauses Expressing Other Relationships ( 180) 92 Other Ways of Expressing Adverbial Relationships ( 181) 93 vi Parataxis ( 182 186) 93 Introduction ( 182 183) 93 List of Conjunctions and Adverbs Commonly Used ( 184) 94 Parataxis without Conjunctions ( 185) 96 Some Special Idioms ( 186) 96 vii Concord ( 187) 97 1. Nouns, Pronouns and their Modifiers ( 187) 97 2. Pronouns and their Antecedents ( 187) 97 3. Subject and Verb ( 187) 98 viii The Uses of the Cases ( 188 192) 98 Nominative ( 188) 98 Accusative ( 189) 99 Genitive ( 190) 99 Dative ( 191) 99 Instrumental