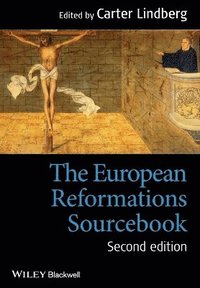 Fler böcker inom
Format

Häftad (Paperback / softback)

Språk

Engelska

Antal sidor

296

Utgivningsdatum

2014-05-16

Upplaga

2nd Edition

Förlag

Dimensioner

241 x 165 x 12 mm

Vikt

453 g

Antal komponenter

1

ISBN

9780470673287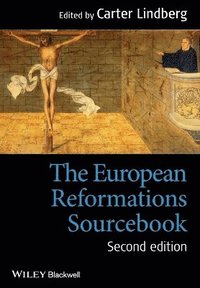 The European Reformations Sourcebook
Skickas inom 5-8 vardagar.
Fri frakt inom Sverige för privatpersoner.
Finns även som
Skickas inom 5-8 vardagar
This revised and expanded volume brings together a carefully-selected collection of primary sources drawn from medieval and sixteenth-century texts. Notable for its comprehensive coverage, it consolidates a broad range of important documents, which until now, have been scattered through numerous volumes of primary materials. * An invaluable collection of primary sources, edited by a renowned reformations scholar, which brings together significant and illuminating documents from this influential period * Revised and updated to include catechetical writings by Luther and Calvin, and increased analysis of their theological writings, as well as coverage of women reformers such as Caritas Pirckheimer, Katharina Schutz-Zell, and Olimpia Morata * Includes a broad range of documents spanning major theological writings through to confessions, political grievances, and writings drawn from tracts, poems, and satires * Features observer accounts of events and debates that lucidly depict the personalities of the reformers, offering students their first direct engagement with participants in the European reformations * Creates an ideal accompaniment to Lindberg s The European Reformations, 2nd edition, or can be used alongside any text on the European reformations for a complete learning guide
Passar bra ihop
+
Bloggat om The European Reformations Sourcebook
Övrig information
Carter Lindberg is Professor Emeritus of Church History at Boston University. His numerous publications include The European Reformations, 2nd edition (2009), Love: A Brief History through Western Christianity (2008), and A Brief History of Christianity (2005), The Pietist Theologians (2004) all published by Wiley-Blackwell.
Innehållsförteckning
Preface to the Second Edition xvi Preface to the First Edition xviii Abbreviations xx 1 The Late Middle Ages 1 1.1 Jean de Venette: Chronicle 3 1.2 Social Tensions: The Reformation of the Emperor Sigismund (c.1438) 3 1.3 The Crisis of Values: Reynard the Fox (1498) 4 1.4 Jakob Wimpfeling: The Origins of Printing, from Epitome Rerum Germanicarum (1505) 5 1.5 Sebastian Brant: The Ship of Fools 5 1.6 The Piper of Niklashausen, A Report of His Preaching (1476) 7 1.7 Ulrich von Hutten: Vadiscum oder die Romishe Dreifaltigkeit (1519) 8 1.8 Jacob Wimpfeling: Grievances of the German Nation (1515) 8 1.9 Pope Boniface VIII: Unam Sanctam (1302) 9 1.10 Pope Clement VI: Unigenitus Dei Filius (1343) 10 1.11 Pope Sixtus IV: Salvator Noster (1476) 10 1.12 Marsilius of Padua: Defensor Pacis (1324) 10 1.13 Conciliarism: Opinion of the University of Paris (1393) 11 1.14 Pierre D Ailly: Conciliar Principles (1409) 11 1.15 The Council of Constance: Haec Sancta (1415) and Frequens (1417) 12 1.16 Pope Pius II: Execrabilis (1460) 12 1.17 Pope Leo X: Pastor Aeternus (1516) 13 1.18 John Wyclif: On Indulgences 13 1.19 John Hus: The Treatise on the Church 13 1.20 Gabriel Biel: Doing What is in One 14 1.21 Johannes Tauler, OP: Sermon Extract 14 1.22 Theologia Deutsch 15 1.23 Ludolf of Saxony: Vita Jesu Christi 15 1.24 Gerard Zerbolt: The Spiritual Ascents 16 1.25 Thomas a Kempis: The Imitation of Christ 16 1.26 Johannes von Staupitz: Sermon Extracts 17 1.27 Dietrich Kolde: A Fruitful Mirror or Small Handbook for Christians (1508) 17 1.28 Francois Rabelais: On Education 18 1.29 Lorenzo Valla: The Falsely Believed and Forged Donation of Constantine 19 1.30 Nicholas of Lyra: Interpretation of the Bible 19 1.31 Desiderius Erasmus: Praise of Folly (1509) 20 1.32 Erasmus, Letter to Martin Dorp (1515) 21 1.33 Ulrich von Hutten: Letters from Obscure Men (1515) 21 2 The Dawn of a New Era 23 2.1 Martin Luther: Recollections of Becoming a Monk 24 2.2 Luther s Conversion 25 2.3 Luther s Theological Emphases 25 2.4 Luther: Disputation Against Scholastic Theology (1517) 26 2.5 Official Catalogue of Relics in the Wittenberg Castle Church 27 2.6 Archbishop Albert of Mainz: The Commission of Indulgences 27 2.7 Tetzel: A Sample Sermon 28 2.8 A Contemporary Description of Indulgence Selling 29 2.9 The Robbing of Tetzel 29 2.10 Luther: The Ninety-five Theses (1517) 29 2.11 Bucer s Description of Luther at the Heidelberg Disputation (1518) 30 2.12 Prierias: Dialogue Against the Arrogant Theses of Martin Luther on the Power of the Pope (1518) 31 2.13 Luther s Hearing before Cardinal Cajetan at Augsburg (1518) 31 2.14 Georg Spalatin: Recollections of Frederick the Wise on Luther 32 2.15 Peter Mosellanus: Description of Luther, Karlstadt, and Eck at the Leipzig Debate 32 2.16 Capito: Letter of Support to Luther (February 1519) 33 2.17 Luther: Treatise on Good Works (June 1520) 34 2.18 Luther: To the Christian Nobility of the German Nation Concerning the Reform of the Christian Estate (1520) 34 2.19 Luther: The Babylonian Captivity of the Church (1520) 37 2.20 Luther: The Freedom of a Christian (1520) 40 2.21 Pope Leo X: Exsurge domine (June 15, 1520) 41 2.22 The Papal Nuncio s Reports from the Diet of Worms 41 2.23 Luther before Emperor and Empire at the Diet of Worms (1521) 42 2.24 Charles V: Message to his Council (April 19, 1521) 43 2.25 The Edict of Worms (May 26, 1521) 44 2.26 Albrecht Durer s Diary: Rumors of Luther s Capture (1521) 45 3 Implementation of Reforms 46 3.1 Thomas More to Martin Dorp (1515) 47 3.2 Erasmus: Paraclesis (1516) 48 3.3 Luther: On Translating: An Open Letter (1530) 48 3.4 Luther: A Brief Instruction o