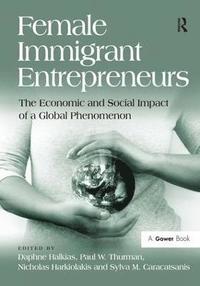 Fler böcker inom
Format

Inbunden (Hardback)

Språk

Engelska

Antal sidor

324

Utgivningsdatum

2010-12-28

Upplaga

New ed

Förlag

Medarbetare

Caracatsanis, Sylva (red.)/Halkias, Dr. Daphne (red.)/Harkiolakis, Dr. Nicholas (red.)/Thurman, Mr. Paul W. (red.)

Illustratör/Fotograf

Illustrationer

Includes 7 b&w illustrations

Dimensioner

241 x 171 x 25 mm

Vikt

861 g

ISBN

9780566089138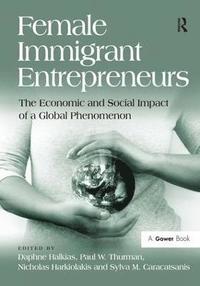 Female Immigrant Entrepreneurs
The Economic and Social Impact of a Global Phenomenon
Skickas inom 10-15 vardagar.
Fri frakt inom Sverige för privatpersoner.
A third of the world's entrepreneurial activity is driven by women. With the mass movement of people now commonplace, the role of female entrepreneurs in immigrant communities has become an increasingly important component of the world economy, its productivity, and the struggle against poverty. Throwing light on the dynamics of entrepreneurship generally, and on immigrant and female entrepreneurship in particular, the global Female Immigrant Entrepreneurship (FIE) project is a huge and exciting research undertaking. Written by the project's team of researchers based in prestigious business schools and universities on almost every continent, this important book begins the process of discovering why and how female driven business start-ups often seem to spontaneously emerge in adverse environments. Is it randomness, luck, or chance that determine success or failure, or vital critical forces and the inherent qualities of the women involved? The research emerging from the FIE project points to answers to questions about the integration of immigrant communities, their interaction with host economic and business environments, and the role of women in that interaction. With findings from more than fifteen countries, from the USA with some of the world's oldest and largest immigrant communities, to African countries that are the newest destination for Asian migrants, this book will help inform social and economic policy in communities and countries searching for prosperity. More than that, the book offers policy makers, business leaders, and those concerned with business development the chance to uncover some of the mystery around the complex phenomenon of entrepreneurship itself.
Passar bra ihop
+
Recensioner i media
'This pioneering, truly global collection of fieldwork-based studies fills a very significant gap in the literature on immigrant entrepreneurship. Not only has the role of female entrepreneurs been largely neglected in this literature; the range of cases examined has been extremely narrow. The volume delivers a wealth of empirical evidence on how female immigrant entrepreneurs actually start and operate small businesses, and how their activities contribute more broadly to immigrant economic incorporation. This book is a model of research in comparative immigration studies.' Dr Wayne Cornelius, Co-Director, University of California Global Health Institute; Director Emeritus, Center for Comparative Immigration Studies, University of California-San Diego, USA. 'This book engages in the debate on the role of female entrepreneurs in immigrant communities by discovering the determinants and the way through which female driven business start-ups emerge in adverse environments. Based on the findings of the Female Immigrant Entrepreneurship Project, it is a treasure trove of thoroughly researched and prominently recounted stories on the role of women entrepreneurs in immigrant communities of more than fifteen countries. It offers an invaluable perspective on the multifaceted and complex phenomenon of female immigrant entrepreneurship." Prof. Lucio Cassia , Professor of Strategic Management & Entrepreneurship and Director of CYFE - Center for Young and Family Enterprise,University of Bergamo, Italy. 'What are we learning from the numerous global crises? The world needs a new way of doing business in a more conscious, inclusive and harmonious way. Female energy is changing our one world for the better. This book provides powerful stories how female immigrant entrepreneurs are leading the way.' JA1/4rgen Nagler, Business4Good, consultant of the United Nations Development Programme (UNDP) 'As women entrepreneurs in general are becoming an increasingly important driver of business and economic activity, the immigrants amongst them encounter an immense degree of adversity on the road to social and economic credibility. This volume is rich in examples of the diverse environments that these female immigrant entrepreneurs face and fills a huge gap in the study of global entrepreneurship. It's a must read for those interested not only in entrepreneurship, but also in the eternal struggle of groups bravely encountering disadvantages.' Dr Peter E. Koveos, Editor, Journal of Developmental Entrepreneurship, Kiebach Chair in International Business Whitman School of Management, Syracuse University, USA
Bloggat om Female Immigrant Entrepreneurs
Övrig information
Daphne Halkias, PhD, has been Visiting Scholar at the University of Oxford's Centre on Migration, Policy and Society (COMPAS), where she conducted a cross-national research on female immigrant entrepreneurship. Currently she is a Research Affiliate at the Institute for Social Sciences at Cornell University, USA; Visiting Professor at American University in Paris; Senior Research Fellow at The Center for Youth and Family Enterprise (CYFE) at University of Bergamo, Italy; and Research Associate at the Center for Comparative Immigration Studies at the University of California, San Diego, USA. Paul W. Thurman, MBA, PhD Candidate, is a Clinical Professor at Columbia University's Graduate Schools of Business, Public and International Affairs, and Public Health, New York, USA.. Dr Nicholas Harkiolakis is a Senior Researcher, Institute of Communications and Computer Systems at National Metsovio Polytechnic, Athens, Greece. Sylva M. Caracatsanis is a Researcher and Doctoral Candidate in Human Geography at the University of Exeter, UK.
Innehållsförteckning
Contents: Foreword; Preface; Part I Introduction: The evolution of researching female immigrant entrepreneurship: a commentary, Daphne Halkias and Sylva M. Caracatsanis. Part II Asia and the Pacific Region: India: female immigrant entrepreneurship in Utta Pradesh, Geetika Goel, Shefali Nandan, Meenakshi Rishi, Johanna Liasides and Barbara Kondilis; India: female immigrant entrepreneurship in New Delhi, Amit Pal Singh Chhabra, Meenakshi Rishi, Nicholas Harkiolakis and Sylva M. Caracatsanis; Japan: female immigrant entrepreneurship in Tokyo, Sonya Billore, Dato' Prof Ahmad Hj Zainuddin, Norashfah Hanim, Yaakop Yahaya Al-Haj and Daphne Halkias; Hong Kong: female immigrant entrepreneurs from mainland China, Stella So, Lara Mourad and Joanne Anast; Where East meets West: female immigrant entrepreneurs in Lebanon, Janine Saba Zakka, Sylva M. Caracatsanis, Lara Mourad, Nicholas Harkiolakis and Antonis Antoniou; New Zealand: Chinese women at the forefront of immigrant entrepreneurship, Franco Vaccarino, Marianne Tremaine, Joanne Anast and Penelope Robotis; United Arab Emirates: female immigrant entrepreneurship at the multicultural crossroad of the Arab world, Baker Ahmad Alserhan, Nicholas Harkiolakis, Sam Abadir, Lambros Ekonomou and Lara Mourad. Part III Africa: Nigeria: female immigrant entrepreneurship in Western Africa, Chinedum Nwajiuba, Nicholas Harkiolakis, Paul Thurman, Daphne Halkias and Sylva Caracatsanis; Mediterranean female immigrants in South Africa: a case study of love of adopted country and longevity in entrepreneurship, Paul W. Thurman, Melodi Botha, Joanne Anast and Daphne Halkias. Part IV Europe: Cyprus: female immigrant entrepreneurship in Mediterranean Europe, Ioannis Violaris, Danae Harmandas and Yiannos Loizides; United Kingdom: the rise of South Asian female entrepreneurship, Daphne Halkias, Shehla Arifeen and Lara Mourad; France: female immigrants enrich their new home an entrepreneurial spirit, Nicholas Harkiolakis, Sylva M. Caracatsanis, Sam Abadir and Lara Mourad; Greece: from migrant-sender to immigrant-receiver, Daphne Halkias, Sylva M. Caracatsanis, Nicholas Harkiolakis, Paul W. Thurman and Patrick D. Akrivos. Part V The Americas: Life chronicles of female immigrant entrepreneurs in Argentina, Nicholas Cha, Sylva M. Caracatsanis and Konstantina Polideras; Biographical narratives from female immigrant entrepreneurs in Silicon Valley, California, Rebecca Hwang, Jennifer Sequiera, Lara Mourad and Shaherose Charania; Canada: the Greek female entrepreneurs of Montreal, Konstantina Polideras, Sam Abadir, Penelope Robotis and Daphne Halkias; Brazilian female immigrant entrepreneurs in Massachusetts and California, M. GlA(3)ria de SA!, Viviane Gontijo, Joanne Anast and Lara Mourad; The Portuguese female immigrant entrepreneurs in New Bedford, Massachusetts, USA, M. GlA(3)ria de SA!, Jennifer Sequiera and Sylva Caracatsanis; New York City, USA: the interplay among multiple cultures, work ethic and success factors in female immigrant small businesses, Paul W. Thurman; New York and Pennsylvania, USA: Nigerian female entrepreneurs, John O. Okpara, Sylva M. Caracatsanis, Nicholas Harkiolakis and Garry Clayton; Female immigrant entrepreneurship in South Carolina, USA, Jean-Luc E. Grosso and Teresa L. Smith. Epilogue: the challenges ahead for female immigrant entrepreneurs, Daphne Halkias, Paul W. Thurman and Sam Abadir; Appendix; Index.